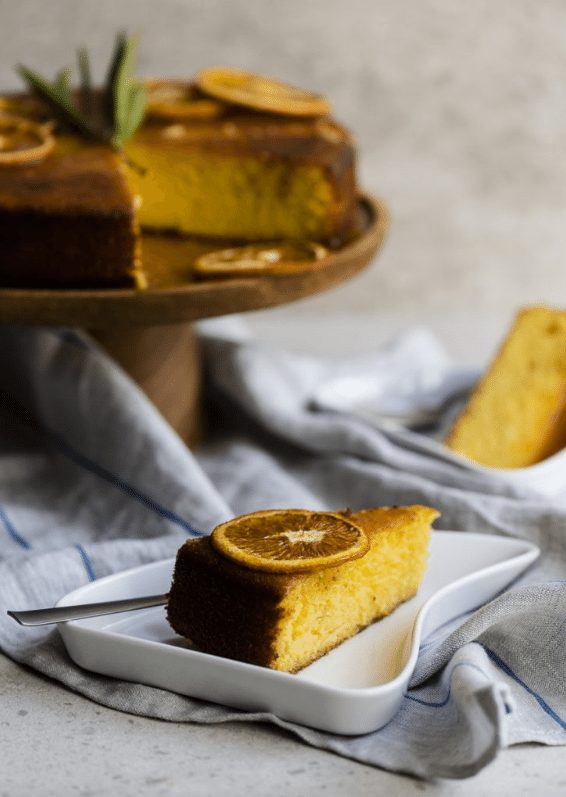 I was recently invited to lunch at Tokara in Stellenbosch and had the opportunity to enjoy an olive oil tasting followed by a tasty lunch in the deli. The dessert was just incredible, a Orange Polenta Cake served with Orange Ice Cream, Orange Crème and Candied Oranges and as we were lucky enough to get the recipe afterwards, it was a given that I was going to share it.
Tokara offers some of the most incredible views in the Cape wine lands and is a must do when visiting wine farms in the area. The winery makes a fantastic range of wines, brand and olive oils. The main restaurant on the farm, with the kitchen under the able helm of chef Richard Carstens, makes a regular appearance on the country's top top 10 restaurant
list. The deli offers a more informal but as delicious dining option as well as a shop full of products to take home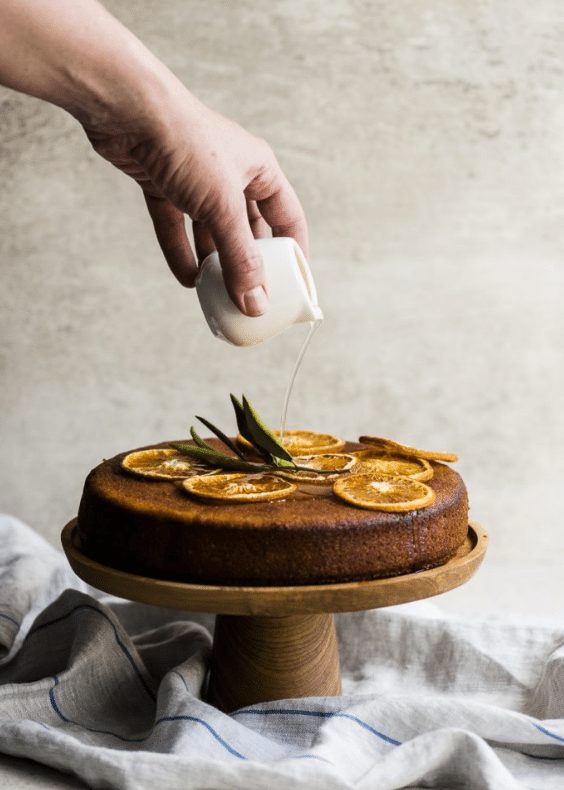 I love baking with ground almonds and this Orange Polenta Cake is one of my new favourite bakes. It is incredibly flavourful as you boil 2 whole oranges, blend it too smooth puree and add it to the cake batter meaning the orange flavour is intense and delicious. I did not mess with the original recipe except for adding some vanilla extract and salt to the cake batter.
I sliced and froze the leftover cake and it defrosts within a few minutes remaining as delicious as when it is freshly baked and soaked with the spiced syrup. The dried orange slices used for decoration could not be easier to make. I have made them before for the Chocolate Fruitcake and all you need to do is sprinkle the slices with some caster sugar and let them dry in a low oven of about 80 degrees C, turning once or twice until they have dried out. Enjoy!
Click here for the syrup recipe.

Orange Polenta Cake
Ingredients
Cake:
2 oranges, skin on and washed
270g caster sugar
5 eggs
1 tsp vanilla extract
170g ground almonds
50g polenta
1 tsp baking powder
half a tsp salt
grated zest of an orange
100ml olive oil
Syrup:
Click the link above for the syrup recipe.
Instructions
Make the syrup by splitting the vanilla bean in half and placing in a small pot with the sugar, water, spices and salt
Bring to a gentle simmer and simmer for 5 minutes and remove from the heat
Add the brandy and let the syrup infuse for 30 minutes
Strain the syrup and set aside
Preheat the oven to 190 degrees C
Grease a 24cm springform cake tin and line the base with baking paper
Place the oranges in a small pot and and cover with water and gently simmer for
Remove the oranges and cool for 30 minutes
Roughly chop the oranges with the peel on, remove the pips and blend in a food processor to a smooth puree
Whisk the eggs and sugar, add the extract and beat well
Add the almonds, polenta, baking powder, orange puree, zest and olive oil and mix well
Pour the mixture into the baking tin and bake for about 45 minutes until light golden and firm to the touch
http://heinstirred.com/tokaras-orange-polenta-cake/ 9/15
Leave to cool in the tin for 10 minutes, turn out on a wire rack and let the cake
cool completely
Transfer the cake to a plate and use a toothpick to prick the cake all over
Spoon spoonfuls of the syrup over the cake, allowing it to soak through the cake
before adding more
Continue until all the syrup is finished