Weissbier elevates a classic gooey grilled cheese to a whole new level of indulgence.
By Heather Schmitt-Gonzalez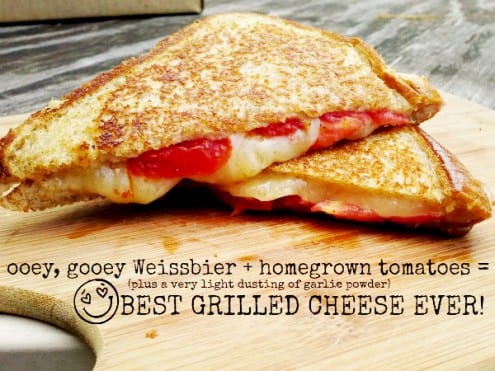 If it were up to me, I'd hold (or at least attend) some variety of cheese tasting party weekly. Cheese + Wine? Yes, please. Cheese + Beer. Oh, yes. Cheese + perfect food pairings? You know it! But I will also happily munch on cheese for no other reason than I can't get enough. Fortunately, I still have a fair amount of cheese left over after my cheese tasting and pairing. We've been using it for pretty much anything. The Hirten is being used like Parmesan…on hot, buttered noodles, in pestos, shaved over baked apples. The classic has been sliced for sammies, but also eaten alongside fresh fruit and nuts as the perfect snack. And the Weissbier has gone into bread, used in mac and cheese, and shredded to use in sandwich-after-melty-sandwich!
Basically, I'll butter one side of a slice of bread and set it butter side down in a pan over medium-low heat. Add a handful of shredded Weissbier to cover well. Add a few slices of juicy homegrown tomato, sprinkled with a smattering of smoked sea salt and freshly ground pepper. Place another slice of bread, buttered side up on top. Grill until outside is golden, and cheese is ooey, gooey. Shake a very light dusting of garlic powder on both sides of the sandwich.
Heather Schmitt-Gonzalez
Heather Schmitt-Gonzalez is a Michiana-based food writer with a fondness for garlic, freshly baked bread, stinky cheese, dark beer, and Mexican food—who believes that immersing herself in different cultures one bite at a time is the best path to enlightenment.