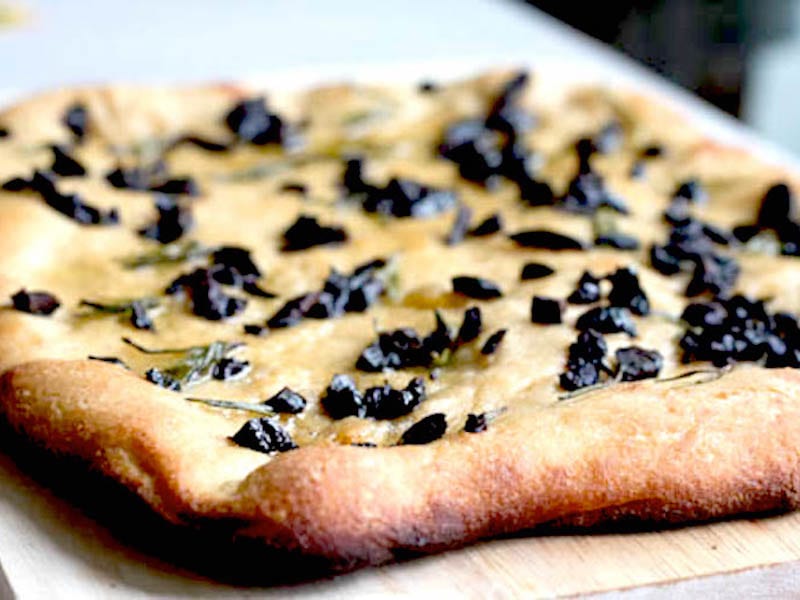 Olive rosemary focaccia is a real treat. Fragrant rosemary and salty olives lend a deep and rich flavor to this bread that can be enjoyed at anytime.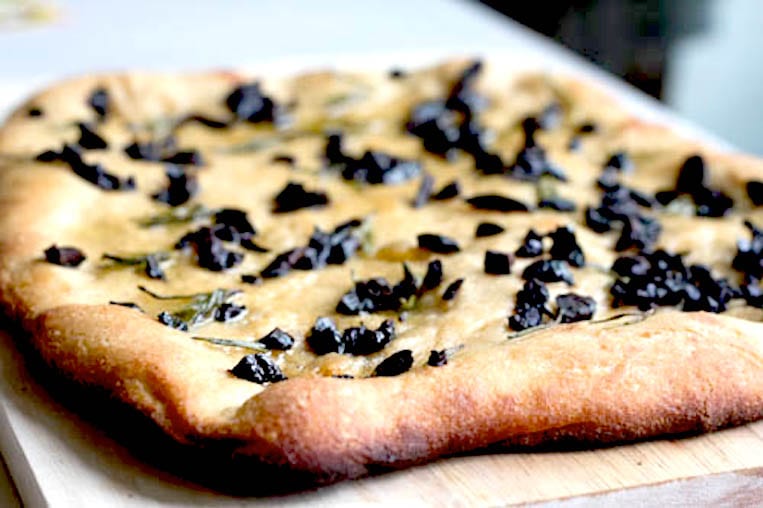 Lately, I've been running around San Francisco, meeting and tasting with some of the city's top up-and-coming talent for my job. But I wanted to take a few moments to share a recipe that I was able to sneak in before my trip. This wonderful foccocia recipe comes thanks to the time I spent working at Bastide restaurant in LA. Bastide had a fantastic bread program—we made the most perfect mini baguette, fragrant and crisp potato-fennel rolls, and this olive focaccia every day. Tossed in plenty of olive oil, the focaccia bread literally fries itself as it bakes, creating a lovely, crunchy exterior.
My good friend Jessica, now chef de cuisine at Bay Area restaurant Manresa, asked me to pull out the recipe a few weeks ago. I couldn't help but make a batch myself, adding some whole wheat flour and a little rosemary. The bread is a real treat, wonderful all on its own but perfectly ample for sandwiches as well. Enjoy!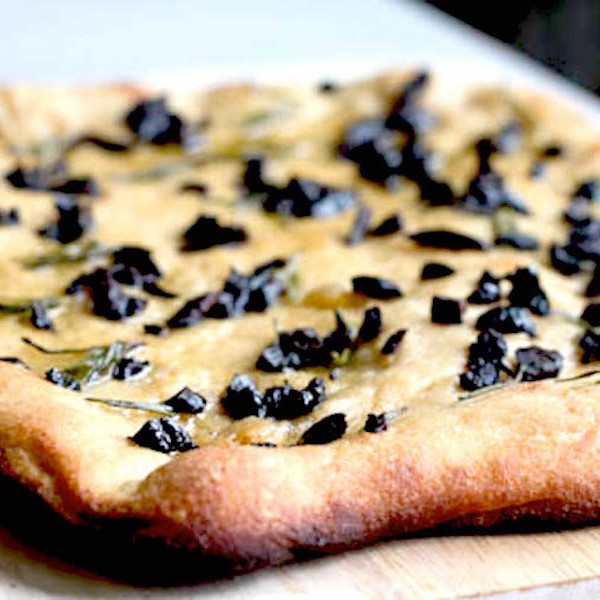 Katherine Sacks
Ingredients
7

tablespoons

olive oil

plus more

1

cup

all-purpose flour

plus more

¾

cup

whole wheat flour

1½

teaspoons

kosher salt

1

teaspoon

sugar

½

teaspoon

active dry yeast

2

tablespoons

chopped fresh rosemary

½

cup

chopped black olive
Instructions
Lightly oil a large bowl; set aside.

Combine the all-purpose and wheat flours, salt, sugar, yeast, 3 tablespoons oil, and ½ cup water in a bowl.

Stir to combine until a dough forms into a ball.

Lightly flour a work surface and knead dough until smooth, adding additional flour to prevent stickiness.

Transfer dough to oiled bowl, cover, and rest for 1 hour.

Brush a large rimmed baking sheet with 2 tablespoons oil.

Stretch and press dough on the sheet into a rectangle slightly smaller than the sheet.

Brush dough with remaining 2 tablespoons oil.

Cover dough loosely with plastic wrap and set aside in a warm area until dough has almost doubled in size, 1½ to 2 hours.

Preheat oven to 450°F.

Remove plastic wrap and dimple dough with your fingertips.

Scatter rosemary and olives over dough.

Bake focaccia until golden brown, 10 to 15 minutes.

Let cool to room temperature before cutting into slices.
Katherine Sacks
Katherine Sacks is a Berlin-based freelance writer and recipe developer specializing in travel, food, lifestyle, and health topics. A graduate of Drexel University's culinary arts department and Northwestern University's Medill School of Journalism, Katherine combines seven years of restaurant experience with her reporting and editing background. Her work has appeared in Chicago magazine, the Chicago-Sun Times, and FoodandWine.com, among other publications. She also contributes to culinary trade publication StarChefs.com, Forbes Travel Guide, and Snooth Eats, and blogs at LaVitaCucinare.com.