Not far from Athens, but feeling worlds away is the dreamy Cape Sounio Grecotel Resort where they make a stunning Greek octopus dish.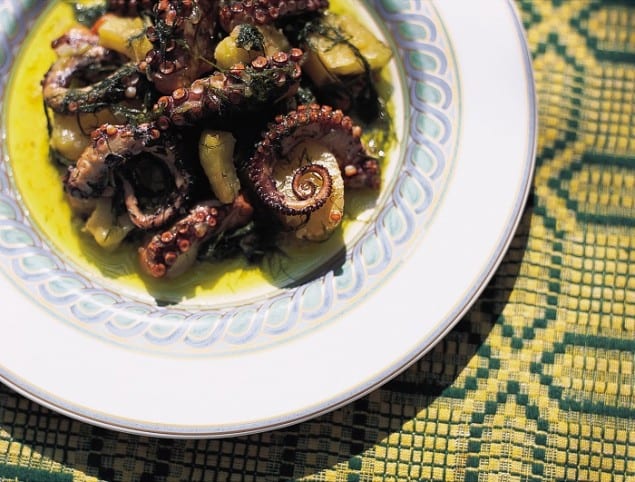 Not far from Athens, Greece but worlds away is the dreamy Cape Sounio Grecotel Resort. The hotel is known for luxury but also the divine cuisine of chef Sakis Tsanetos.
Cape Sounio Grecotel Exclusive Resort fronts the Sounio National Park and Sounio Bay with dramatic views of the Temple of Posideon. The hotel has rooms, bungalows and villas to sleep in, a spa to relax in and lovely pools and the bay to play in. The restaurants are beautiful. The cuisine is absolutely delicious and wait until you sip one of their imaginative cocktails.
Imagine sitting at a table at the water's edge, toes in the sand, having a beautiful dinner with someone you love and looking across the bay at the ruins of the Temple of Poseidon? Fabulous isn't it?

There are so many little nooks, patios and inspiring places to dine and sip- you can certainly try to do them all. One of Grecotel brand's finest resorts. Here is a recipe from Chef Tsanetos with his complements.
Octopus And Fennel From Cape Sounio Grecotel Resort
a most delicious preparation affording the subtle flavor and texture of the octopus to shine.
Author:
Chef Sakis Tsanetos
Ingredients
1 bunch wild fennel, leaves and stalks, coarsely chopped or 2 fennel bulbs, finely sliced
1 cup flat-leaf parsley, chopped
2-3 cup cracked green olives (Cretan)
3-4 tbs olive oil
1 kg or 2.20 lbs. fresh octopus or 2-3 smaller ones
240 ml or 8.44 fluid ounces dry red wine
Instructions
If you buy a frozen octopus, simply defrost it, wash it and then boil it in a covered, nonstick saucepan over low to medium heal without adding any water.
If it's fresh, have the fishmonger clean it.
Fresh or frozen, it will cook in its own juice, but if it stops exuding liquid before becoming tender, pour in a little of the wine.
Watch the pan carefully as it will reabsorb its liquid.
Add wine whenever the pan appears to be drying.
When the octopus is tender, remove it from the saucepan, allow to cool and cut into bite-sized pieces, removing the eyes and beak; set aside.
Add the oil to the saucepan, gently sauté the fennel and parsley for a few minutes before you return the octopus pieces with the rest of the wine.
Simmer until you have thick sauce.
Stir in the olives and cook another 10 minutes.
You can use squid instead of octopus. Vary the cooking times accordingly.