Blustering winds, heavy down coats and pumpkin spice lattes take a hiatus. Fighting its way through lengthened April showers, the sun is finally having its moment to shine. Beaming bright blue skies are shining on the Big Apple and bringing the long awaited summer season. Welcome to rooftop season in New York City. Here are the best rooftops to visit this summer.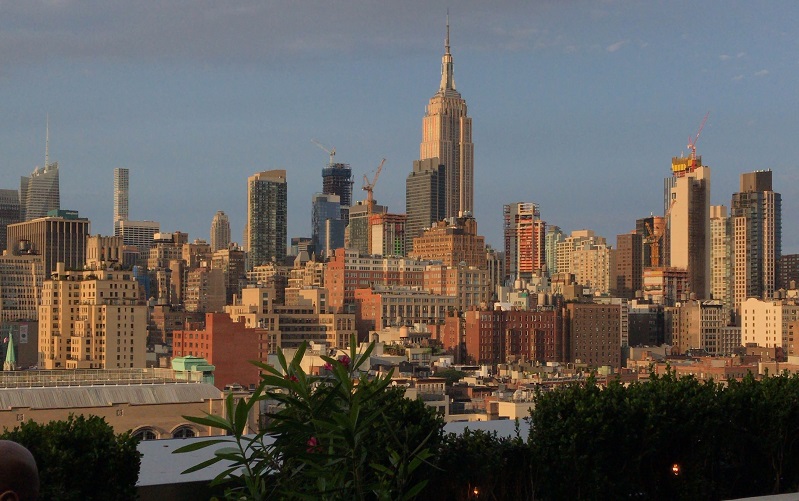 Nearing Memorial Day Weekend, City goers begin flocking to these elevated open  spaces, set atop the peak of New York's finest buildings. From breathtaking views to endless pours of libations, its time to raise a glass to the rooftops spanning throughout the city.
Where to go?
The Lookup –  NYC's newest rooftop is located at the soon to launch; The Kixby, a 13-floor hotel situated at 45 W. 35th St. The  2,200-square- indoor and outdoor rooftop is a work of art by Chris Barish and wife Julie Mulligan of Black Tap Craft Beer & Burgers aka the international restaurant sensation responsible for the world famous CrazyShake™ milkshakes. The property is divided into three zones with stadium seating, high-top tables and lounge areas – all anchored by a central peninsula bar for daily festivities.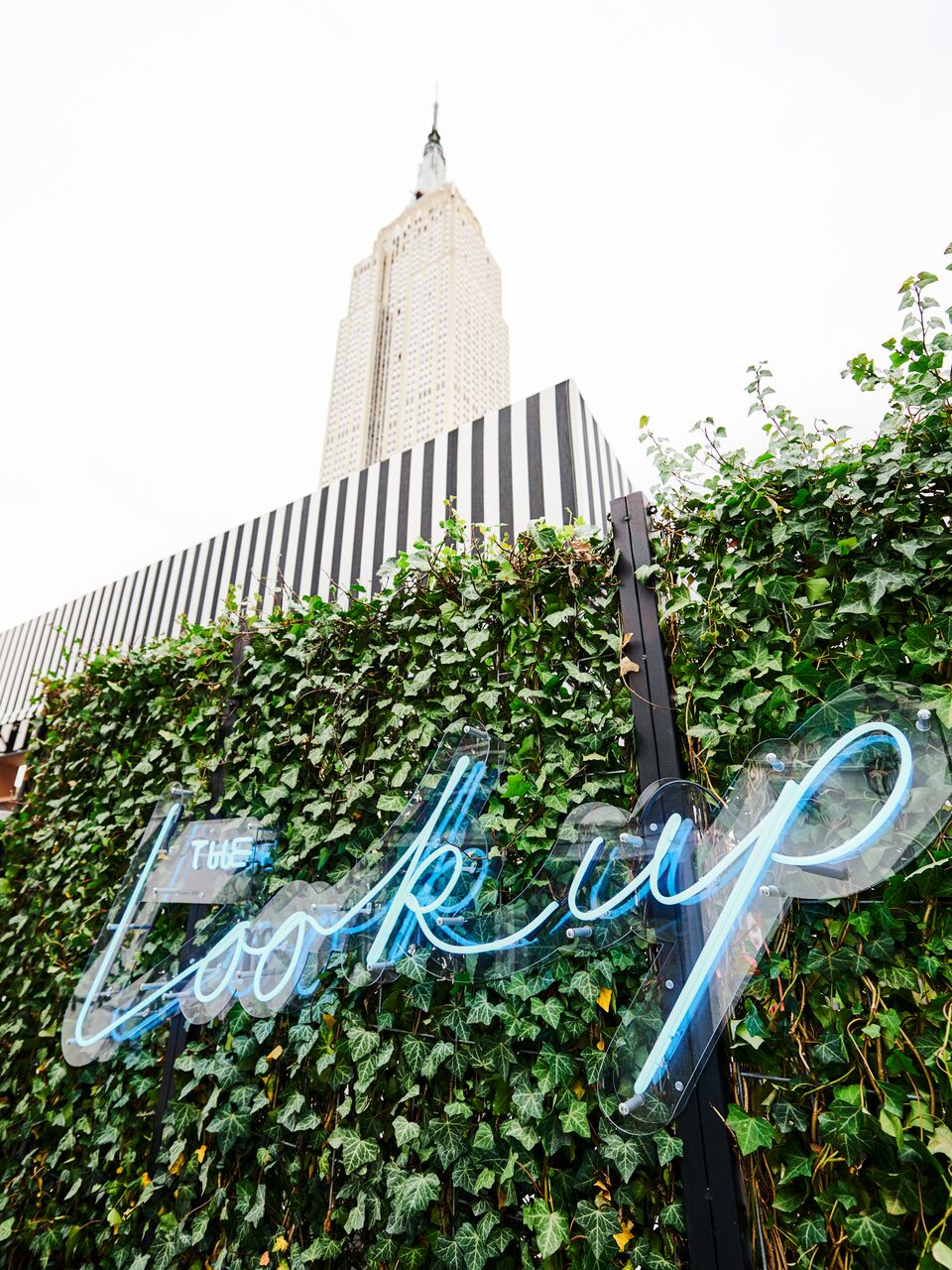 Dead Rabbit's Pamela Wiznitzer is behind the cocktails menu at the Lookup. Starting at $16, cocktails are served in single and sharing sizes. The pioneer mixologist  showcases fun and original cocktails such as: a riff on a Whisky Smash with boozy sorbet, a spa-like watermelon drink, a Margarita-Paloma blend and a shareable Rose Sangria.
The food menu features a spin on bar snacks such as  truffle Parmesan popcorn, rose infused shrimp cocktail and dippin dots.
PHD Terrace at the Dream Midtown–  Escape the tourist filled streets for the summer months and venture to Midtown's favored  indoor-outdoor rooftop atop Dream Midtown Hotel. The sister to the PHD Downtown ( attracting the fashion forward crowd ) this summer, the highly popular lounge celebrates the art of Aperitivo. Transforming into Italian oasis featuring floral installations, canopies, floral boat stationed curbside, a custom Italian style cart offering the Mediterranean and Isla Di Montecristo cocktails. Apertivo or no apertivo one item that cannot be ignored are the truffle fries.
Skylark Midtown– Catering to the after-work contingency – New York City's  classically-styled cocktail lounge Skylark, offers expansive panoramic views of Midtown Manhattan and a new spring menu by Chef Alexandra Trogisch featuring satisfying bites; macaroni bites, Asian style cauliflower, fries and full of excellent house cocktails such as a ginger negorni and frose frose frose.
See Also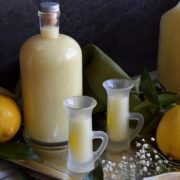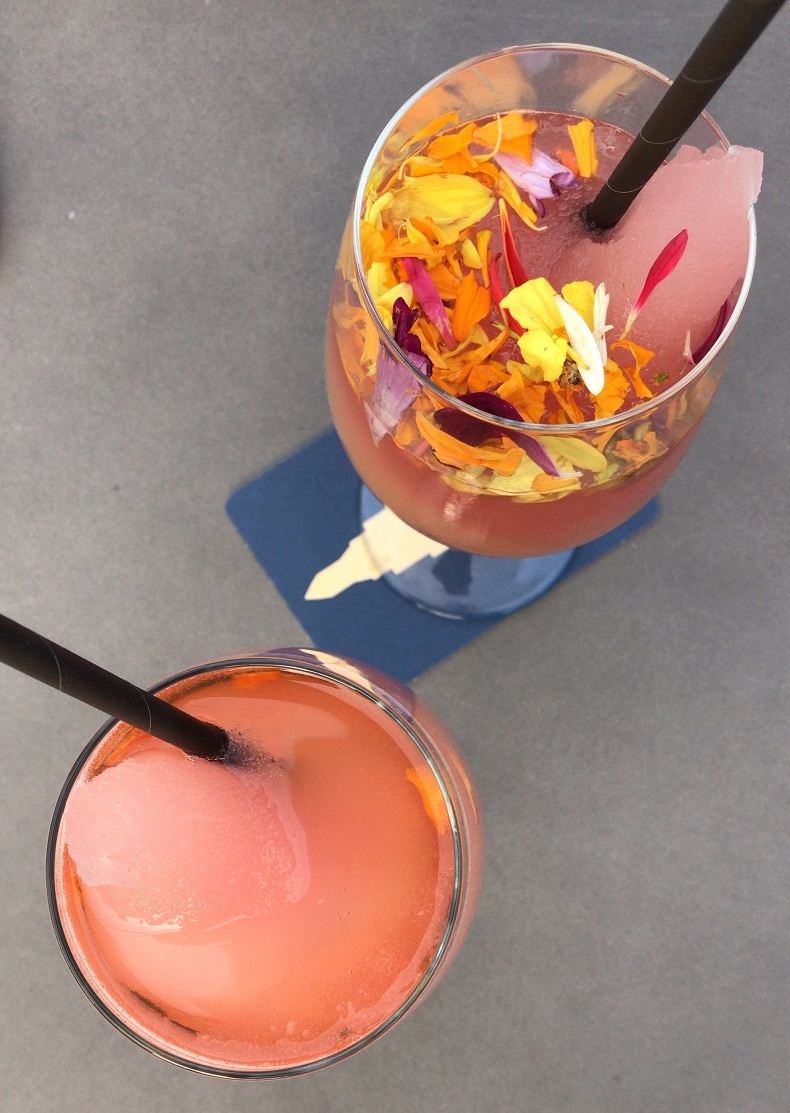 Willamsburg Hotel – starlight star bright and  bless those eyes at the urban oasis i.e Williamsburg Hotel. Set atop the industrial-chic  eight-story hotel enjoy unimpaired spectacular of Manhattan skyline, a pool, bungalows and artisinal cocktails from beverage director Rael Petit at the Rooftop.
For more spectacular views head up to the Water Tower. Inside the  elevated turret shaped lounge, enjoy a libation and soak up the views from the floor to ceiling windows. Or chat with a new Croatian friend or Portland visitor on the plush sofas set along a mural of graphic posters- very Williamsburg chic.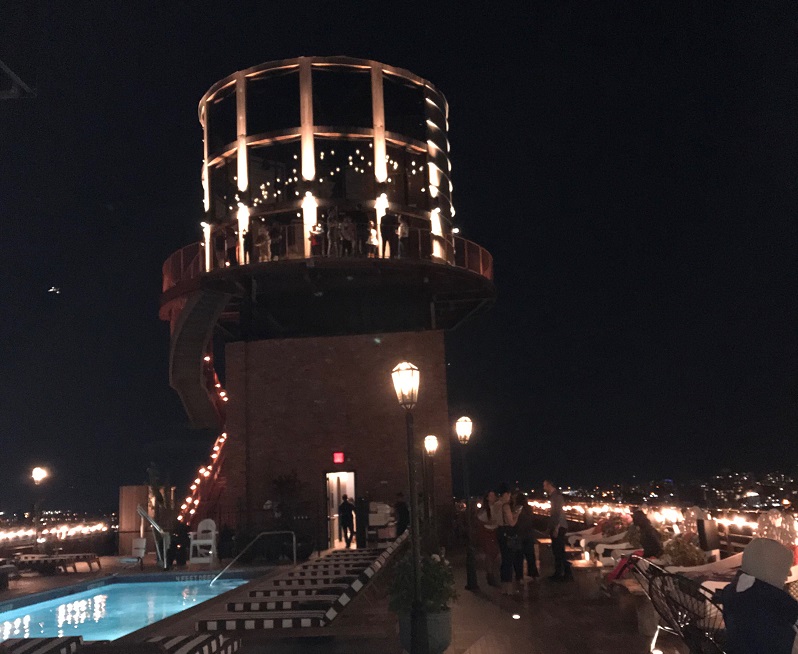 Hungry for more? Food skews summertime from the downstairs restaurant Harvey, including farro salad and lobster rolls the pool. For libations the hotel's bar has a drink called Rebel Rebel the  made with Ilegal Mezcal, Italicus Rosolio, Bergamotto, Demerarra, Blue Corn Flower.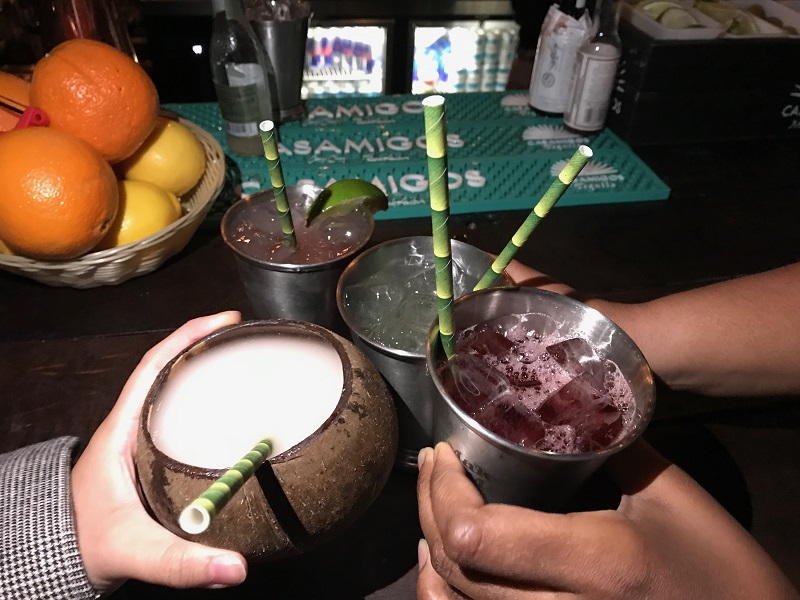 STK Rooftop – overlooking the beautiful High Line,  the spacious open-air rooftop boasts breathtaking views of the Hudson River and New York skyline in an al fresco steakhouse setting. Offering more than the quintessential bar bites, STK features a full dinner menu with classic grill cuisine and standard NYC priced cocktails.
Featured image for this post is courtesy The Lookup and Madonna Child