This seasonal strawberry-rhubarb crumble is easy to put together and makes for a great dessert for two people. Sweet and just a touch tart, a perfect treat.
Who doesn't love a seasonal, fruity dessert that's ready in under an hour? This Mini Strawberry-Rhubarb Crumble is divine, especially topped with a scoop or two of vanilla ice cream or yogurt.
I was inspired to make this dessert after a visit with a high school friend who was in town recently. It was so fun to catch up on the patio of a good restaurant on a beautiful day, sharing memories, a bunch of laughs, and of course, dessert!
One of the desserts we shared at lunch the other day was a rhubarb crumble. When we walked into the restaurant we saw the kitchen staff chopping a bunch of rhubarb, so it must have been in the back of my mind for a few days.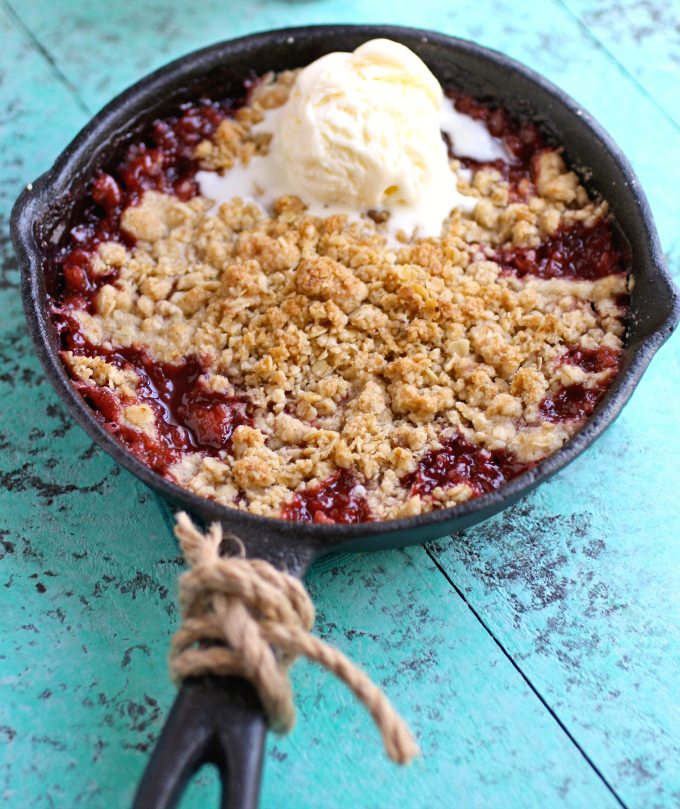 Strawberry-Rhubarb Crumble for Two is easy to put together and it makes a great dessert for just a couple of folks. If you'd like, you can easily double this recipe. I probably should have done just that, because I wanted more!
When I was little, our wonderful neighbor, Mrs. Sutton, grew rhubarb in her backyard garden. I remember how amazed I was by its enormous green leaves (they're poisonous, so no eating the leaves) and the pretty crimson stalks, all the while dreaming of the glorious pie she would make with that rhubarb!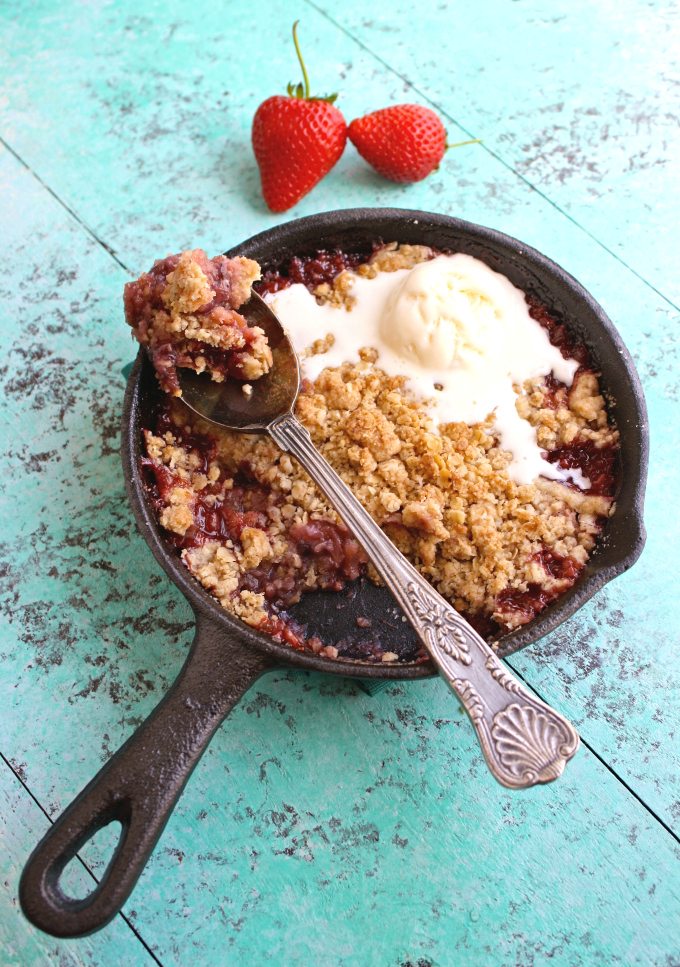 See Also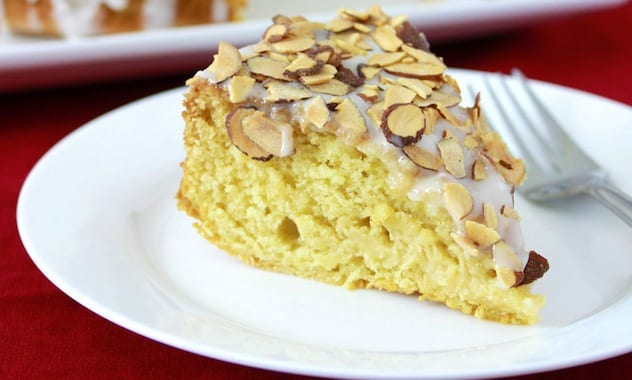 If you love rhubarb you should try a few of my other rhubarb recipes, like Strawberry-Rhubarb Almond Streusel Muffins (who can resist that streusel) or Cherry-Rhubarb and White Chocolate Bread Pudding — mmm — one of my recent favorites!
Since I have mini cast iron skillets, I knew this smaller batch dessert would be a ideal option. It was so easy to put together, and in all honesty, it turned into my lunch the day I made it!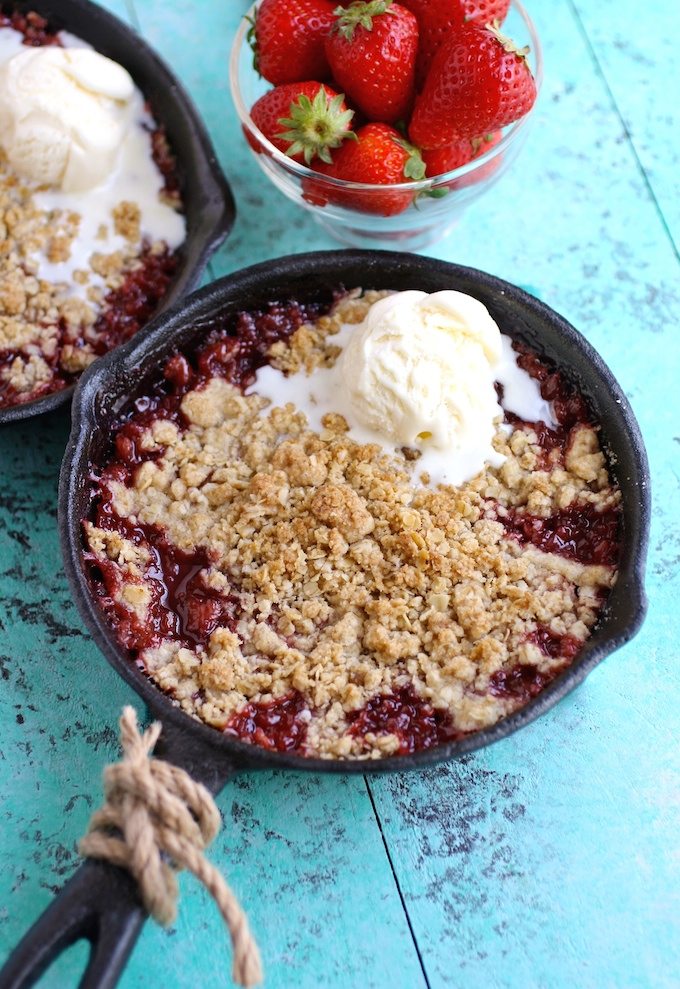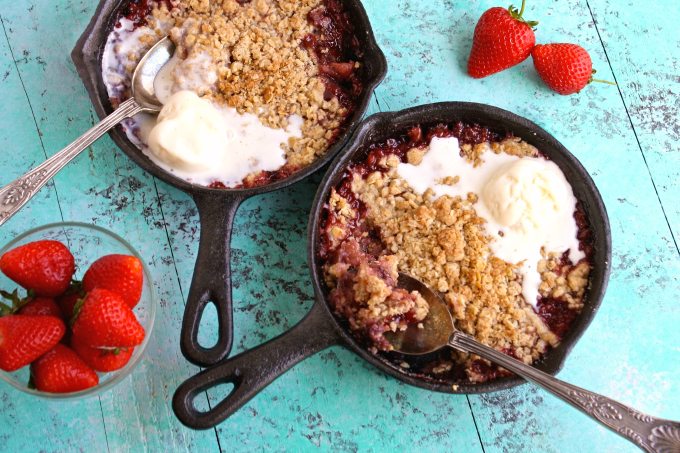 Mini Strawberry-Rhubarb Crumble
Patricia Conte
Ingredients
1-1/2

cups

diced strawberries

1-1/2

cup

diced rhubarb

about 2 large stalks cut into 1-inch pieces

1/4

cup

sugar

2

tablespoons

water

1/2

teaspoon

lemon juice

1/2

cup

all-purpose flour

1/4

cup

rolled oats

2

tablespoons

brown sugar

1/2

teaspoon

ground ginger

1/4

cup

cold butter

cut into pieces

Optional: top with scoops of vanilla ice cream or frozen yogurt
Instructions
Preheat the oven to 425 degrees F.

Add the strawberries, rhubarb, sugar, water, and lemon juice to a saucepan over medium-high heat. Cook until the rhubarb softens. Remove from the heat.

Combine the flour, oats, brown sugar, and ginger in a bowl. Whisk to combine.

Add the butter and use your fingers to combine the mixture. Squeeze the butter lightly and toss it with the dry ingredients until crumbly.

Divide the fruit mixture between 2, 6-inch mini cast iron skillets. Divide the topping and sprinkle it over the fruit.

Bake for 20-25 minutes or until the topping is golden and the fruit mixture is bubbly.

Remove, cool slightly, and serve topped with 1-2 scoops of your favorite vanilla ice cream or frozen yogurt.
Notes
The leaves of rhubarb plants are poisonous, so be sure to discard them. You can easily double this recipe to serve more.
Patricia Conte
Patricia Conte is the writer, recipe developer, and photographer behind Grab a Plate. She credits her love of cooking, baking, and entertaining to her Italian immigrant family who is also passionate about all things food! Visit her at Grab a Plate where she shares her love of food, recipes, and bites in between. Follow Patricia on Twitter, Facebook, and Instagram.