A Michelada is a Mexican ice cold mixed beer cocktail, resembling a bloody Mary on the rocks – minus the Vodka. Nancy Lopez-McHugh with three family recipes.
By Nancy Lopez-McHugh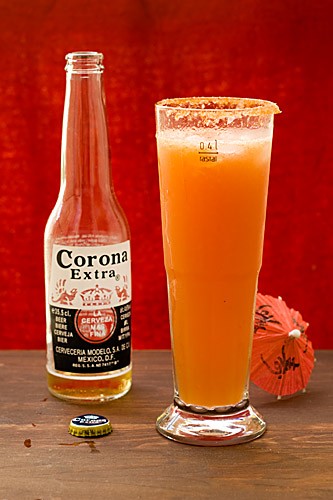 Micheladas are one controversial Mexican drink. First let me explain what a Michelada is, it is a Mexican ice cold mixed beer drink or cocktail if you will. The closest thing I can say it resembles is a bloody Mary on the rocks minus the Vodka. So why the controversy you ask? Well, as my sister C. put it best "They are like tacos, everyone has their own way of preparing Micheladas. They can be as fancy or as simple as you like." This is something that I found to be very true. While I had already prepared and photographed my personal version of a Michelada afterwards I took to the internet for some research, and I found quite the controversy. People on the internet were arguing back and forth about the real authentic way or the best Michelada ingredients. I started to get discouraged that perhaps the ingredients I thought  went into a  Micheladas  may be incorrect.
Thankfully I have some experts, ready to offer their advice, in my family. My uncle who makes a mean Michelada offered his recipe and tips. I think the most important tip he gave me was "There is NO correct way of doing it, as long as you get the taste of lime…" He also mentioned that the taste of chile was important to him, and me too. My sister C. also offered me her delicious recipe. Her's was a little more simple and more similar to mine. So since the recipes vary so much I thought I'd share all 3 of them with you. You decide what you want in your Michelada! 
My recipe:
1 corona beer
2 Mexican limes(or Key limes) juiced
1/2 tsp worcester sauce
tabasco sauce, to tase
pinch black pepper
ground chile pepper, to taste
salt, to taste
tomato juice or Clamato juice if available
For the glass/beer mug
ice cubes
tall beer mug or glass
salt
ground chile powder
1/2 lime
1. Mix some salt and ground chile powder in a plate. Using the 1/2 lime rim the glass/beer mug all around until well coated with the lime juice. Turn the glass/beer mug upside down and cover the rim with the chile salt mixture. Turn right side up and add the ice cubes. Pour the juice from the 2 limes into the glass/beer mug, add the worcester sauce, Tabasco, black pepper, ground chile powder, salt and tomato juice. Stir until all ingredients are well combined then pour in the beer, mix and taste. Adjust anything if necessary.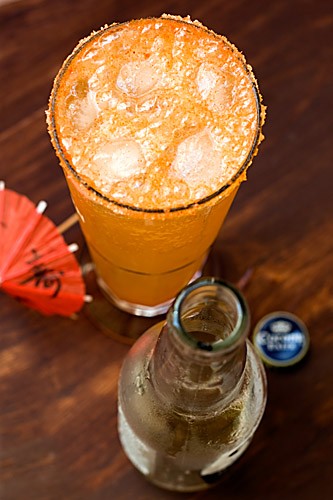 My Uncle's Version with ingredient amounts to taste:
1 good ice cold Mexican beer such as Modele, Pacifico, or Negra Modelo
fresh squeezed lime juice
Clamato juice
Maggi Sauce
Worcester sauce
ground chile de arbol
soy sauce
sea salt
For the glass/beer mug
ice cubes
tall beer mug or glass
salt
ground chile de arbol
lime
The process is the same as mine above.
My Sister's version:
Mexican beer
fresh squeezed lime juice
salt
tomato juice (like V8)
Mexican hot sauce
Again the process is the same as mine above. She also stressed that a good Michelada needs " lots of lime, salt and Chile!"
Controversy or not one thing is for sure, this Michelada was buenísima! They are a great drink year round but particularly awesome in the summer. Well, there you have it 3 ways of preparing a refreshing and mouthwatering drink. Perhaps you will try one of these recipes to make your own version and adjustments of an ice cold Michelada. Buen Provecho!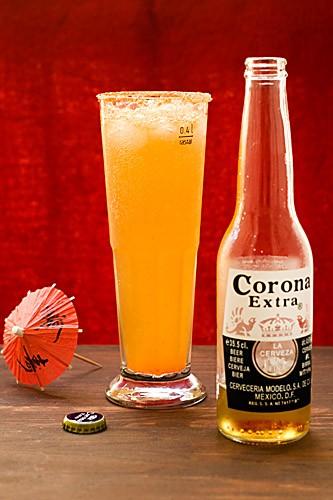 Nancy Lopez-McHugh
Nancy Lopez-McHugh is a food blogger, photographer and published author. Most recently she has published "Yummy Pics: A Food Blogger's Guide To Better Photos".