This rustic Middle Eastern comfort food makes a simple vegetarian main or the center piece for a mezze spread.
By Jess Lacey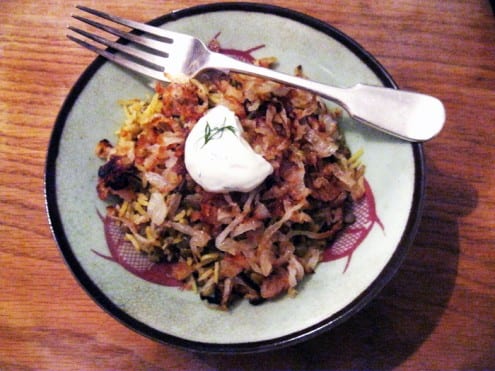 Mejadra: Rice, Onions and Lentils
This rustic Middle Eastern comfort food makes a simple vegetarian main or the center piece for a mezze spread.
Author:
Jess Lacey, adapted from Jerusalem
Ingredients
4 medium onions, thinly sliced
2-3 tablespoons of flour
250g green or brown lentils
2 tsp cumin seeds
2tsp coriander seeds
200g basmati rice
2 tbsp olive oil
½ tsp ground turmeric
1½ tsp ground allspice
1½ tsp ground cinnamon
Salt and black pepper
350ml water
Neutral oil like sunflower or vegetable
Greek yoghurt (optional)
Instructions
Cook the lentils in boiling salted water until cooked through but not completely soft (about 10-15 minutes).
Sprinkle the flour on a plate and season well with plenty of salt and pepper.
Toss the onion slices in the seasoned flour.
Pour a couple of tablespoons of neutral oil into a frying pan.
How much oil you use is up to you. You can get away with not that much if you're very health conscious, but if you want really crispy and delicious onions, you're going to need a fair few tablespoons.
Depending on the size of your frying pan, either fry the onions all at once or in batches (there should only be one layer of onions in the pan at a time).
Fry them in the oil over a medium high heat for 5-7 minutes until crispy and golden brown.
Remove from the oil and drain on a plate lined with kitchen paper.
Heat a large saucepan big enough to hold all the ingredients over a medium heat.
Toast the cumin and coriander seeds for a minute or so until they start to pop.
Add the oil and remaining spices and season well.
Add the rice and toss in the spicy oil to coat.
Add the cooked lentils and the water and bring to the boil, then reduce the heat to low.
It won't look like there is enough water, but there is.
Simmer for 15 minutes covered with a lid.
Take off the heat, remove the lid, cover with a towel and leave for 10 minutes.
Serve topped with the onions, and a dollop of Greek yoghurt (if you like).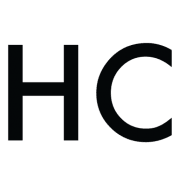 Jess Lacey
Jess Lacey is an Irish food blogger and soon to be lawyer. She has found a home in London, Dublin, Leiden, Melbourne and Aarhus. After a brief foray into the world of Michelin starred cooking, she decided to keep cooking and food as relationships based purely on passion rather than income. She travels frequently, and justifies this by writing about it. More of her musings and recipes are available on her blog, Canal Cook.