SPONSORED POST: We've teamed up with Green Giant to introduce you to their Cauliflower Pizza Crusts. They're vegan, made with over 80% cauliflower and way easier than making your own cauliflower crusts. Plus, click below for a coupon to save money on the crusts!
This delicious, crispy pizza is loaded with four types of meats along with a garlicky sauce over a cauliflower crust.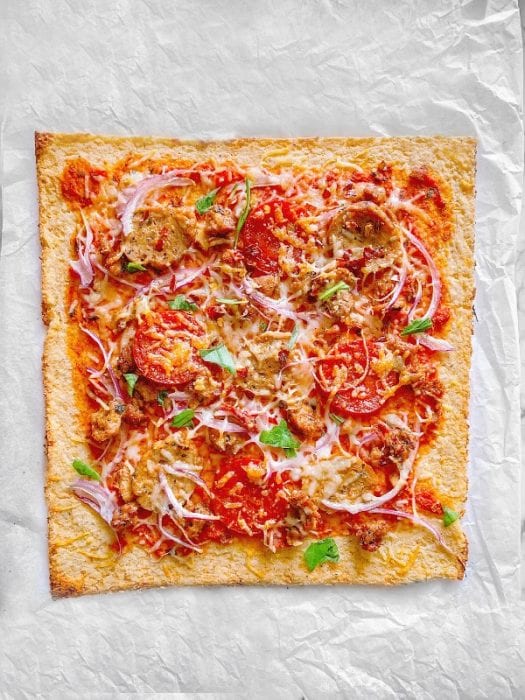 We love pizza and this–> Spicy Garlic and Meat Lover's Pizza is not only a perfect meal for us any-time of the week/weekend but also 50% lesser calories thanks to the cauliflower pizza crust from Green Giant.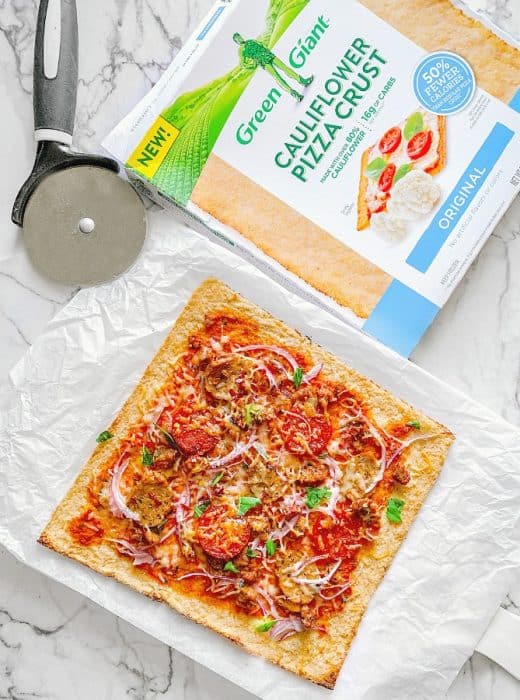 We have already made this pizza twice last week and we still can't get enough of it. The crispy-flavorful 'cauliflower crust' just blew our mind.
Click HERE for $1 OFF Green Giant Cauliflower Pizza Crust
The crust is made using simple ingredients (you'd literally understand all of those listed, they are so simple) basically made using '80% cauliflower' and is vegan too (has no cheese).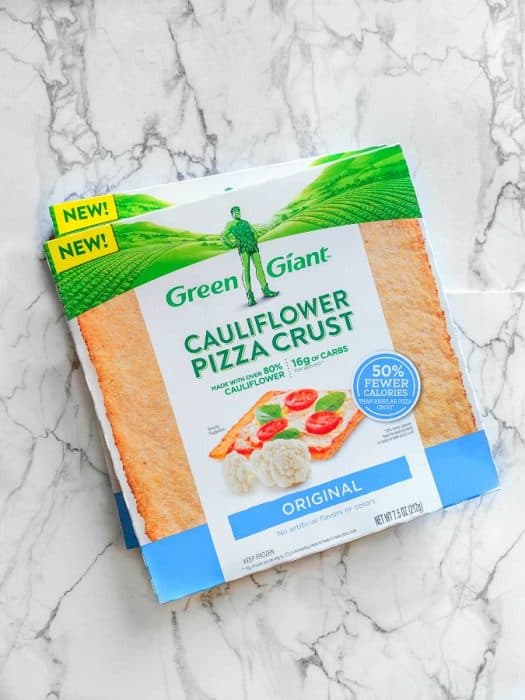 So, it's PERFECT for not only you and me but especially for someone who's on a low carb diet or Vegan too.
Now, coming back to our Spicy Meat lovers Garlic Pizza, it's super easy to make at home. The picture above details all the ingredients you need.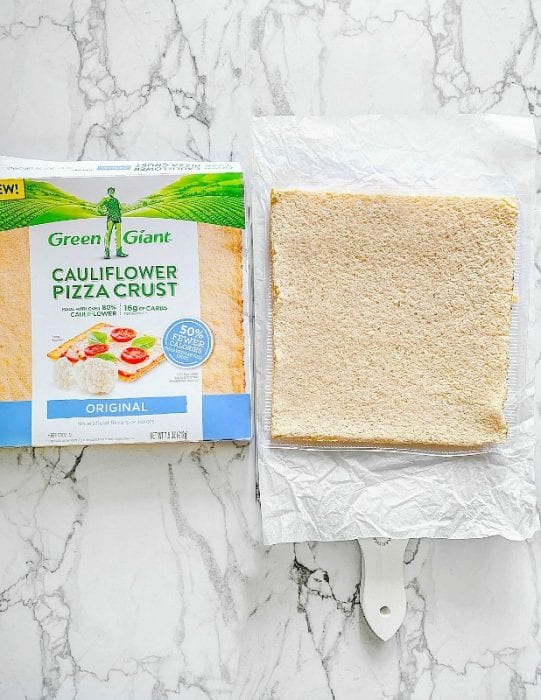 I'm using 3 different meat (lamb, chicken, turkey and bacon) but you can use any kind of meat and make it absolutely your own style.
The only thing I insist on not changing is 'Garlic', it adds such an amazing flavor to this pizza and goes amazingly with the meats.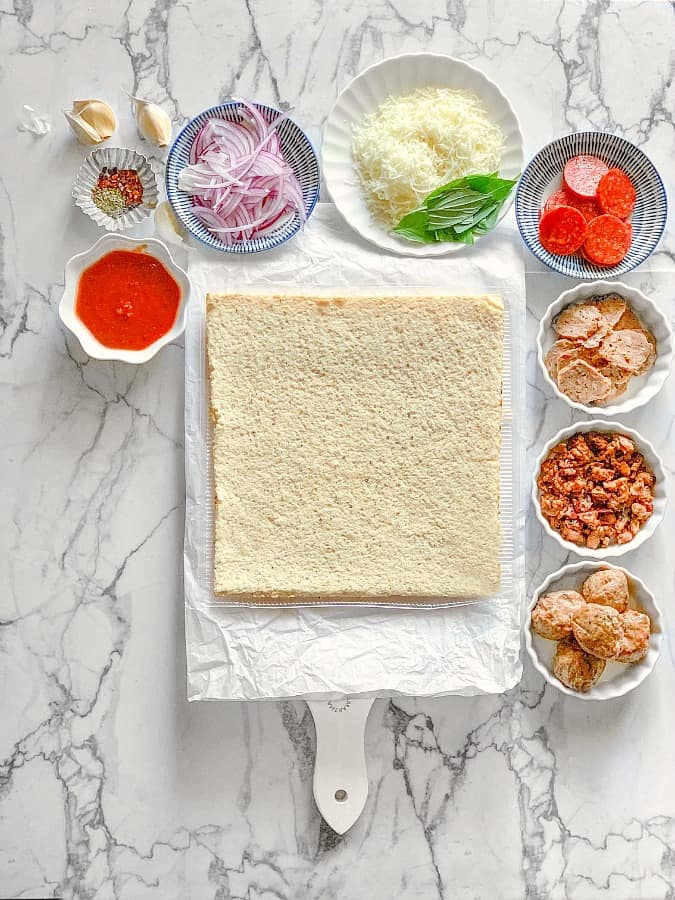 Now, another good thing about this Cauliflower Crust is that it doesn't need to be thawed.
You simply take it off the packing and bake it for 15 minutes (as per instructions on box) while you prep the toppings.
That crisp-ups the crust and you can easily ladle the pizza sauce, toppings finally give it a quick bake.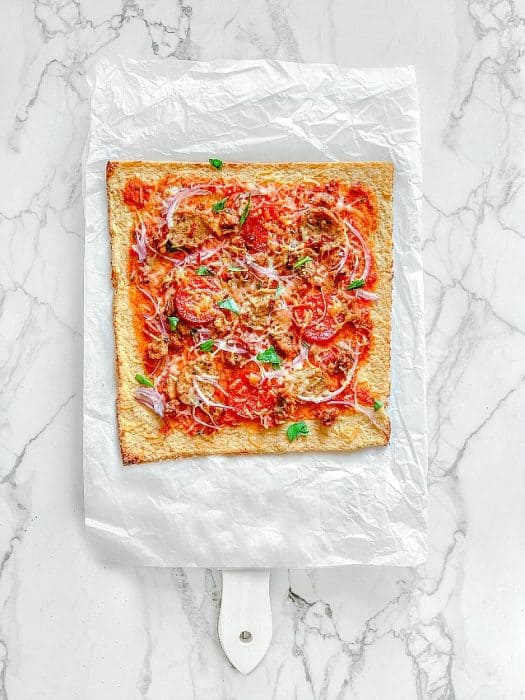 First, we baked the pizza crust and then we topped it with our garlicky pizza sauce.
See Also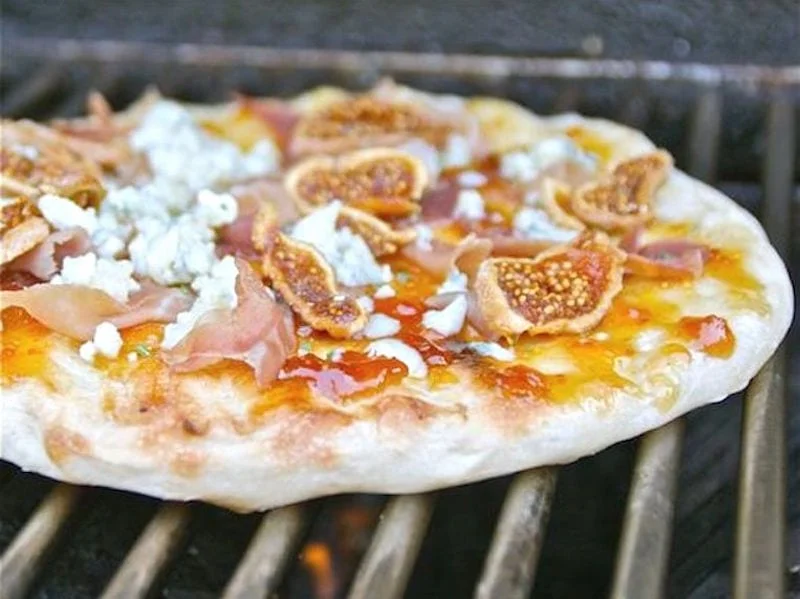 Then we added the meaty toppings along with some red onions, Italian seasoning and some garlic salt.
Then we gave it a quick bake and your pizza is ready in 10 minutes.
I baked two Spicy Meat lovers Garlic Pizza as I serve it one per person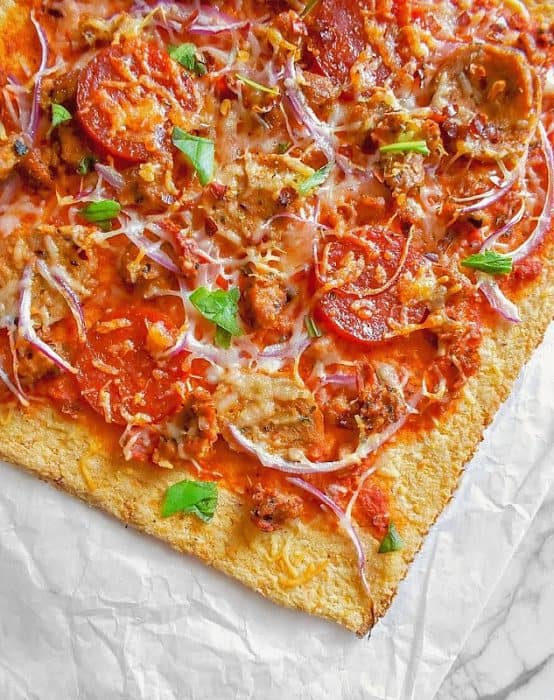 So go ahead and grab these 'Green Giant Cauliflower Pizza Crusts' and enjoy this crispy, meaty pizza with your loved ones.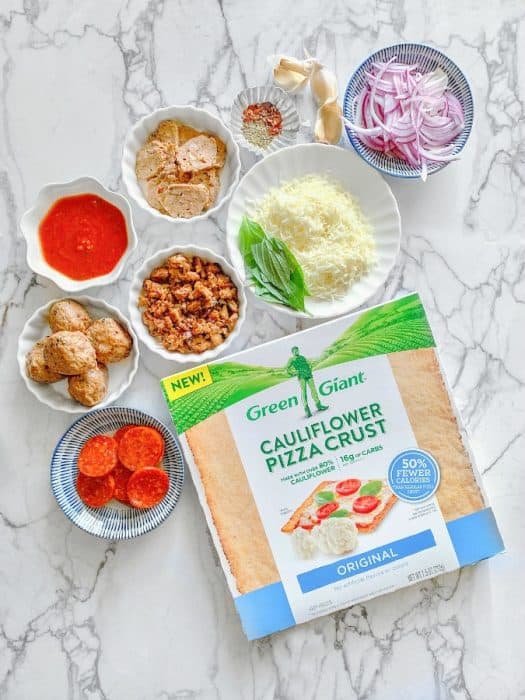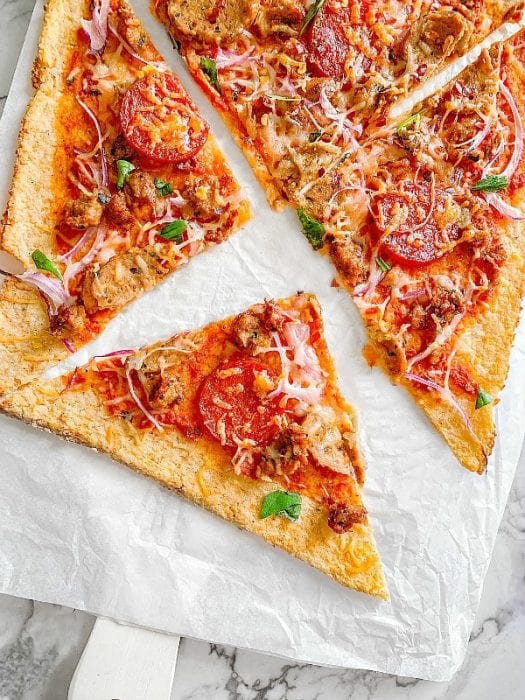 Print
Spicy Garlic and Meat Lover's Pizza
Author:

Molly Kumar

Prep Time:

15 minutes

Cook Time:

15 minutes

Total Time:

30 minutes

Category:

Pizza
1

Green Giant™ Cauliflower Pizza Crust

1

Clove Garlic – thinly chopped (check notes)

1

Small Red Onion – thinly sliced

3 Tbsp

Pizza Sauce – store-bought or homemade as per choice

3 Tbsp

Cheese – use any as per choice

1/4 Tsp

Italian Seasoning

1/4 Tsp

Chili Flakes – optional

1

–

2

Fresh Basil Leaves – for garnish (optional)
Meat Toppings: (you can add or remove any as per choice)
2 Tbsp

Pepperoni

1 Tbsp

Chorizo – use any kind you like

1

Italian Meatballs – crumbled & cooked

1

Chicken Sausage – small – thinly sliced
Instructions
Cook the Green Giant™ Cauliflower Pizza Crust (frozen)
Preheat oven to 425°F. Place Green Giant™ Cauliflower Pizza Crust on baking sheet and bake 16 minutes or until crisp.
Remove from oven and cool a little
Add the Toppings and Create the Spicy Meat Lovers Garlic Pizza:
Place the baked Green Giant™ Cauliflower Pizza Crust on a baking tray (pizza pan if using).
Spread the pizza sauce evenly all over the crust (leaving the edges).
Sprinkle cheese on top of the crust.
Add chorizo, sliced chicken sausage, crumbled Italian meatballs and pepperoni.
Add sliced onions, garlic, Italian seasoning.
Sprinkle some more cheese and bake in the oven for 15 minutes.
After 15 minutes, remove the pizza from oven and slice into 5-6 slices.
Add some crushed basil leaves on top and Serve Hot
Notes
* Garlic: you need to use thinly chopped garlic but can also use 1/8 Tsp garlic salt or dry crushed garlic.
** If on Keto, you can even add a layer of cream cheese after the pasta sauce.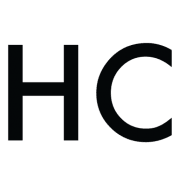 Molly Kumar
I'm a Food Blogger who's extensively travelled the World to learn about new cuisines/culture/spices. My recipes are light, easy to cook and filled with flavours. I can help you make everyday meal look gourmet and in the budget.