Matcha Black Sesame Cheesecake
An option to decorate would be to drizzle melted white chocolate over the top, or adorn with fresh raspberries or strawberries.
By Amrita Rawat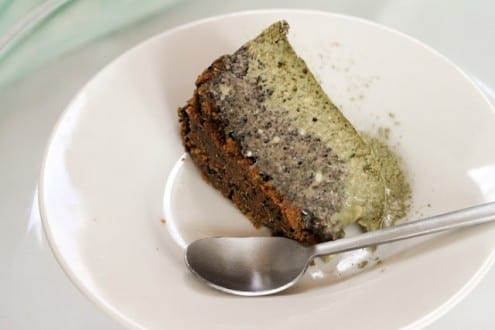 Matcha Black Sesame Cheesecake
An option to decorate would be to drizzle melted white chocolate over the top, or adorn with fresh raspberries or strawberries.
Author:
Amrita Rawat, adapted from http://hungryrabbitnyc.com
Ingredients
1¼ cup Digestives or animal crackers or ginger cookies, in crumbs
4 tbs butter, melted
3 tbs toasted black sesame seeds
3 tbs granulated sugar
pinch of salt
3 8-ounce packets of cream cheese
⅓ cup + ⅙ cup sour cream
3 eggs, room temperature
1 tsp vanilla
1 tsp almond extract
3 tbs all-purpose flour
1¼ cup granulated sugar
4 tbs matcha powder (plus more for dusting the top)
½ tbs ground/minced ginger
¾ cup black sesame powder
Instructions
Preheat oven to 350 degrees F.
Spray/butter a springform 10-inch cake pan, generously (I also lined the bottom with parchment paper).
Process all except the butter in a food processer, slowly drizzling in the butter until combined.
Press into the bottom and a little bit up the sides of the pan, using the bottom of a glass to press down evenly.
Bake for 15-18 minutes until deeply golden.
Let cool completely.
Wrap the bottom of the pan with foil on all sides (I would recommend doing this with 4 layers of foil to ensure no water gets to the cake, which has happened to me many times before until I did it this way).
Beat the cream cheese on medium with an electric beater for a couple of minutes.
Scrape down the bowl so all of the cream cheese is combined.
Add in the sugar and flour and switch to low, letting it mix in.
Keep the beater on low, adding in the sour cream until combined, along with both the extracts.
Add in the eggs, one at a time until combined.
Divide the batter however you like (evenly if you want even amounts of black sesame and green tea).
Stir in the black sesame seeds in one half of the batter, and green tea powder and ginger in the other half.
Chill both mixtures for about 20 minutes (I did this to make sure the batters wouldn't melt together in the pan).
Once chilled, scrape the black sesame filling into the pan.
When adding the green tea batter, don't dump it all in the center, spread it by putting globs all over the top of the black sesame filling (unless you want them to mix, in which case dump it all in and use a toothpick to create a marbled look).
Use a spatula to gently smooth over the top.
Set the cake pan in a larger roasting pan with sides.
Pull a rack out of the oven half way and set the roasting pan on the rack.
Pour boiling hot water into the roasting pan, coming up about an inch to an inch and a half up the side of the pan.
Bake for 30-35 minutes or until only the center is slightly wobbly.
Turn off oven and leave door slightly ajar with a wooden spoon for about 40 minutes.
Remove and refrigerate for at least 4 hours or overnight.
Sift green tea powder or powdered sugar over the top.
Another option to decorate would be to drizzle melted white chocolate over the top, or adorn with fresh raspberries or strawberries.
Enjoy!
Amrita Song
Amrita Rawat is the author of the blog Chai and Dumplings. Born in India and a lifelong resident of Atlanta, she recently moved to Saint Louis. Her love for food stems in part from its ability to bring cultures together and in part from how darn good it feels to eat a delicious meal. She loves traveling and has eaten her way through cities like Hong Kong, Paris, Budapest, Mumbai, and Shangri-la. Amrita is also a contributor to Sauce Magazine in St Louis.