With a few simple additions, these glazed roasted carrots taste as vibrant as they look.
By Tux Loerzel
This beautiful dish is the perfect balance of bright vinegary dijon mustard, sweet caramely maple syrup, rich salty butter, fresh woodsy green thyme and parsley, and tender earthy sweet carrots. Since the carrots are roasted not boiled, they are packed with flavor and wonderfully tender with a subtle crispness on the ends and edges. The sauce seems loose initially, but in the oven the butter, maple, and mustard caramelize and thicken and coat the carrots perfectly and give them an elegant autumnal flavor.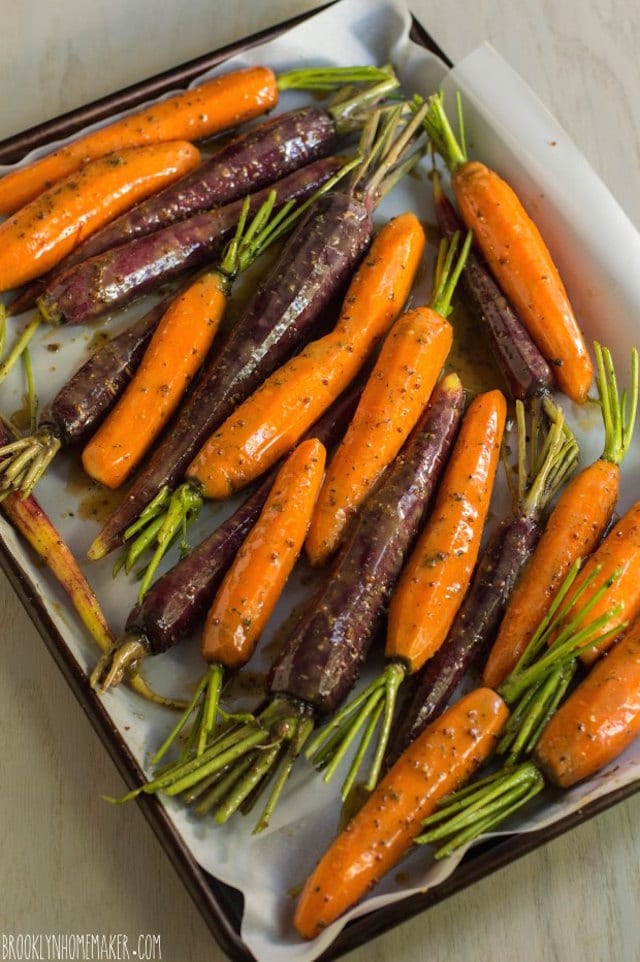 I recommend using multiple colors of carrots if you can find them. Not only do they make for a more beautiful, dramatic presentation, but they also offer slight variations in flavor and sweetness. My local grocery store carries mixed bags of yellow, orange, and purple carrots and these days I don't believe they're difficult to find in most parts of the country. Standard orange carrots would work just fine though in a pinch.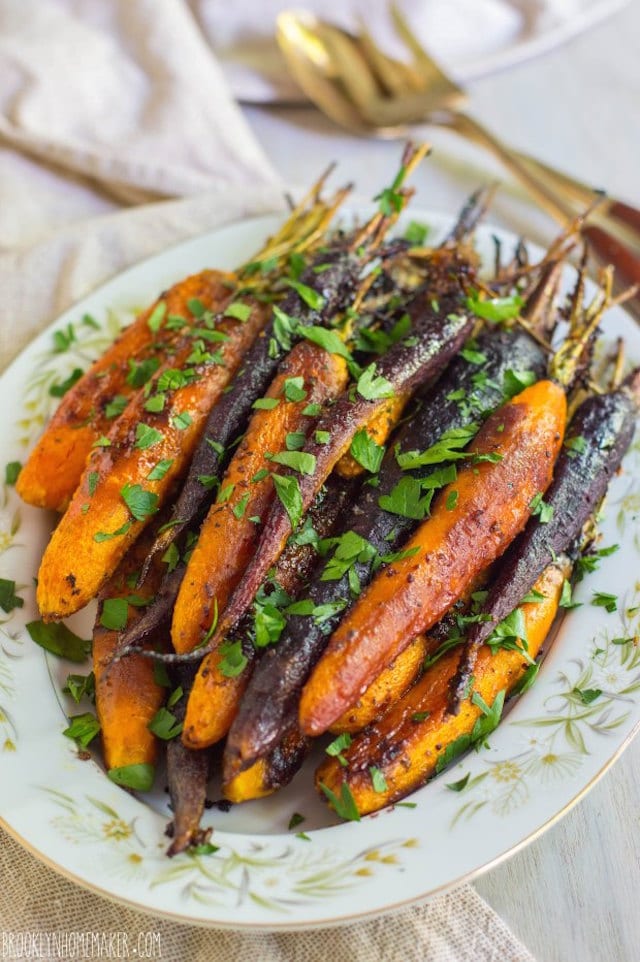 I like to think that this is one of those gateway dishes that will convert even the most avid cooked carrot, or mustard, hater and guide them on the path toward food love.
Maple Dijon Roasted Carrots
Tux Loerzel
Ingredients
2

lbs

carrots

multiple colors if possible

4

tablespoons

butter

2 to 3

teaspoons

finely chopped fresh thyme leaves

1/4

cup

dark amber

real maple syrup

1

tablespoon

dijon mustard

2

teaspoons

whole grain mustard

optional

1/4

teaspoon

grated nutmeg

salt and pepper to taste

3 to 4

tablespoons

chopped flat leaf parsley
Instructions
Preheat oven to 400F.

Wash, dry, and peel carrots and place in a shallow dish long and wide enough to fit them all.

Add butter and thyme to a small saucepan and heat over a medium flame to melt butter. Continue to warm the butter for 1 to 2 minutes. The butter should take on a green-ish tint from the thyme leaves. Remove from heat and cool for a few minutes. In a small bowl combine maple syrup, mustards, nutmeg, and salt and pepper. Whisk in butter until smooth and well combined.

Pour the butter/syrup mixture over the carrots and toss to coat. Arrange the carrots on a parchment lined baking sheet, and use a spatula to scrape any remaining butter/syrup mixture over them. You may want to use two sheets of parchment to make sure the whole pan is completely covered. Roast until tender and brown, for about 45 minutes to 1 hour, using tongs to turn each carrot about 30 minutes in. Watching carefully that the sugar in the maple syrup doesn't burn onto the parchment.

Top with chopped parsley before serving.
Tux Loerzel
Tux is a food blogger, photographer, dog lover, husband, and avid baker living in Bushwick, Brooklyn. Originally from upstate New York, he inherited his love of cooking and baking from his mother and grandmother. With the encouragement of good friends and several glasses of wine, he began his food writing and blogging adventure in the fall of 2013. Learn more about Tux at his blog Brooklyn Homemaker