Lychee fruit can be hard to track down but well worth it, they're sweet and full of health benefits for a delicious guilt-free milkshake.
By Anamika Sharma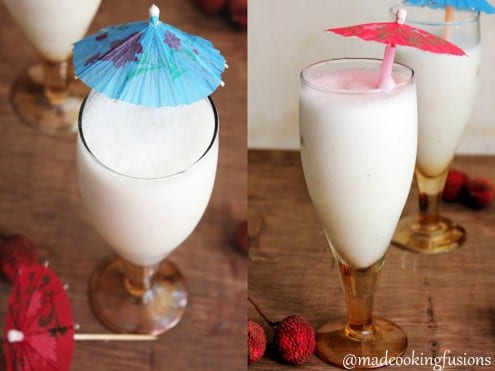 Lychee Milkshake
Lychee fruit can be hard to track down but well worth it, they're sweet and full of health benefits for a delicious guilt-free milkshake.
Ingredients
Lychee pulp – 1½ Cups
Milk – 2 Cups
Sugar – 2 teaspoon (As per taste , you can use Honey too in this recipe in place of Sugar)
Crushed ice – Handful
Whole Lychee – 2 for garnishing
Instructions
Remove the cover and de seed the lychees. You would require approx 12 – 15 Lychees. Take a mixer add the lychees and sugar (honey), blend them for few seconds. Check with a spoon and if any lumps still shows, pulse it again once if you like smooth shake (I love few chunks of it in the shake). Now add milk and crushed ice in a mixer and blend till it becomes smooth.