Symbolizing hope and light, the fine dining Italian restaurant Lucciola finds light during a global pandemic. Bringing Italy's fantastic food and culture to the streets of Amsterdam Ave, NYC.
I took my first trip to Italy seven years ago and, like most, fell in love with the country's incredible culture and lifestyle. Centered around several pillars: family, religion, history, the arts, architecture, language, and last – but by no means least – food. Food in Italian culture is where a meal is a cause for celebration – as I did at Lucciola accompanied by two close friends. Founded by Chef Michele Casadei Massari and Alberto Ghezzi, Lucciola is paying homage to Bologna's founders' hometown. For Upper West Side locals, it is a neighborhood firefly: a restaurant where the owners bring their glowing visions of Italy to the concrete jungle. Offering Italy's infectious charms on Amsterdam Avenue.
New York's Italian Firefly.
Friends for nearly 30 years, Chef Massari and Alberto Ghezzi, can be considered family. Both natives of Bologna, Italy, the dynamic duo, moved to New York City in 2009. First founding Piccolo Cafe and later in 2017 decided to open Lucciola. Described as a restaurant, "aiming to serve the best wines and most authentic recipes and freshest ingredients available on the whole market."
The Creative Visionaries Behind Lucciola
Living by the seasons, Chef Casadei Massari knows what cuisine flourishes by the change of temperature. Like truffles from Piedmont or Piemonte. As partner Alberto Ghezzi knows what wines to serve like a specialty, stored upside down. Best filled with white truffle accented parmesan cheese chunks. Chef Casadei Massari also recognizes seasonal changes. As fall swoops in, he receives a shipment of Scandinavian Salmon. Plus, a delivery of pasture-raised beef from New Zealand. Enthusiastic one may assume; passion is what I felt after meeting Chef Massari. He is a creator bringing world-class Italian cuisine on the one hand at Lucciola and his other creations. Though I would like to share his wealth of knowledge is not limited to cooking. He overlaps the culinary worlds with science—both planets in which he is deeply educated and trained.
This combination of love for chemistry and cooking helps drive Lucciola into that exceptional fine dining arena. Once you understand how Egyptian black clay plates can help enhance the buttery flavors of the New Zealand Salmon. Or the way gold-rimmed glasses can bring out the crispness of specific wines. You start to realize how inextricably linked the two are.
As a multifaceted creator, Massari dreams about applying the principles of science to Lucciola and his life. Scribbling notes to tweak seasonal recipes or concept a new line of elaborate dinnerware. Or even creating a bubble to house a romantic outdoor dining experience in the middle of a pandemic.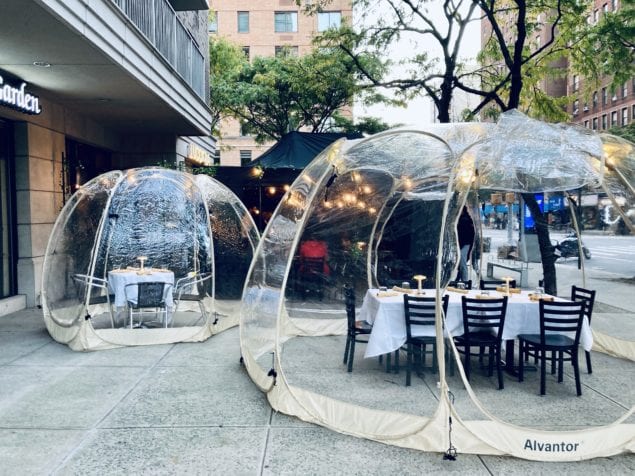 Dining at Lucciola
Instead of falling prey to the pandemic, many New York restaurants had to shut its doors for good. Lucciola was fortunate to use it as an opportunity to reinvent itself. Essentially leading Lucciola to become the exceptional dining experience it is. Obviously, you can quickly pop in for a quick bite to bite as my guest once did, to grab a lunch salad while running errands. There is more going on at Lucciola. If you really spend time at a restaurant, you are not sitting on the sidewalk of New York. You are situated on the sophisticated foothills of Piedmont or Piemonte, enjoying Barolo wine and endless fall truffles.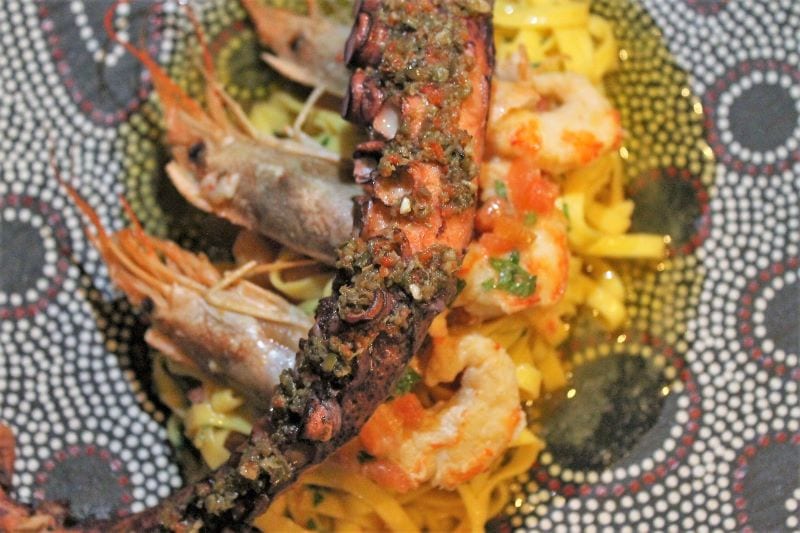 When it re-opened in the summer, founders Massari and Ghezz had one proposition in mind. "To bring one of the best places in the world to eat authentic Italian food in New York" via Lucciola. It lives up to that. One principal is a plate of burrata cheese ravioli and truffle only available during the fall. Which uses fresh white truffles from Alba and pecorino cheese sauce. This was creamy perfection and made me resentful I did not order a plate to go.
The chef managed a skillful balancing act when it comes to richness. The delicate tan colored flesh truffles had a strong musky and slightly garlicky aroma that ran deep in the decadent ravioli. Paired with a gorgeous Barolo red wine known for its anonymity and has incredible body and depth. It was hard to put our forks and gold-rimmed glasses down.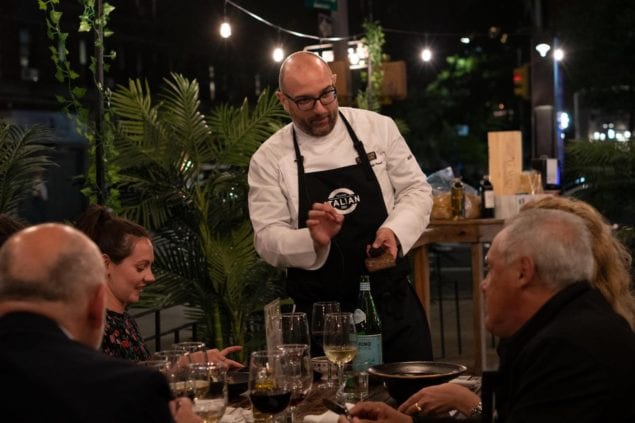 We ordered the Tagliatelle Colossal Octopus and Shrimps and the Organic Salmon Kingdom of Denmark on the seasonal menu. Both plates were strikingly delicious. In the Tagliatelle, a large tentacle, as the name suggests, is a Spanish-style octopus. It sat on a golden tangle of al dente tagliatelle. Joining this seafood symphony was Argentinian Shrimps, beady eyes attached. Here's the story behind the salmon order, our waiter highly suggested it over the day's fish. Stating it's a favorite.
See Also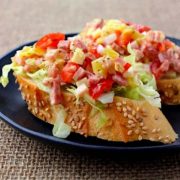 A buttery pink Salmon from the Scandinavian region served alongside tender broccolini. Its name alone makes me feel royal. Savoring the flaky bits of pink flesh makes me feel traveled and adventurous. For appetizers, we enjoyed the hearty Italian Beef Pot Roast. After devouring, we wondered, is there anything more delightfully comforting? When the winds blow cold than a slowly braised, melt-in-your-mouth pot roast? You can enjoy as an entrée with a side salad or, my preference, more cheese, and white truffles.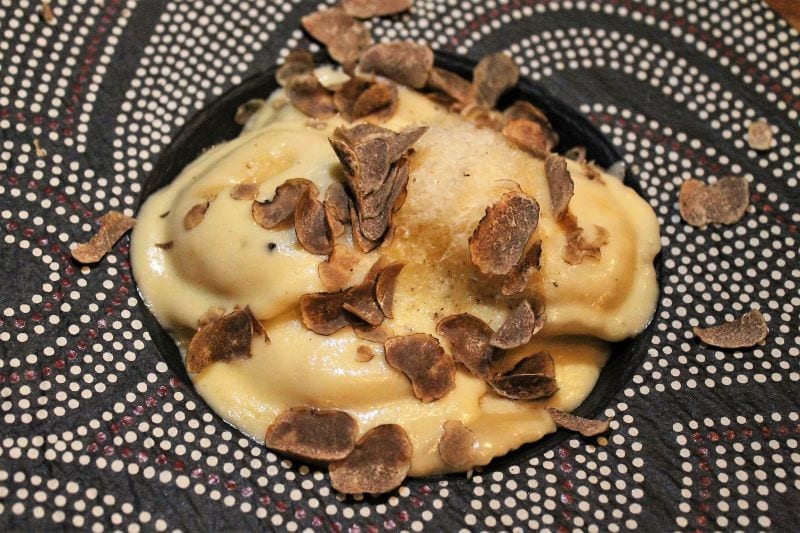 It pays to listen to your waiters
Our waiter was knowledgeable as well as helpful when choosing the Salmon and side of broccolini. It speaks to the level of service to expect at Lucciola, nothing short of remarkable. Our waiter also nudged my guest and me to explore the incredible Barolo wine selection. For those who are unfamiliar, Barolo wine is known as "the king of wines." Made from the Nebbiolo grape, this wine hails from the region of Piemonte of northwestern Italy. Upon entering, I noticed the savvily designed table of four sets in the middle of the restaurant. Also adjacent to the bar and racks of endless wine in preparation of indoor dining. Honestly, it seemed lonesome compared to the positive outdoor experience. But I am sure it is just as beautiful as the experience I enjoyed outdoors.
Dessert was hard to refuse despite our bellies filled to the brim. Our celebratory night out had to end on a sweet note like the Italians do. We choose the classics of tiramisu and gelato. Set in the striking Egyptian black and gold dinnerware. The gelato reigns victorious in the dessert category. (As the ravioli did in the mains category). An incredibly velvety, luxurious bowl of cream and two strawberries. Unfortunately, I missed the great strawberry as my guests shared. But at least I compensated with a sip of aromatic espresso.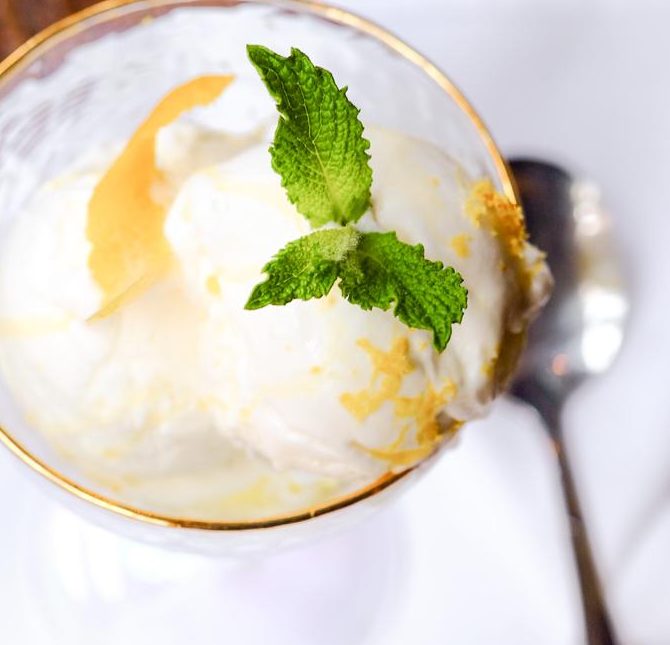 I cannot wait until my next visit hoping my friend will host her engagement party at Lucciola. More so, to enjoy as many white truffles and Barolo wine before the menu changes for the winter. Besides learning more about the culture, I am fond of and yes to finally try those strawberries.