An easy, heart-warming breakfast that can fill everyone at your morning table. Use up your leftovers like vegetables, beans, potatoes, or ham and toss it in the oven with cheese and cracked eggs.
By Bowen Close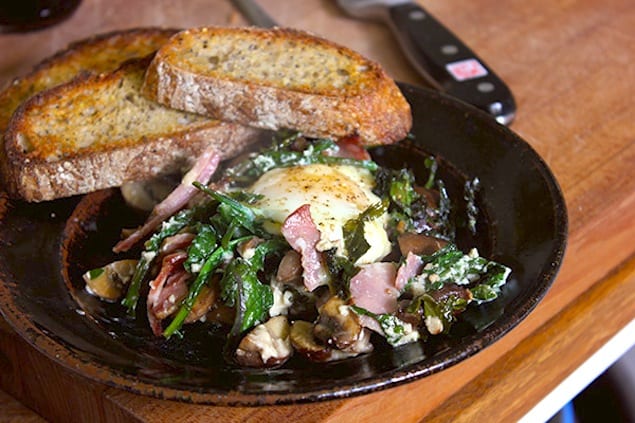 This is about as easy as it gets, as far as eggs are concerned. Start with some sort of delicious base, which can be just about anything. It's a perfect way to use up leftovers or random bits of this and that you have. In this case, I sauteed some kale and some quartered cremini mushrooms and tossed them with leftover ham and a bit of sharp white cheddar. It could be just as easy with other vegetables, bacon, beans, or lentils. Whatever you have, spread it in the bottom of a lightly oiled or buttered baking dish. A chunky tomato sauce could be another fabulous base. I particularly love the way cooked greens cushion the egg as it bakes, but roasted sweet potatoes or some canned artichoke hearts would do just as nicely. If you can, create some wells where the eggs will sit. It's best if you can keep the eggs from resting on the bottom surface of the baking dish. Maybe add some grated cheese on top, or a splash of cream, or some bread crumbs, and a final drizzle of oil. Stick it all in the oven until the eggs are set, and you have a meal.
Once it's all in the oven, it's not too fussy. You're cooking it at fairly moderate heat (325F), so there's not much risk of overcooking the eggs. Check in after 15 minutes or so to see how things are going. It may be done around then, or it may take quite a bit longer (depending on how cold your eggs were to start, how warm your base is, and how thickly things are piled in the dish). Take the dish out once the whites of the eggs have cooked (or longer, if you want the yolks a bit more cooked).
This is an absolutely perfect thing to make when you're having people over for breakfast (or lunch, or dinner), since you can prepare the base ahead of time, crack the eggs on top, slide in the oven, and kind of forget about it. It emerges warm and bubbly and impressive, and all will be happy.
See Also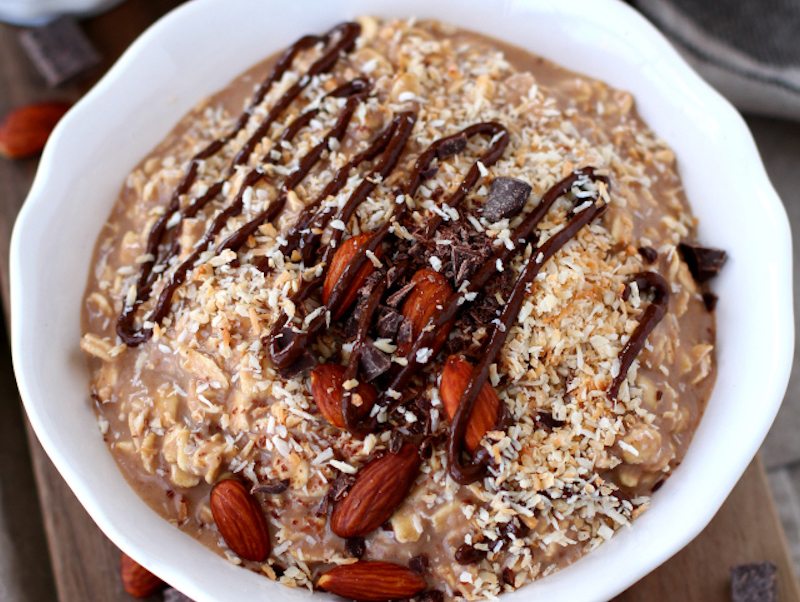 Print

Loaded Baked Eggs
---
Author:

Bowel Close

Yield:

2

1

x
Description
An easy, heart-warming breakfast that can fill everyone at your morning table. Use up your leftovers and toss it in the oven with cheese and cracked eggs. Makes however many servings you'd like. In this case I used three eggs for two people. Making ahead/storage: The elements of your base can certainly be made ahead, depending on what the dish is. Once the eggs are baked on top, it's best eaten fresh.
---
Olive oil and/or butter

3

Whole eggs
About

3 cups

Cooked base of vegetables (In this case, I sauteed bunch of baby kale with olive oil and salt, then a few ounces of quartered cremini mushrooms with olive oil, salt, and minced garlic, and mixed those with some chopped up cooked ham and some crumbled white cheddar. You can also add a splash of cream, bread crumbs, grated cheese, or a variety of other things.)
About

1 cup

of meats, beans, etc.

1/2 cup

grated cheese of choice
Salt & Pepper to taste
---
Instructions
Heat oven to 325F.
Grease your baking dish with olive oil and/or butter. Spread out your base, make wells for the eggs, and crack the eggs directly on top of the base.
Cover with pinches of salt and pepper (and grated cheese or bread crumbs, should you be into such a thing). It's okay if they spread out a bit.
Bake uncovered until the whites are set, somewhere between 15-40 minutes (depending on how warm and thickly spread the base is and how cold the eggs are). You can prod the eggs with a fingertip or a utensil to see how set they are. Remove from the oven and spoon onto plates.
Bowen Close
Bowen Close believes that food should make people happy and healthy, and loves bringing together people with creative, delicious food made from the heart. She loves making farm-inspired, flavorful dishes with sustainable ingredients - whether that's a big plate of roasted veggies, a towering chocolate layer cake, or a cocktail utilizing backyard ingredients - and collects recipes and other food-related stories on her website, Bowen Appétit. She is a chef, cooking instructor, and food writer living in Southern California with her husband and fully stocked pantry.