Learn how to make homemade Lebanese falafel recipe with dried chickpeas, loads of fresh herbs and warm spices. Serve the crispy balls with a creamy tahini yogurt.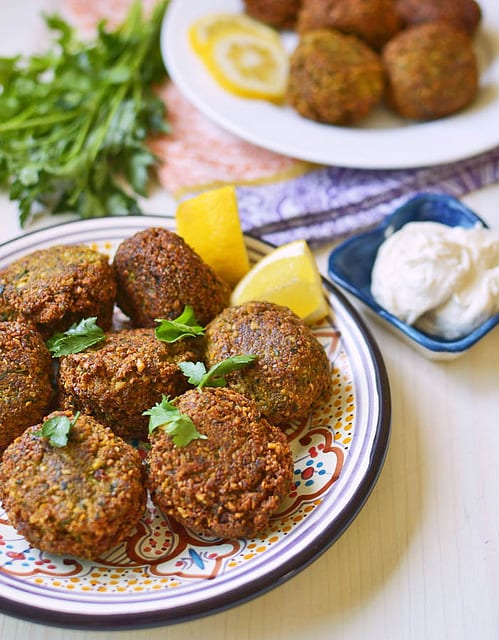 If I could live in any cuisine for the rest of my life, it would be Middle Eastern. Of course I am retracting myself as I write this because in my little bio page I talk about how I can live in Chianti and red wine for the rest of my life and be happy. So, if there were 2 cuisines I had to chose from, Italian and Middle Eastern would be it.
I grew up on a lot of ethnic foods, especially Sephardic cuisine, but falafel never made a huge appearance growing up. I would have it here and there when I would stop in the Mediterranean markets and now that I'm older, it's the first thing I order whenever we eat Middle Eastern. See, falafel has simple but intense flavors. Chickpeas or fava beans with fresh herbs and spices, that's it!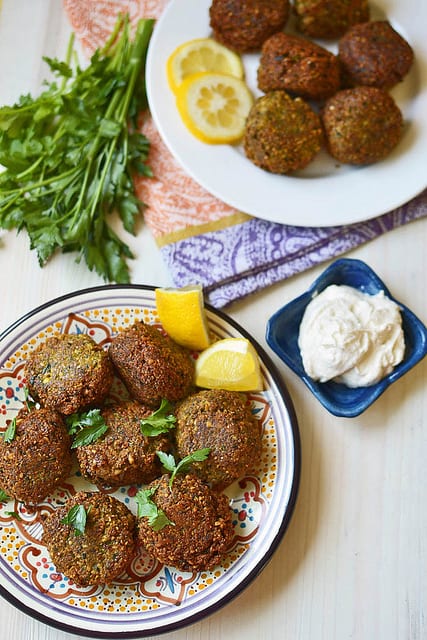 Can you make falafel with canned chickpeas?
I always have canned beans in the house but with falafel, dry is best and I wouldn't recommend making falafel with canned chickpeas. The texture ultimately changes and because canned chickpeas are so soft, you would need to add a lot more flour to hold the batter together.
After dried chickpeas are soaked and fried, the falafel becomes incredibly crisp on the outside and tender in the middle. You wouldn't get that satisfaction with canned chickpeas.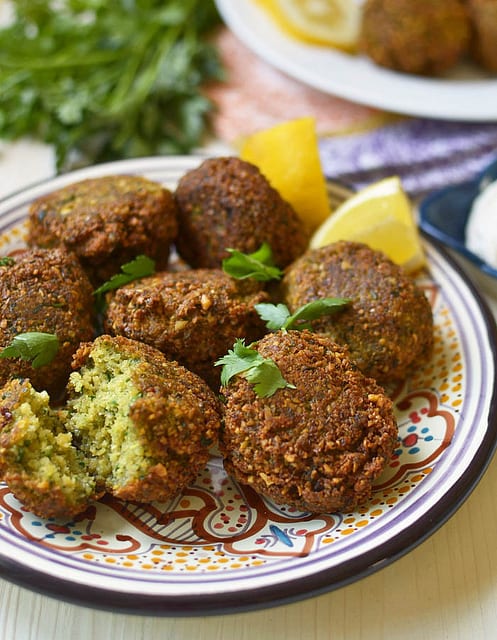 Authentic Falafel is easy to make with a few key steps.
What I love so much about falafel is how easy it is! The only preparation you have to do is soak beans overnight. Which is pretty cool to see. The beans are small and hard but once they soak up all the liquid they expand to double its size! I also love the flavor combo! Fresh and leafy greens like parsley and cilantro dye the fritters pale green and cumin and coriander provide smoky and deep flavor. These are some f my favorite flavor combinations!…I'm getting hungry just writing about this!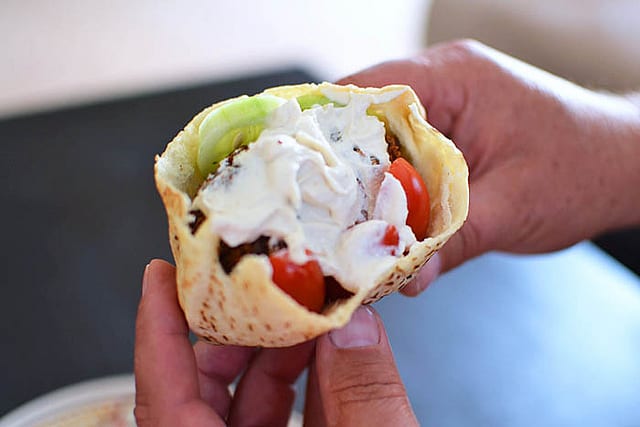 See Also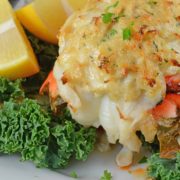 Looking for more classic Mediterranean recipes? I have a slew of them! My family's recipe for fasulye (Turkish green beans) is always a favorite. You can also serve my homemade falafel with Israeli chopped salad!
Click HERE for the tahini yogurt recipe.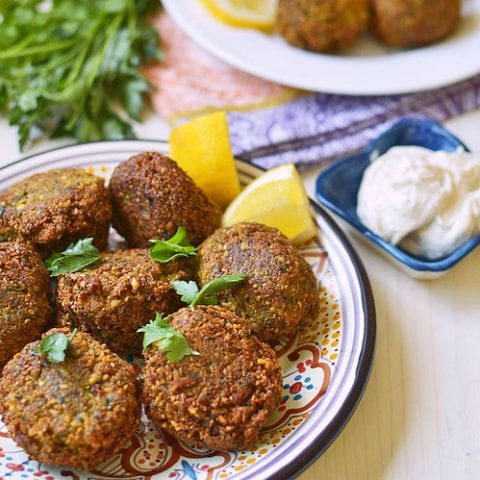 Lebanese Falafel with Tahini Yogurt
Samantha Ferraro
Ingredients
2

cups

dried chickpeas

1

onion cut in quarters

4-5

garlic cloves peeled and roughly chopped

1

small bunch fresh parsley about 1 cup

1

small bunch fresh cilantro about 1 cup

2

tsp

kosher salt

1

Tb

coriander

1/2

tsp

cayenne

2

tsp

cumin

3

Tb

flour

1

tsp

baking soda

1/2

tsp

baking powder

Vegetable or grapeseed oil for frying
Tahini Yogurt Sauce
Click the link above for the recipe.
Instructions
Soak dried chickpeas overnight in a large bowl filled with water.

The next day, drain the chickpeas and pulse in a food processor until crumbly and there are no whole chickpeas left. Transfer to a large bowl.

In the same food processor, pulse together the onion, garlic, parsley and cilantro. Pulse until it almost looks like a paste. Add parsley mixture to beans.

Use a large spatula to mix the beans and herbs together. Add cumin, cayenne, salt, pepper and flour. Mix well. Add baking powder and soda just before frying. Mix everything well.

Heat a large skillet with vegetable oil and bring oil up to about 370 degrees F. You can test to see if the oil is hot by dropping a small piece of batter. If it sizzles, it's ready.

Use a large tablespoon and form batter into balls. I scoop about 2 tablespoons worth and form a ball between your hands.

Carefully place the falafel in the hot oil. You can fit 4-5 in at once but don't overcrowd the pan. Fry on 1 side until you can see it browning on the sides, about 4-5 minutes. Then flip over and fry other side.

The falafel should be crisp on the outside and soft on the inside. To make tahini yogurt, just mix tahini and Greek yogurt together.
Notes
Make sure to add baking powder and baking soda within 20 minutes of making falafel.
Recipe adapted from DedeMed.com
Samantha Ferraro
Samantha Ferraro is the food blogger and photographer for The Little Ferraro Kitchen. Samantha comes from a diverse background and is originally from Brooklyn NY, until she turned to the island life and moved to Hawaii. Now Samantha blogs about world cuisine recipes made easy in Southern California with her Italian husband and their dog Hula. When she's not blogging or making a mess in the kitchen, you can find her traveling the world for recipe inspiration.