Lavender Champagne Grape Pie Bites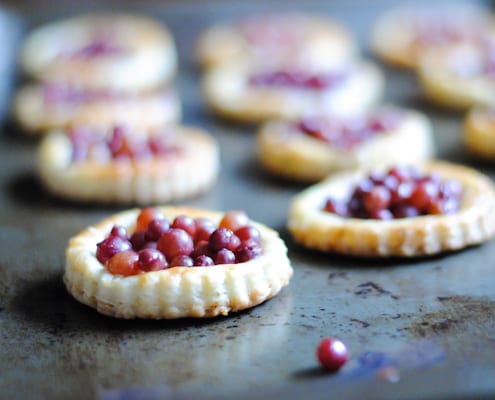 Little bites of lavender pie crust topped with sweet, juicy champagne grapes.
By Natasha Steinberg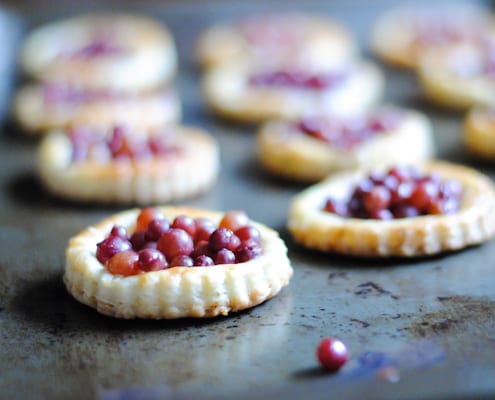 I wasn't really sure what to call these. They taste like little bites of pie to me – light, flaky crust and soft, fruity center – so, I shall call them pie bites.
The grapes bake up whole like sweet juicy raisins and burst open in your mouth in the most delightful way. The hint of lavender in the crust adds a lovely, unassuming floral note that pairs nicely with the fresh sweetness of the fruit.
I suppose you could add a top crust and pinch it with the bottom crust and have a little hand pie, but these just look so lovely with the haphazard pile of grapes atop, don't you think?
Champagne Grape Pie Bites
Little bites of lavender pie crust topped with sweet, juicy champagne grapes.
Author:
Natasha Steinberg
Ingredients
1 recipe Lavender Cream Cheese Pie Crust
8 ounces champagne grapes
3 Tablespoons granulated sugar
1 teaspoon vanilla extract
flour for dusting
1 large egg
2 Tablespoons water
Lavender Cream Cheese Pie Crust
1 cup (120 g) all purpose flour, plus more to bring dough together
2½ teaspoons dried culinary lavender
large pinch salt
¾ stick (85 g) unsalted butter, cold and cut into ¼-inch cubes
8 ounces cream cheese, cold and cut into ¼-inch cubes
1 Tablespoon cold water
1 Tablespoon apple cider vinegar
Instructions
Make the crust. Whisk together flour, lavender, and salt. Cut in the butter and cream cheese until mixture is grainy. Add the water and vinegar and knead just until the mixture comes together and a dough forms. Add additional teaspoons of flour to bring the dough together if necessary. Pat the dough into a disc, wrap with plastic wrap, and chill for 30 minutes.
Preheat oven to 400 degrees F. In a small bowl, gently stir the grapes, sugar, and vanilla until the grapes are evenly coated. Set aside.
Once the dough has chilled, roll it out to ¼-inch thick on a lightly floured surface. Use a 2½-inch round biscuit cutter to cut out as many circles possible. Gather the scraps, re-roll, and cut out more circles. Place circles on a parchment-lined baking sheet.
Whisk together the egg and water and brush a thin layer over each circle of dough. Strain grape mixture and discard liquid. Place 1 Tablespoon of the grapes onto the center of each circle of dough, leaving a ½-inch border of dough around the edges. Bake for 14-16 minutes or until golden brown and puffed on the edges. Allow to cool slightly before serving. Enjoy warm or at room temperature.
Natasha Steinberg
Natasha is a love-and-matriarch-taught maker of sweet things. She is passionate about using local and seasonal ingredients and making simple, satisfying sweets that make even the least of sweet tooths swoon. Although she is a native Texan, she currently resides in Atlanta where she is finishing up law school and documenting her sweet adventures through photos, recipes, and stories on her blog at tartletsweets.blogspot.com.