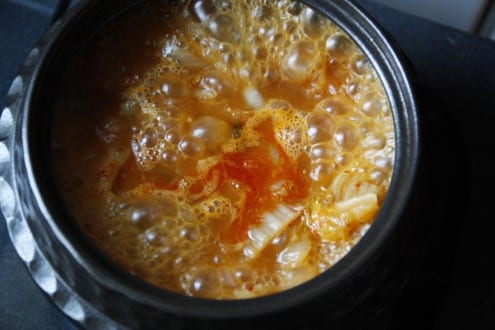 Kimchi jjigae is the kind of stew that will either bowl you over or leave you wanting. Inspired by an unassuming barbecue spot on one of the quieter streets of Hongdae in Seoul, this is full-bodied and deeper than most jjiggaes. 
By Jacqui Gabel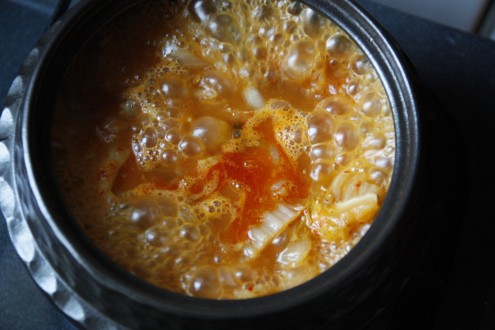 This dish is a way of employing sour, overripe kimchi; kimchi  that is too fresh won't lend the same depth to the broth as kimchi that has been given more time to mature. You could definitely make jjiggae without the pork belly, but with it, the layer of fat tenderizes to silk as the soup bubbles away, melting into and bulking up the broth without making it oily.
Kimchi Jjiggae
A simple, spicy stew made with pork, sour kimchi, garlic, and onion.
Recipe Type:
appetizer, side dish, lunch, soup
Ingredients
3 cups sour kimchi, chopped to one-inch pieces
1.5 liters water
½ onion, sliced
⅓ cup kimchi juice (drain or squeeze kimchi from a jar to get the juice)
½ pound pork belly, chopped to one-inch cubes
2 cloves garlic, minced
1 teaspoon sesame oil
Instructions
Fill a pot with the water and bring to a boil.
Add pork belly and boil for ten minutes, skimming the layer of film from the top of the water as it forms.
Add kimchi, onion, garlic, and kimchi juice.
Continue boiling for thirty minutes until pork and kimchi are tender and broth becomes rich and creamy.
Remove from heat and stir in sesame oil. Serve hot with steamed white rice.
Note: To help kimchi ripen further and quickly, let it sit out at room temperature for a day or two. Also, you could add gochugaru (Korean dried red pepper powder), gochujang (Korean red pepper paste), green onions, and garlic to taste if you feel like you need to supplement the flavor of whatever kimchi you can find. Most kimchi jjigae recipes also call for firm tofu, which you could add ten or fifteen minutes before your stew is finished.
Jacqui Gabel
Jacqui Gabel hails from Minnesota and lives in Seoul. Her motivation to travel stems from a yearning to learn through food, and she is particularly interested in what people eat for breakfast. Jacqui has waitressed, taught kindergarten, designed pantyhose, and sold wine and costume jewelry. Once a week, she visits her friend Hye Rae's Seoul kitchen, and they show each other a thing or two of what they know. If the recipe is Korean, she learned it from Hye Rae. Jacqui loves to cook and feed, and she writes about travel, food, and identity on her blog.