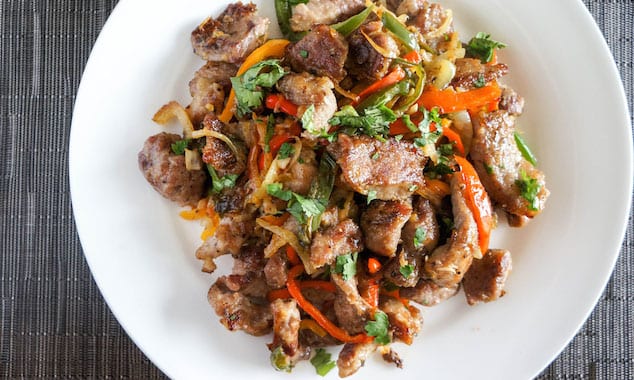 Jalapeño Stir Fried Pork is full of flavor and spice, and with a side of rice it's a deliciously filling meal.
By Carolyng Gomes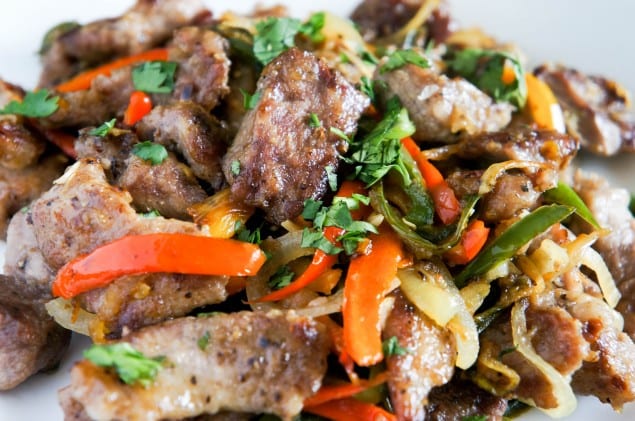 This is my take on Asian style pork stir fry. I love taking dishes and adapting them to the latin palate. Using jalapeños, a classic spicy pepper, really helps bring out the sweetness of the bell peppers and onions. The use of pork shoulder is the big ingredient. Used more often for pernil, it is great to find new uses for ingredients you may already have on hand so shaving the pernil for this dish just brings a whole other string of possibilities with this one cut of meat. I love doing that.
Cooking should be fun and easy. To me it shouldn't involve ingredients that are too exotic or specific. It is all about using what you have in different ways and creating a new plate you can enjoy again and again. Sure it is great fun to experiment with new flavors and textures and ingredients, but for day to day life it is about kicking monotony to the curb and spicing up what you have on hand. And what you have on hand, I assure, is a lot of delicious waiting to happen!
This dish is colorful, flavorful and easy to prepare. Enough said.

Jalapeño Stir Fried Pork
Jalapeño Stir Fried Pork is full of flavor and spice, and with a side of rice it's a deliciously filling meal.
Ingredients
2 tbsp cornstarch
2 tsp salt
2 tsp black pepper, fresh cracked
½ tsp red pepper flakes
3 tbsp water
1 lb pork shoulder, sliced thin
3 tbsp avocado oil
2 jalapeños, sliced
1 cup onion, sliced
2 garlic cloves, minced
1 cup red bell pepper, sliced
Instructions
In a medium bowl whisk together cornstarch, salt, black pepper, red pepper flakes and water until a batter forms.
Add thin sliced pork to cornstarch mixture and mix, ensuring each piece of pork is evenly coated.
Preheat avocado oil in a pan on medium-high heat. Lay pork in one layer in pan. Cook until golden, about 7 minutes, then flip and cook for another 5 minutes or until cooked through.
Remove pork from pan and set aside.
Add jalapeño, onion, garlic and red bell pepper to pan. Sauté for 5 minutes, until onion is translucent and peppers are tender.
Add pork back to pan and cook for an additional 5 minutes.
Serve hot.
Carolyng Gomes
Carolyng loves to eat, loves to cook and loves to eat more. To her a recipe is more a list of suggestions, saving time doesn't mean sacrificing on flavor and when in doubt, a splash or two (well, a nice pour) of wine never hurts. Welcome to her Cocina Latina, where South American and Latin fusion dishes are always on the menu.