PARTNER POST — The holiday season is here and it is time to add some Italian flair to your menu with authentic ingredients from Colavita and Perugina's rich Italian chocolate.
A vegetarian lasagna is perfect to add to your holiday spread and will satisfy all your eaters. Be sure to finish a meal with a rich yogurt and olive oil cake topped with chocolate ganache.
By Danelle MC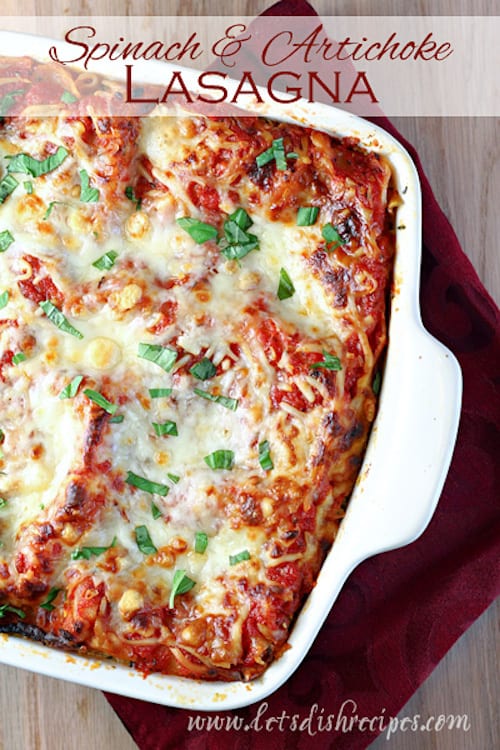 We all have our favorite holiday traditions, and if your family is anything like mine, many of those traditions revolve around food. From savory main dishes to delicious desserts, food is such an important part of the holiday season, and that's certainly true when it comes to the Italian holiday table. From regional fish dishes to traditional pastas and desserts, you'll never be wanting for something wonderful to eat at an Italian-style holiday feast.
With Colavita and Perugina ingredients, you can serve an authentic Italian meal to your family this holiday season. Colavita offers a variety of Italian specialty products, including durum wheat semolina pasta, a full selection of balsamic and wine vinegars, traditional and organic pasta sauces, and a wide range of olive oils.
This Spinach and Artichoke Lasagna is a hearty dish that is sure to satisfy your holiday guests. If you have vegetarians in your family like I do, they'll love this lasagna, and it's filling enough to satisfy the meat lovers too!
Want to win your own gift basket to recreate this meal or invent an Italian holiday dinner of your own? Enter the sweepstakes below!
Italian Holiday Table: Spinach Artichoke Lasagna and Chocolate Olive Oil Cake
Cuisine:
Italian Inspired
Ingredients
9 Colavita lasagna noodles
3 cups grated Mozzarella cheese
⅓ cup grated Parmesan cheese
For the sauce
1 (28 oz.) can Colavita crushed tomatoes
1 teaspoon dried basil
1 teaspoon dried oregano
3 cloves garlic, minced
1 tablespoon sugar
1 teaspoon salt
½ teaspoon pepper
For the spinach artichoke filling
1 (15 oz.) container ricotta cheese
1 egg, lightly beaten
¼ cup fresh basil leaves
1 (9.87 oz) jar Colavita artichoke hearts
2 cups fresh baby spinach
Pinch of salt and pepper
Instructions
Preheat oven to 400F degrees. Grease a 9-inch square baking dish. Fill a 9x13 inch baking pan with hot water and a splash of olive oil. Place the lasagna noodles in the pan to soak while you prepare the sauce and filling.
In a large bowl, stir together all of the sauce ingredients until well combined. Set aside.
Place the ingredients for the spinach and artichoke filling in the bowl of a food processor and pulse several times until filling reaches desired consistency. You can leave it very chunky, or pulse until it is smooth.
To assemble the lasagna, place about ½ cup of the sauce in the bottom of the prepared pan. Remove 3 of the noodles from the water and place over the sauce. Spread ½ of the spinach artichoke mixture over the noodles, then top with 1 cup of sauce. Sprinkle with one cup of Mozzarella cheese.
Repeat twice, omitting the spinach artichoke filling on the last layer. Sprinkle the Parmesan cheese over top.
Cover the lasagna with aluminum foil sprayed with non-stick cooking spray and bake in the preheated oven for 35-40 minutes. Uncover and bake for 10-15 minutes more, or until cheese is golden brown and lasagna is bubbly. Let stand 10 minutes before serving.
See Also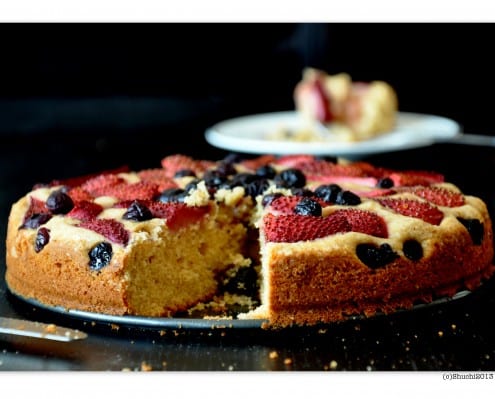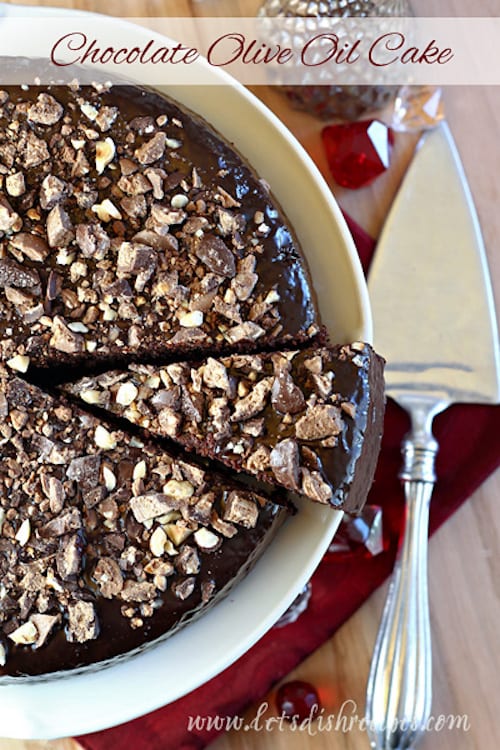 Perugina is Italy's most renowned chocolate maker and Baci are their most famous confection. Each chocolate is made with a decadent blend of chocolate and hazelnut cream, then topped with a whole hazelnut, which makes them perfect for garnishing holiday desserts like this Chocolate Olive Oil Cake.
This simple, but elegant chocolate cake is a beautiful addition to any holiday menu. It's topped with chocolate ganache and chopped Baci chocolates. You'll notice when you open a Baci chocolate that each one comes with a note that reflects sentiments of love, affection and friendship. Which makes them wonderful for sharing with loved ones any time of year.

Italian Holiday Table: Chocolate Olive Oil Cake
Recipe Type:
Dessert, Cake, Baking
Cuisine:
Italian Inspired
Ingredients
For the cake
1 cup flour
½ cup Dutch cocoa powder
2 teaspoons baking powder
¼ teaspoon salt
¾ cup sugar
1 cup plain yogurt or sour cream
3 eggs
1 tablespoon vanilla
⅔ cup Colavita olive oil
1 (3.5 oz.) Perugina premium dark chocolate bar, chopped
For the ganache and garnish
8 ounces Perugina dark chocolate, chopped
1 cup heavy cream
6 milk or dark Baci chocolates, coarsely chopped
Instructions
Preheat oven to 350 degrees. Grease and flour a 9-inch cake pan.
In a medium bowl, whisk together flour, cocoa, baking powder and salt. In a large bowl, beat the sugar, yogurt or sour cream, eggs, vanilla and olive oil with an electric mixer until smooth.
Add the flour mixture to the wet ingredients in 2 batches, stirring gently after each addition until well combined. Fold in the chopped chocolate bar.
Pour batter into the prepared pan and bake for 40-45 minutes until a toothpick inserted in the center comes out clean. Do not over bake. Cool in the pan for 10-15 minutes, then turn onto a wire rack to cool completely.
Meanwhile, make the ganache by placing the chopped chocolate in a medium bowl. Heat the cream in a small saucepan over medium heat until it just begins to bubble at the edges.
Pour the hot cream over the chopped chocolate and let stand for 2 minutes. Whisk the chocolate and cream until smooth and shiny. Let the ganache cool slightly before pouring it over the cooled cake. Start at the center of the cake and work outward, until the ganache covers the top and sides of the cake completely. Let ganache cool to room temperature before sprinkling the chopped Baci over top.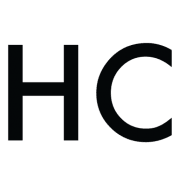 Danelle MC
Danelle combines her love of cooking and photography at her food blog, Let's Dish. A friend once described her culinary creations as "uptown foodie meets real life," which sums up her cooking philosophy perfectly. When she's not cooking or baking , you'll often find her behind the lens of her camera photographing the beautiful Colorado outdoors, or visiting her local farmers' market. She has been sharing recipes at Let's Dish since 2009.