A prix fixe multi-course supper club dinner at Louro in Greenwich Village is a foodie haven.
By Mitch Weinstein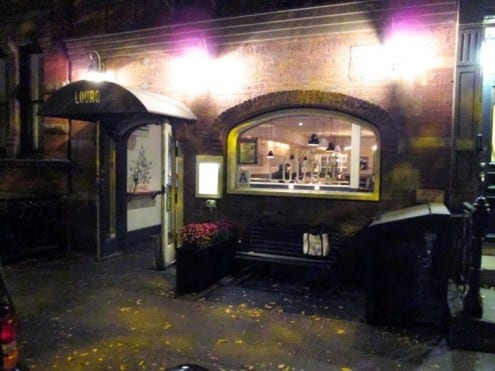 Foodies. Jesus, isn't that the most annoying word – what the hell is a foodie, anyway?
Oh wait, I know – someone who waits on a godforsaken 2-hour line for cronuts?
How about a 2-hour line for ramen burgers? Or even, you know, a 2-hour line for ramen? Which, of course, will happen once Ivan Orkin-ramen opens his ramen-ya on Clinton St. (which I thought was supposed to open like a year ago? Must be the long lines at all those permit places…) Anyhoo…so where am I going with all this? Oh yeah, foodies.
Last week I joined a group of friends for a delicious dinner at Louro, a cute little restaurant deep in the heart of Greenwich Village.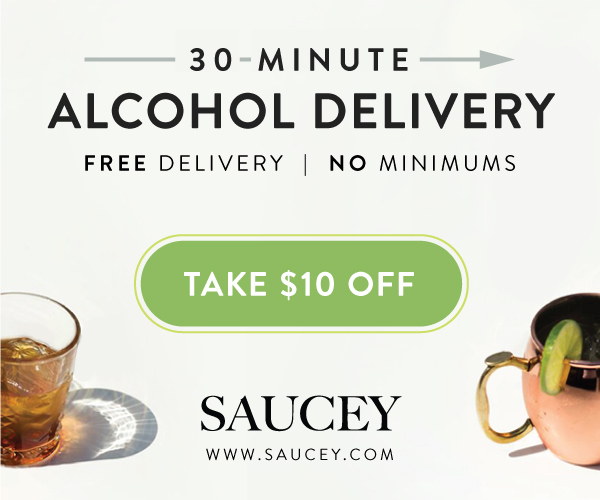 David Santos is the Executive Chef of Louro, and on Monday nights David and Louro offer a supper club called Nossa Mesa, which is Portugese for "our table." It's a prix fixe multi-course dinner and it's BYO; literally one of the great bargains in dining this city has to offer.
Take last Monday night, for example…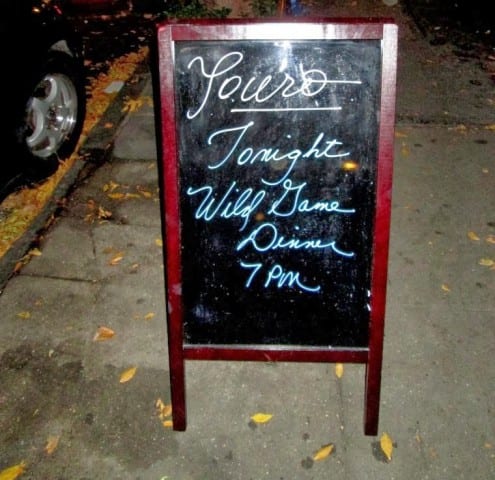 Yes foodies, a wild game dinner; perhaps not as exotic as a ramen-burger or a cronut, but probably went a little bit better with the stuff we were drinking.
Dinner started, after we'd all indulged in home-made Negronis, with an amuse of a lightly pickled oyster topped with a bit of venison tartare, not a combo I'd had before, but one which I'd gladly have again. I loved the texture the oyster took on from the pickling (and it went nicely with the Asturian cider I'd brought)…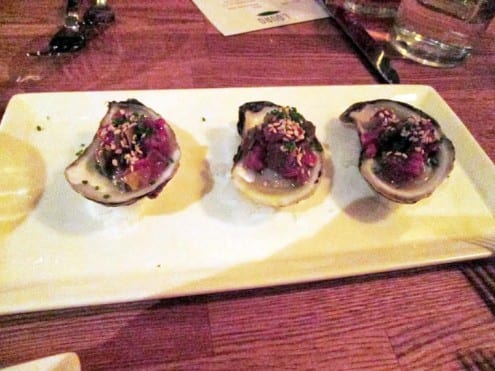 The oysters were followed by rillettes of wild pheasant, which could make me reconsider my craving for duck rillettes. Next up was wild duck ham & eggs, the duck ham served with a perfectly cooked duck egg, sweet potatoes, red eye gravy and confit.
Moving along, partridge was the next course, the rare breast accompanied by a romesco sauce and barely cooked (the way I like them) shrimp…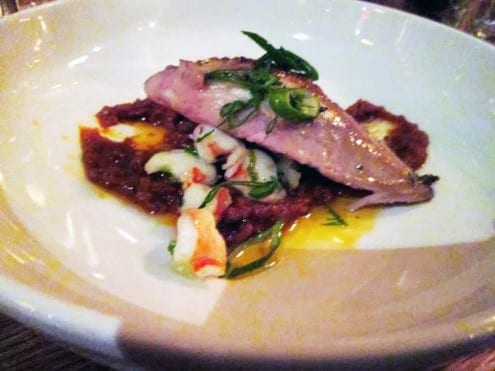 It's easy to overcook game birds like this, and it's easy to overcook shrimp (god knows I've had plenty of those), so it's worth pointing out that the technique here is excellent. A hare course followed, with hoppity turned into a deeply rich ragu, served with wild mushrooms atop a creamy bed of polenta.
Our final savory course was wild Scottish grouse, a truly gamey-tasting bird, served blood-rare in a bit of its own jus, along with oats, jicama and blackberries which had been soaked in mezcal to pick up a smoky flavor, nicely complementing the grouse…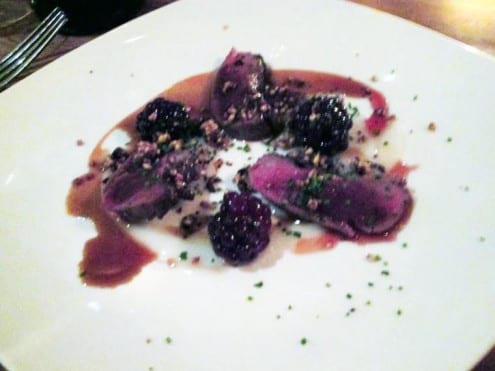 Dessert was charred figs with cardamom cream and butter pecan crumble; not too sweet, and really a good way to end this meal.
Our table of six had brought along a bottle of Negronis, a couple of bottles of cider, 5 or 6 bottles of wine, and a lot of healthy appetites. A few of us are or were in the food biz; a few just really enjoy good dining. I think I can speak for everyone by saying that this is one that this is one of the great values in dining in NYC.
So get with it all you foodies – Pickle Day is over (yeah, it was yesterday) and you don't know what you're missing. And, there's no line.