Sponsored Post: Whether you are hosting a wine party or looking for the perfect pairing for your dinner party menu, we've teamed up with Sonoma-Cutrer to provide wine inspiration for your next gathering.
Take the awkwardness and stress out of a holiday gathering by having a wine tasting cart. In four easy steps you and your guests can be enjoying an easy wine and food experience.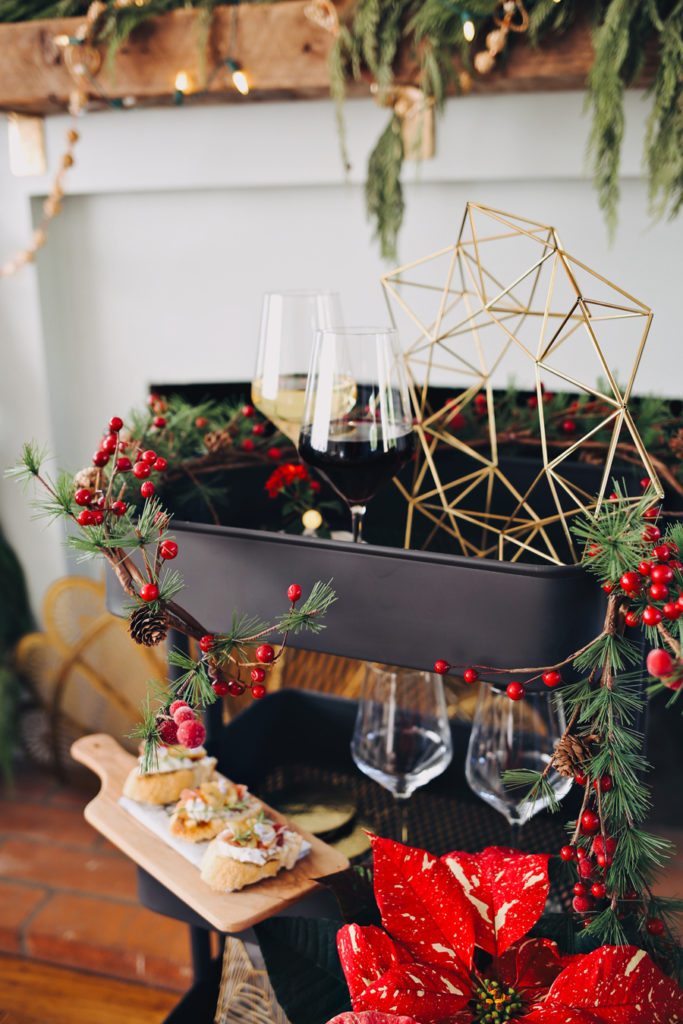 'Tis the season to be merry and bright…and make sure that you're the perfectly polished host (just kidding). We all feel the pressure of doing everything just right this time of year, but sometimes the ultimate get togethers can come in small packages (even if those small packages mean having pizza delivered to your door). So this year, why not simply and try throwing a holiday wine tasting party and forget the massive formal spread. Light bites, perfect sips and just a few special details that you can pull together the same day – sound good?! Here are 4 easy steps to getting your party on without panic.
Happy Holidays!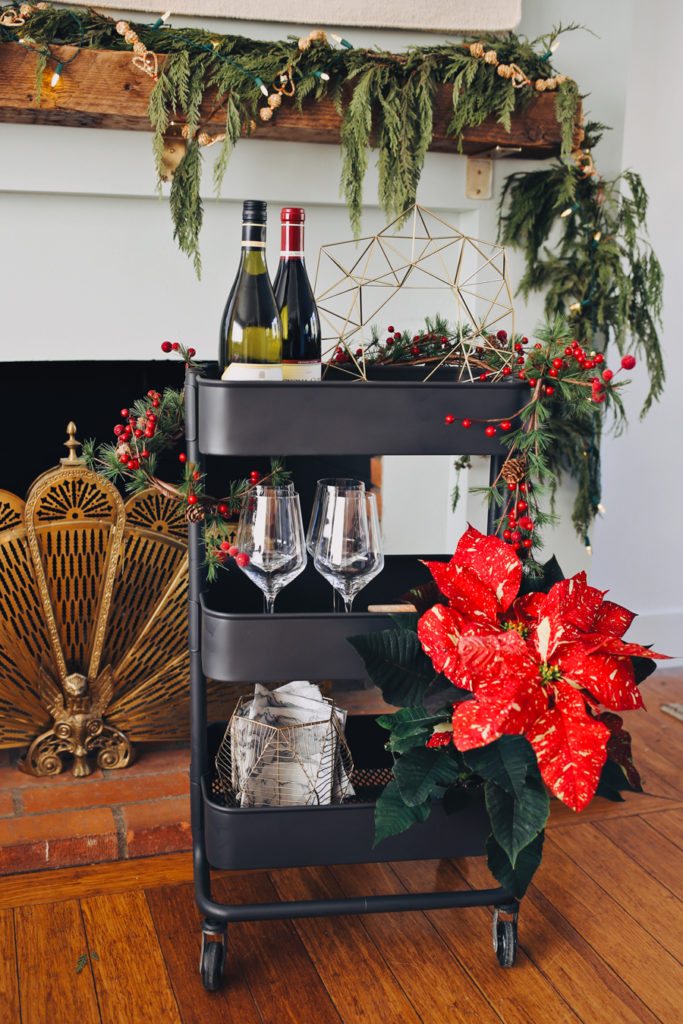 1. SET THE SCENE
No need to deck alllll the halls. Sometimes busy schedules leave us scrambling to make our homes feel festive enough for entertaining. Let's try to eliminate seasonal stress and focus on high impact style in just one spot: The pairing station. A bar cart can be dressed up beautifully to transform into the perfect wine bar, allowing your guests to gather in your home without feeling cramped. This party idea is especially good for smaller homes and apartments, just because you live in a smaller space doesn't mean you can't go big on the fun.
For a fresh look simply snip and spread a few branches of holly or pine to create rustic texture. If you're looking to sprinkle in a few elegant details, add accents of copper and gold to create a polished wintery look. Try adding a poinsettia for a bright pop of color and marbled cocktail napkins for a luxe look on a budget.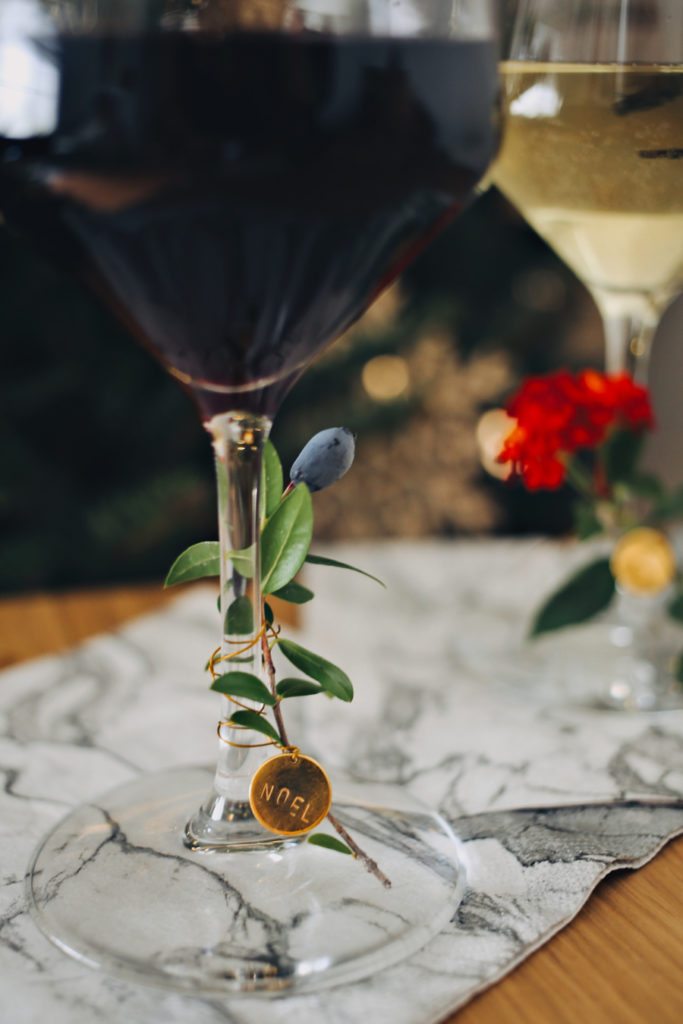 2. TAG YOU'RE IT
Let's face it. Most wine ID tags are well… ugly. It's time to take matters into your own hands with a simple design facelift that will look glorious on your glasses and are also a breeze to make. Try letter stamping a copper coin and tying it all together with a sprig of evergreen or holly for a sophisticated sip. I personally like to call these glass tags "cocktail corsages" but you can just call them a savior from someone else gulping from your glass.
3. THE PERFECT POUR
A flight of 4 or more wines and just a handful of guests can feel overwhelming to tackle in a single happy hour get together. By carefully curating your selection, let's focus on two quality wines, which allows for everyone to fully explore their flavors. For this gathering we chose the The Cutrer Chardonnay and Russian River Valley Pinot Noir from Sonoma-Cutrer. These selects are both well balanced, beautifully flavorful and pair perfectly with a number of seasonal flavors – like chestnut and rosemary!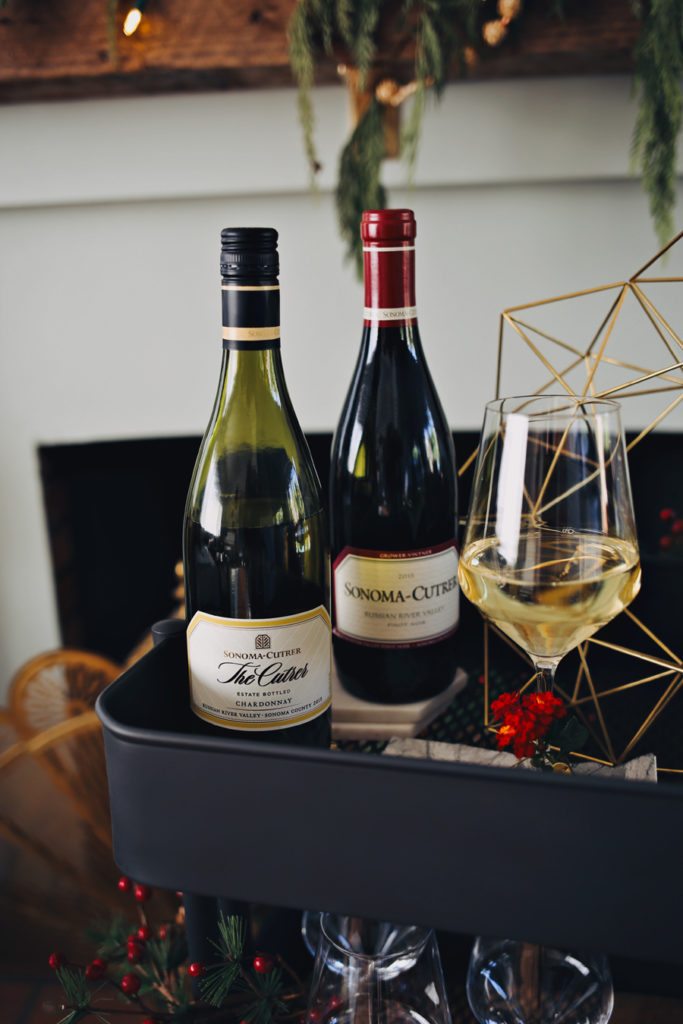 4. BALANCED BITES
It's not a wine tasting without a few nibbles. Bring in the big holiday flavors in mini form for a fun playful pairing – besides, no one should have to bother with a knife and fork while standing and chatting during happy hour, especially when one hand is enjoying a glass of wine. These roasted chestnut prosciutto bites are easy to hold, making the pairing party less about the mess and more about spending time with each other…not to mention they hit the perfect combo of sweet, salty and herbaceous that highlight notes from both of these wines.
Click here for the chestnut crostini recipe.