Heirloom Tomato and Eggplant Galette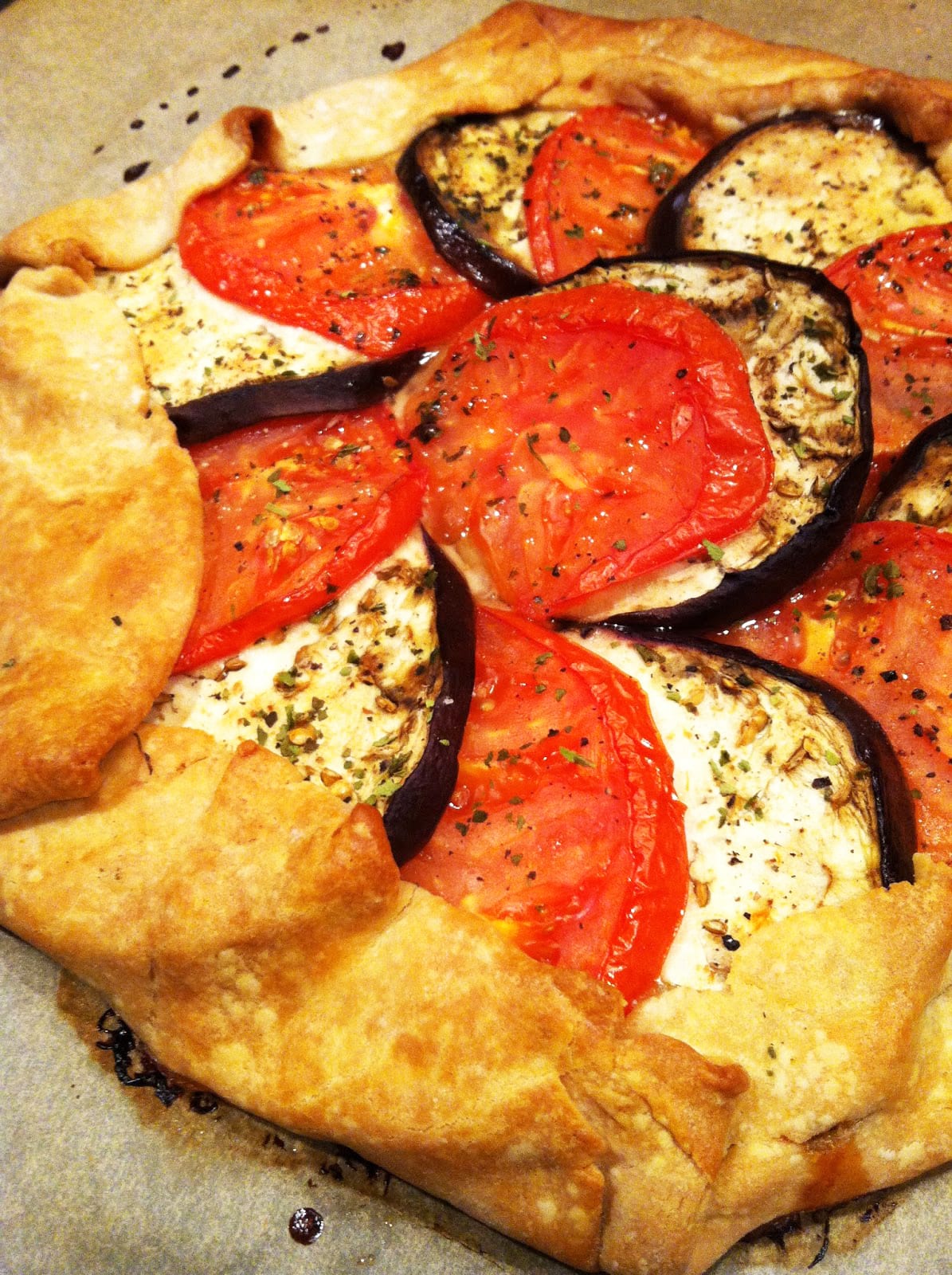 A pair of late summer veggies top creamy Swiss cheese and a flaky crust for the perfect rich lunch.
By Kara and Marni Powers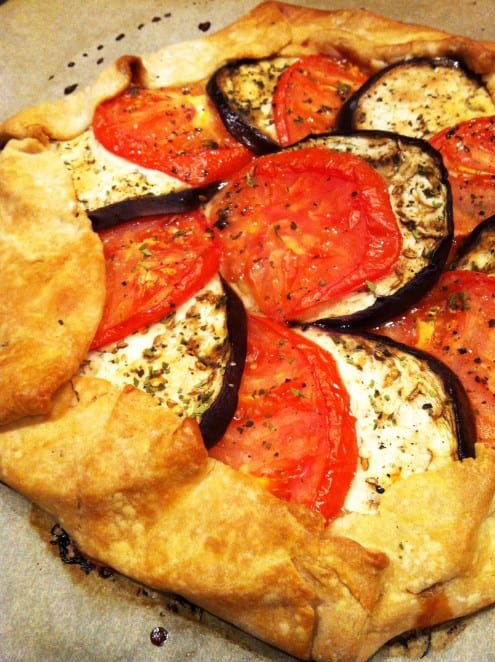 Heirloom Tomato and Eggplant Galette
A pair of late summer veggies top creamy Swiss cheese and a flaky crust for the perfect rich lunch.
Author:
Kara and Marni Powers, crust adapted from Saveur
Ingredients
Crust:
1¼ c all purpose flour
½ t salt
½ t sugar
8 T cold butter, cut into small pieces
4-6 T ice water
Filling:
Extra virgin olive oil
1 medium eggplant, cut into ⅛-inch rounds
2 large Heirloom tomatoes, cut into ⅛-inch rounds
1½ c Swiss cheese, grated
½ c Parmigiano Reggiano cheese, grated
1 t dried oregano
1 egg, beaten
1 t fresh thyme leaves
salt and pepper throughout
Instructions
Preheat the oven to 375 degrees F.
For the crust, whisk together the flour, salt and sugar in a medium bowl. Add the butter and with your hands, incorporate it into the flour until the mixture resembles coarse crumbs. Next, drizzle 4 T of water over the flour mixture; stir with a wooden spoon until clumps start to form. If the dough looks dry, slowly add more water, 1 T at a time, as needed. Gather the dough, form it into a disc, wrap it in plastic wrap and refrigerate for an hour.
On a floured surface, roll out the chilled dough into a ⅛-inch thick circle. Transfer the dough to a baking sheet topped with parchment paper.
Drizzle the dough with extra virgin olive oil and sprinkle the Swiss cheese and Parmigiano Reggiano on top, leaving a 1-2-inch border all around. Overlap the heirloom tomato and eggplant rounds in a fan on top of the layer of cheese. Sprinkle with the dried oregano, salt and pepper. Fold the edges of the dough up over the filling.
Brush the entire surface of the crust with the beaten egg. Bake until the crust is golden brown and the vegetables are tender, about 40-45 minutes. Serve warm with an extra sprinkling of Parmigiano Reggiano cheese.
Kara and Marni Powers
Kara and Marni Powers are twin sister cooks, dining and blogging their way through Boston's North End and beyond. They see the act of cooking and entertaining as a form of creative expression, an art that encourages the mixing of flavors, spices, techniques and stories. Their interest in cooking dates back to their Greek grandmother's open-arms approach, letting them taste her savory creations like her famous spanakopita. Kara and Marni's fascination with food and culture continued during their travels abroad in Europe where they saw firsthand the limitlessness of cooking.