A smoky and lip-smackingly delicious eggplant dip spiced with harissa and perfect to enjoy with flaky flatbreads.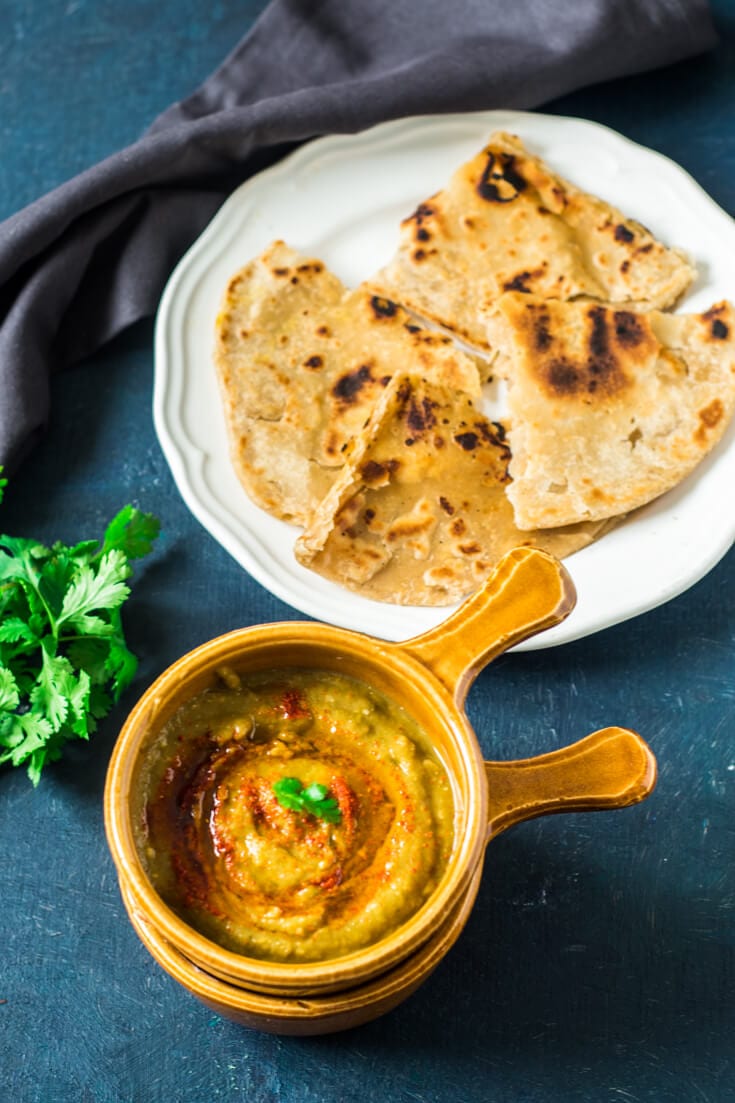 Spiced Eggplant Dip-A very smoky and spicy eggplant dip made with roasted eggplants, harissa, and garlic.
I have always loved eggplants given in any form and can have it any time of the day. So when I saw this smoky and spiced eggplant dip on Masterchef Australia's page I knew it that I had to make it straight away.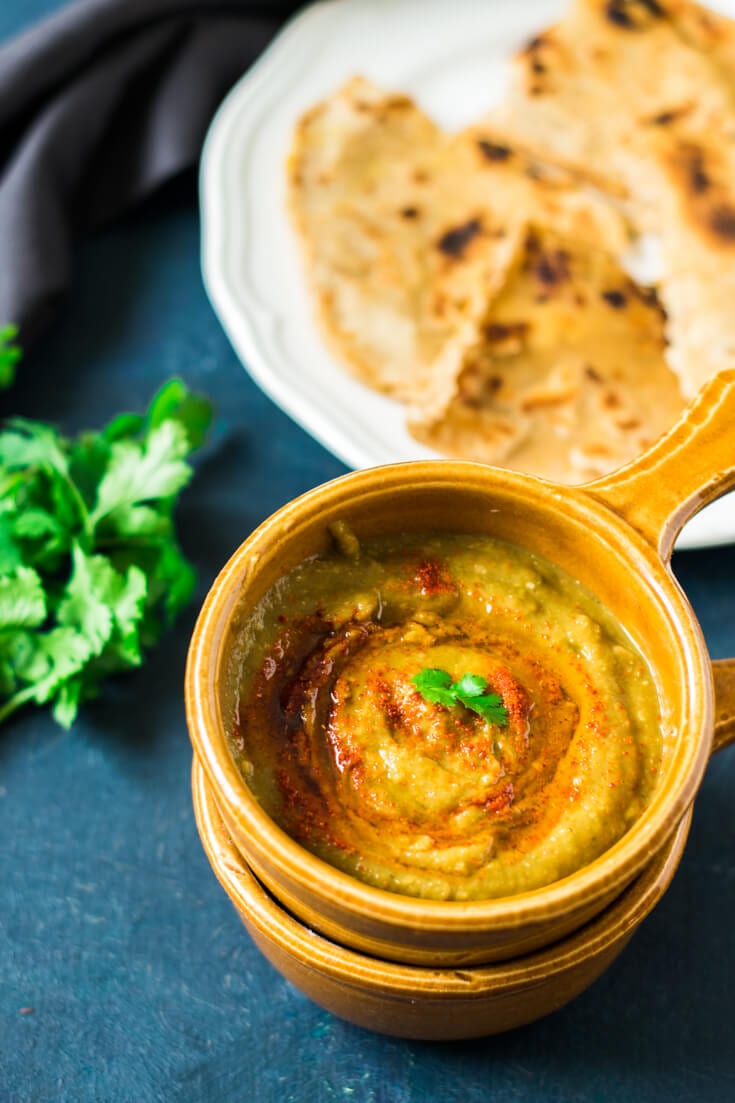 The roasted and burnt garlic added an extra flavor to the dip and not to mention the spiciness from harissa and mild nutty flavor from tahini too this dip to an extra level of amazingness.
At first, I thought to serve the dip with pita bread sticks but unfortunately ran out of the bread. Then I had to use quick and easy lachha paratha to serve with it and frankly, it was even better than pita.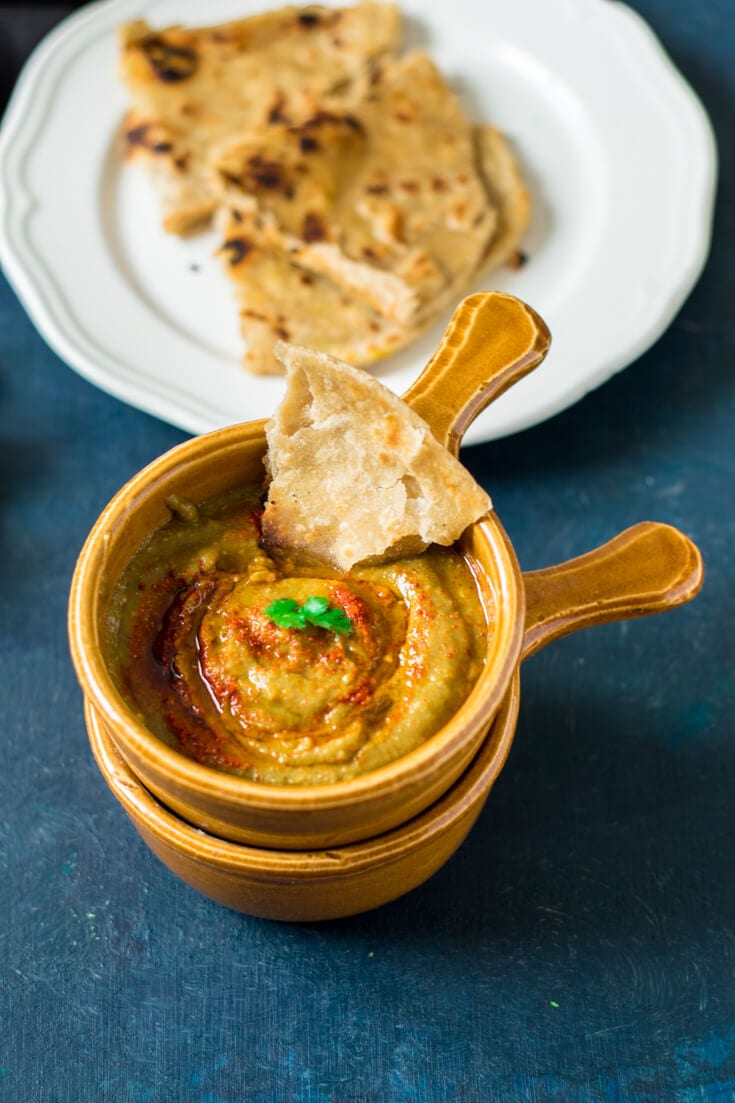 Here are some of my other dips recipes to try
Creamy Avocado Dip recipe
Eggplant Dip recipe
Coriander Yogurt Dip recipe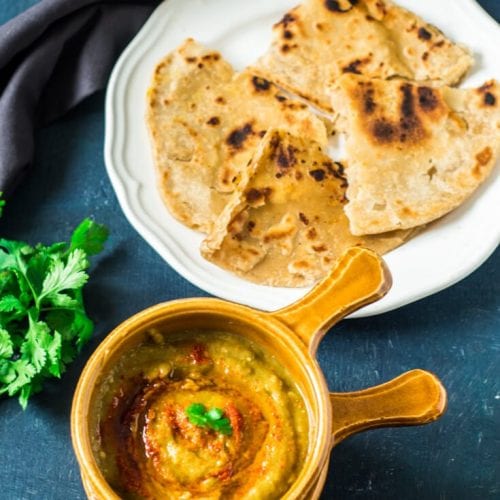 Harissa Eggplant Dip
Sapana Behl
Ingredients
1

eggplant

1/4

cup

harrisa

1

tablespoon

tahini

2-4

garlic cloves

1

tablespoon

olive oil

salt to taste

1

teaspoon

paprika

pepper to taste
Instructions
Roast the eggplant on a grill or directly on the flame until skin is charred. Place it in a bowl of water and once cooled, remove the skin.

Sprinkle salt, pepper and olive oil on garlic cloves and wrap them in aluminum foil.

Preheat oven to 180 degrees. Roast it in preheated oven for 10 minutes.

In a food processor pulse the eggplant with garlic, harissa, tahini, salt, pepper, and olive oil.

Season with more salt and pepper if required. Serve with pita chips.
Notes
Make sure to roast the eggplant properly to get that extra smokiness
Sapana Behl
I am Sapana Behl a stay at home mom of two lovely princesses,a passionate foodie and an enthusiastic food blogger.