Grilled, spiced paneer is first marinated for an awesome burst of flavor and is later served with a cilantro and mint chutney.
By Manali Singh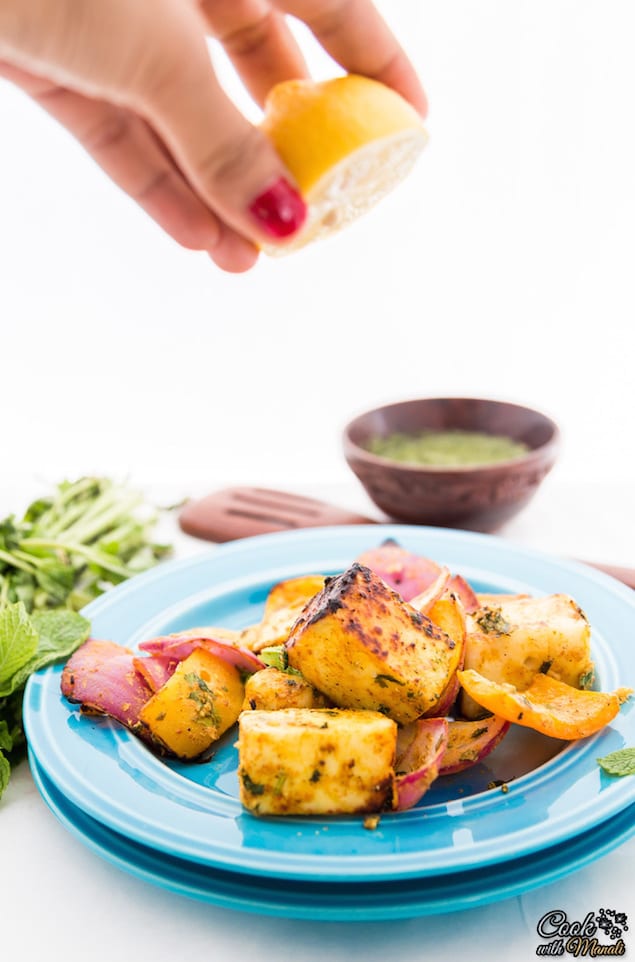 Here I am with my most favorite paneer recipe if I may say so. I have made paneer tikka before, actually several times but I never shared it. The reason? I always made it using my pan or in the oven and it would never match the authentic paneer tikka taste that we get in India. But this time around I got a small little grill and made the real deal.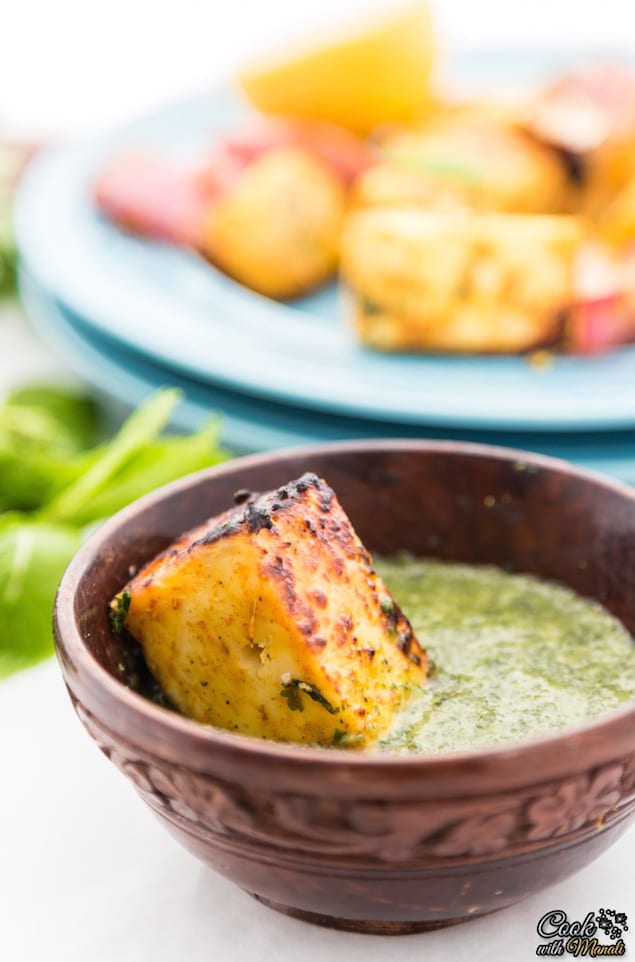 To make paneer tikka, you need to marinade the paneer pieces with yogurt and some spices. For how long? Overnight works best but if you don't have that much time, 4 hours is the minimum. You really need that time for all the flavors to come together nicely. For my recipe, I used lots of ginger, garlic, mint, cilantro and of course some spices. I used a special blend of spices known as "Kitchen King Masala", which is easily available at Indian grocery stores. I think it works very well in this recipe but if you don't have it, just add curry powder instead or a mixture of coriander powder and cumin powder. Also if you are using coriander and cumin powder, make sure to add a little more of turmeric powder. I added very little here since the kitchen king masala already has turmeric in it.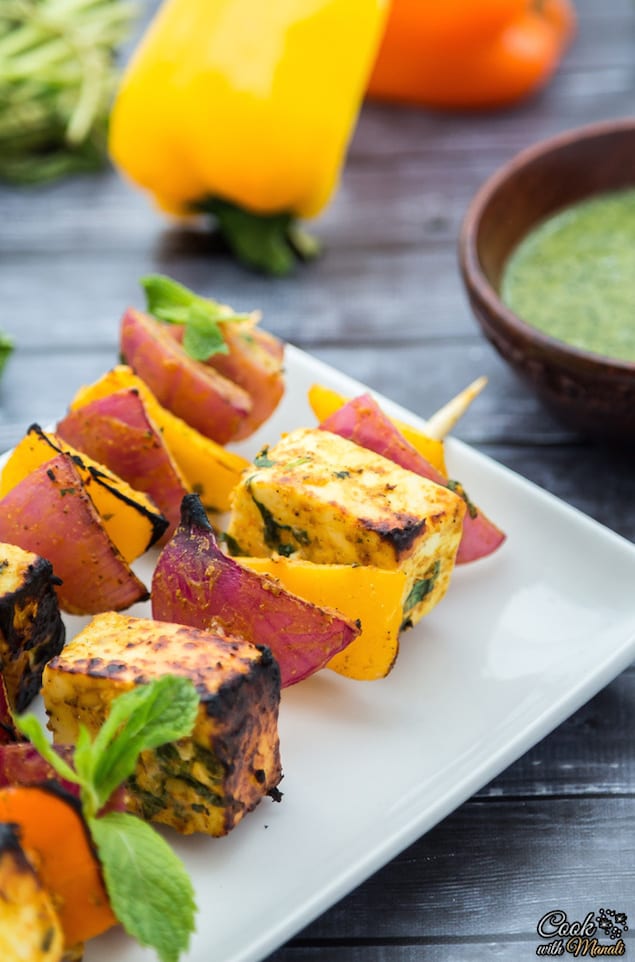 Yes, you can make paneer tikka in the oven and yes, you can make it on the pan but for authentic flavors, you really need to grill it. You have to make the cilantro and mint chutney, too! I mean common, you can't eat paneer tikka without the chutney.
Find the cilantro and mint chutney recipe here.

Grilled Paneer Tikka with Cilantro Chutney
Grilled, spiced paneer is first marinated for an awesome burst of flavor and is later served with a cilantro and mint chutney.
Ingredients
425 grams (15 ounces) paneer, cut into big cubes
1 onion, big, cut into big cubes
2 bell peppers, big, cut into cubes (any bell pepper of your choice, I used yellow and orange)
Marinade
5 tablespoons thick yogurt
1.5 teaspoons ginger, finely chopped
1.5 teaspoons garlic, finely chopped
2 tablespoons mint leaves, finely chopped
2 tablespoons cilantro, finely chopped
1 teaspoon kitchen king masala
¼ teaspoon red chili powder or to taste
⅛ teaspoon turmeric powder
½ teaspoon chat masala
½ teaspoon garam masala
½ teaspoon tomato ketchup
salt, to taste
To serve
fresh lemon juice
chat masala
cilantro mint chutney (see the link above for the recipe)
Instructions
In a bowl take 5 tablespoons of yogurt. Make sure the yogurt is thick, if it isn't place it in a strainer and leave for 2-3 hours. This way the yogurt will get rid of all the water and you can then use it in the recipe.
Add finely chopped ginger and garlic to the yogurt.
Next add in all the dry spices - kitchen king masala, garam masala, red chili powder, turmeric powder and chat masala.
Also add the tomato ketchup and salt and mix till well combined.
Add chopped mint and cilantro next and mix till combined. The marinade for the paneer tikka is now ready.
Add in the cubed paneer, onion and bell pepper.
Mix till all the paneer pieces, onion and pepper are well coated with the marinade. Cover and keep the pan in the refrigerator overnight or for a minimum of 4 hours.
Once the paneer is marinated for the required time, arrange the paneer pieces on the skewer, alternating with onion and pepper.
Grill till the veggies are nicely browned and done.
Remove the paneer tikka from the skewers and transfer to serving plate.
Squeeze in some fresh lemon juice, sprinkle chat masala and serve immediately with cilantro mint chutney on the side!
Notes
The prep time is only 15 minutes. The total prep time includes the waiting time of 4 hours.* You can use curry powder or coriander powder + cumin powder in place of kitchen king masala.* Adjust spice level to taste. If you like spicy food, add more of red chili powder.
Manali Singh
Food lover, recipe developer, food photographer and a big time baking addict. I live in Seattle with my husband and share simple and delicious vegetarian recipes on my blog Cook With Manali.