On a cool summer night or when you just need something comforting, dig into this parmesan polenta bowl loaded with greens, leeks and a poached egg.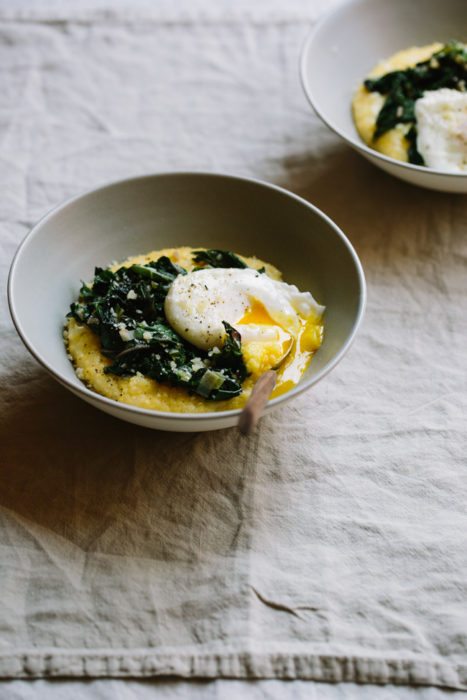 We eat lots of cold salads and sandwiches in the summer, but I find there's still a place for warm bowls too. No matter how hot the weather, my daughter always comes home a bit blue and shivering after being out for a swim. Soft and creamy polenta with fresh greens and a runny poached egg was just the thing to sooth her post-morning swim lesson chill.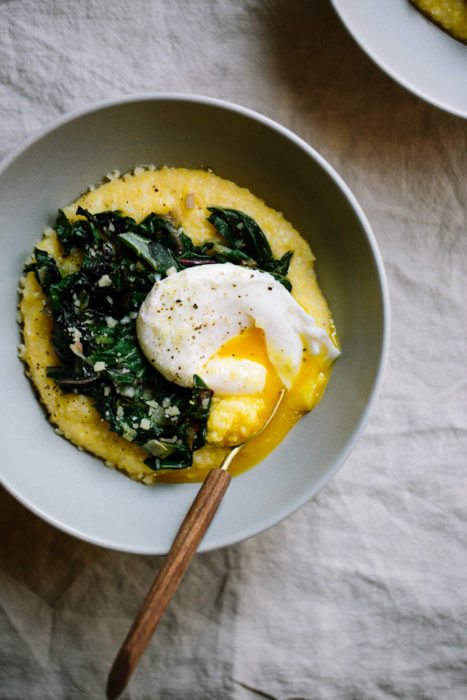 We've had an abundance of fresh greens each week from our CSA share, and I find giving them a simple sauté with some fresh herbs the easiest way to use them up. There's hardly a need for a recipe here; this is merely an idea for a simple and versatile meal. A meal doesn't need to be complicated for it to be delicious, especially in the summer when the variety of produce is so bountiful. While the polenta simmers on the stove, the leeks and greens can be cooked, the eggs poached, and it all comes together in about thirty minutes. I used leeks and chard flecked with leaves of fresh thyme since that's what I had on hand, but it would be fun to experiment with other greens and herbs.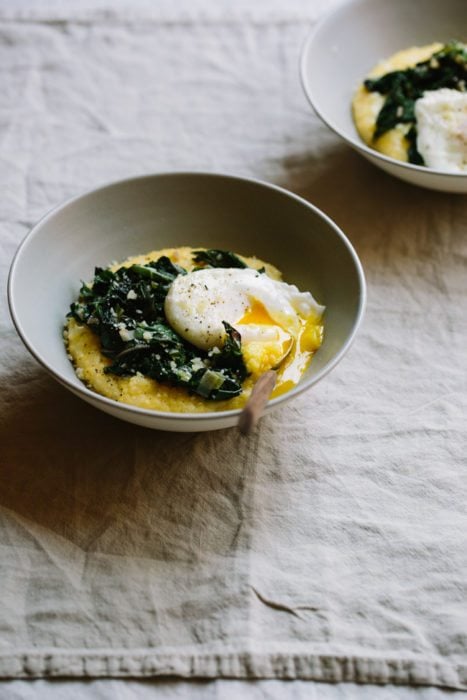 Greens and Parmesan Polenta Bowls
Emily Nelson
On a cool summer night or when you just need something comforting, dig into this parmesan polenta bowl loaded with greens, leeks and a poached egg.
Ingredients
I cup polenta

4

cups

water

¾

teaspoon

kosher salt

1/3

cup

parmesan or romano

grated

1

tablespoon

unsalted butter

1

tablespoon

olive oil

2

leeks

white and light green parts only, chopped

1

large clove garlic

minced

1

large bunch swiss chard or other greens

1

teaspoon

fresh thyme leaves

chopped

4

poached eggs
Instructions
In a saucepan, bring 3 cups water and salt to a boil. Gradually stir in polenta, stirring quickly to avoid lumps. Turn heat to low. When water is completely absorbed, add another ½ cup of water and continue to stir occasionally. Repeat with the last ½ cup of water. Continue to cook for at least 30 minutes, stirring occasionally. Stir in parmesan (or romano) and butter last. Season to taste with additional salt and pepper.

In a wide saute pan over medium heat, heat olive oil. Add the leeks and stir to coat in oil. Season with salt and pepper to taste. Continue to cook over medium low heat until leeks begin to turn golden, stirring occasionally, about 10 minutes. Add garlic and cook until fragrant, about 30 seconds. Add chard and thyme and stir together until chard is just wilted. Season with additional salt and pepper to taste.

Divide polenta into bowls. Arrange greens over the polenta and finish with a poached egg and an additional sprinkle of cheese. Serve immediately.
Emily Nelson
Emily is a self-taught cook and photographer with a passion for creating beautiful and wholesome food for the family. Her focus is mostly on whole grains, fresh and seasonal produce, and naturally raised meats. When she's not in the kitchen, she loves playing music and spending time with her husband and two children.