Made with a blend of cauliflower and potato, these gnocchi are baked to be light, fluffy, slightly crispy and a great serving of vegetables.
These Grain Free Cauliflower Gnocchi with Parmesan, are crispy on the outside and light and fluffy on the inside. Enjoy an Italian classic without all the gluten and starch.
I started to think about how I could make a grain-free gnocchi with fewer carbs. I already knew that cauliflower is a great way to reduce the carb load in mashed potatoes, from my Paleo Shepherd's Pie recipe.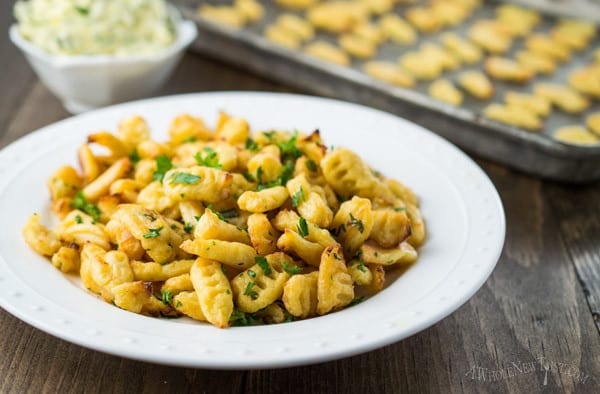 So I thought, maybe I could replace some of the potatoes with cauliflower. However, I worried that cauliflower gnocchi would fall apart when I boiled it, because it would not have enough starch (glue) to hold it together.
Then I saw a recipe where the gnocchi is baked instead of boiled. Eureka! Once I realized that I didn't have to boil the gnocchi, I was ready to roll up my sleeves and get to work.
This gnocchi is slightly crispy on the outside, and light and fluffy on the inside. My family calls it "Gnocchi Fries". I have to stand guard when this comes out of the oven, because everyone snatches off of the baking sheet.
Like traditional gnocchi, this freezes well, so you can make it ahead of time and serve at a later date. To freeze, spread out the cooked gnocchi (so that they are not touching each other) onto a baking sheet, making sure the gnocchi is cooled to at least room temperature first. Cover with foil and place in the freezer. When the gnocchi is frozen solid, transfer to a plastic Ziploc bag with the air removed.
You could also wrap it tightly in foil and then place in a plastic bag. Defrost the gnocchi in the refrigerator, and then reheat with whatever sauce you want to use.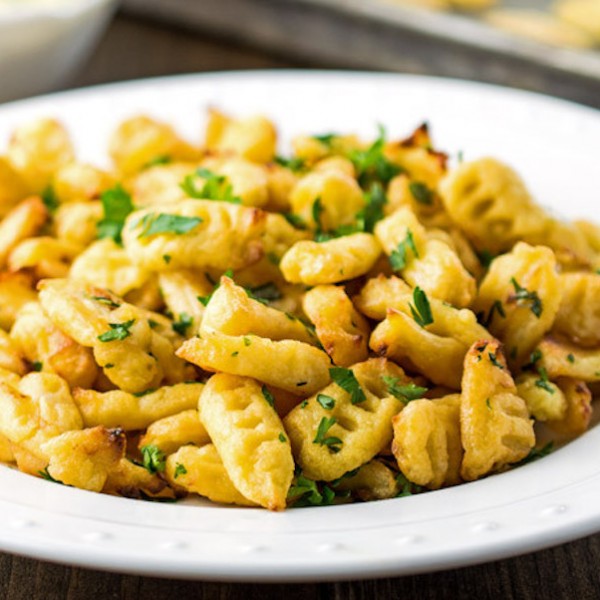 Gluten and Grain Free Gnocchi
Caroline LaMorte
Made with a blend of cauliflower and potato, this gnocchi is baked to be light, fluffy, slightly crispy and a great serving of vegetables.
Course
Appetizer, comfort food/ pasta, Gnocchi, Main Course, Primi
Cuisine
American-Italian, Italian-Inspired
Ingredients
1

baked russet potato

about 5" x 3"

1

head cauliflower

(about 4 cups of florets)

2

Tbs

tapioca flour

1

whole egg

1

egg yolk

½

cup

finely grated parmesan cheese

1

tsp

kosher salt

about 1 Tbs olive oil for brushing/spraying
Instructions
Bake one medium size russet potato in a 350-degree oven, until skin is crisp but inside feels soft, about 1 hour.

Cut cauliflower into florets (about 4 cups), and steam until very soft, about 25 minutes. Strain well.

If not already grated, you can add your parmesan cheese to a food processor and and process with the blade attachment, until it is the texture of coffee grounds. Remove grated cheese and reserve.

Working in batches, use a potato ricer to squeeze/wring the water out of the cauliflower, but don't push the cauliflower through.

Place the squeezed cauliflower into the food processor bowl. Add egg, egg yolk, salt and parmesan cheese. Process with the blade attachment to form a smooth purée. Add tapioca flour and process until just incorporated.

Transfer mixture to a large mixing bowl.

When potato is done cooking, remove it from the oven, and turn the oven temperature down to 300 degrees.

Cut the potato in half and scoop half of the flesh into the potato ricer. If the potato is to hot to handle, you can let it cool or use clean kitchen gloves.

Press the potato flesh through the ricer over the cauliflower mixture. Repeat with the other half of the potato.

Stir mixture together with a fork. Do NOT process the potato with a food processor; it will make the potatoes gummy.

Line three baking sheets with parchment paper. Finely coat the parchment paper with olive oil using a Misto Sprayer or a pastry brush.

Scoop half of the cauliflower/potato mixture into a Ziploc bag (I found it easier to work in two batches). Cut one corner of the bag, about the width of a pinky finger, or approximately ½".

Pipe rows of the gnocchi onto the parchment lined baking sheet.

To make little groves in your gnocchi, lightly drag a fork across the top if each gnocchi. Spray/brush the gnocchi with olive oil.

Bake in a 300 degree oven for 30 minutes. All ovens are different, so keep an eye on this.

The gnocchi should be golden with some dark spots, but not brown.

Dress the gnocchi to your liking. I like to melt some Grass Fed Herb Butter in a pan, toss the gnocchi with it, and season to taste with some salt and pepper.
Keyword
cauliflower, gluten free, gnocchi, grain free, italian, pasta
carolinelamorte
Caroline LaMorte is the author of the food blog awholenewtwist.com. A home cook with strong Paleo leanings, her food is often grain-free, it is usually gluten-free, and it is always unprocessed. She loves to sing, ski, and entertain large gatherings. She lives Connecticut with her husband, her two sons, and their neurotic Black Lab.