Don't leave out the glace ginger bits, they provide great texture and flavour. This pudding can be reheated very successfully.
By Tania Cusack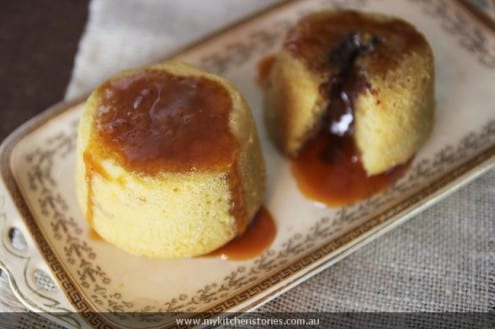 This recipe is inspired by Mark Jenson of red lantern. Use a really dark chocolate, 60-70% to cut the sweetness.
Ginger Pudding with Molten Chocolate and Caramel
Don't leave out the glace ginger bits, they provide great texture and flavour. This pudding can be reheated very successfully.
Ingredients
100gm softened butter (4oz)
2 teaspoons orange zest
80 gm brown sugar (3oz)
50 gm honey (1.8oz)
2 Tablespoons candied ginger
2 eggs
1 cup (150gm/ 5¼oz) plain flour
100gm chocolate (3oz)
1 teaspoon baking powder
2 teaspoons ground ginger
¼ teaspoon salt
½ cup ( 125ml) milk
Caramel ginger sauce
½ cup of sugar
2 Tablespoons grated ginger
1 tablespoons lemon juice
½ cup orange juice
pinch of salt
½ cup of cream
extra cream or ice cream
Instructions
Beat the butter sugar , honey, zest until light and add the eggs mixing well
Add the dry ingredients, and the milk and the candied ginger last.
Put 2 large tablespoonsful into each mould. Cut the chocolate into squares on put 4 squares together onto the batter in the middle and cover with a small spoon of the batter. Continue until all of the moulds are full.
Put a deep baking tray onto the stove top and ¼ fill with water, Start to heat the water while you are covering the puddings.
Cover each pudding with foil and seal well. Put each into the warmed water. The water should come ½ way up the sides of the pudding dishes.
Cover the tray well with foil and turn to low so that the puddings simmer but do not boil (water may get into them). Simmer for 20-25 minutes before opening one and pressing to test. The pudding should be firm to touch.
For the sauce
Put the sugar in a pot with the lemon juice on a medium heat. Don't stir just keep swirling until all of the sugar is starting to dissolve. Keep watching and cook the sugar till dark golden.
Carefully add the ginger, orange juice and cream and a pinch of salt and boil for a couple of minutes stirring to collect any caramel stuck to the bottom of the pot. Strain out the ginger while the sauce is hot
Tania Cusack
After completing Culinary School in Sydney, Tania travelled the world working as a Chef in restaurants, doing catering and cooking on road for a travel company in Europe and the US. Once back at home, the birth of her son meant a change, and during his small years, she enjoyed jobs in wholesale food, buying Artisan food products, testing and recipe writing as sales and educational tools. Tania is now back to what she loves, working as an in house Chef for a large retailer, conducting Cooking Classes and writing recipes for her blog.