PARTNER POST – #GarnachaDay is September 18th. Celebrate one of the world's oldest grapes with a bottle that is easy to pair with a variety of foods.
A salty party appetizer is perfect to pair with and encourage the drinking of wine. Try this sun-dried tomato and goat cheese spread topped with an olive and best served with Garnacha wine.
By Traci York


This appetizer, otherwise known as a canapé, is one you'll make over and over again for gatherings, parties, and special events. Roasted Garlic Sun-Dried Tomato Goat Cheese Canapé was developed by my sister, also a wine connoisseur, and we've been making it for years. It has bold flavors and varied textures, just what I like in an appetizer.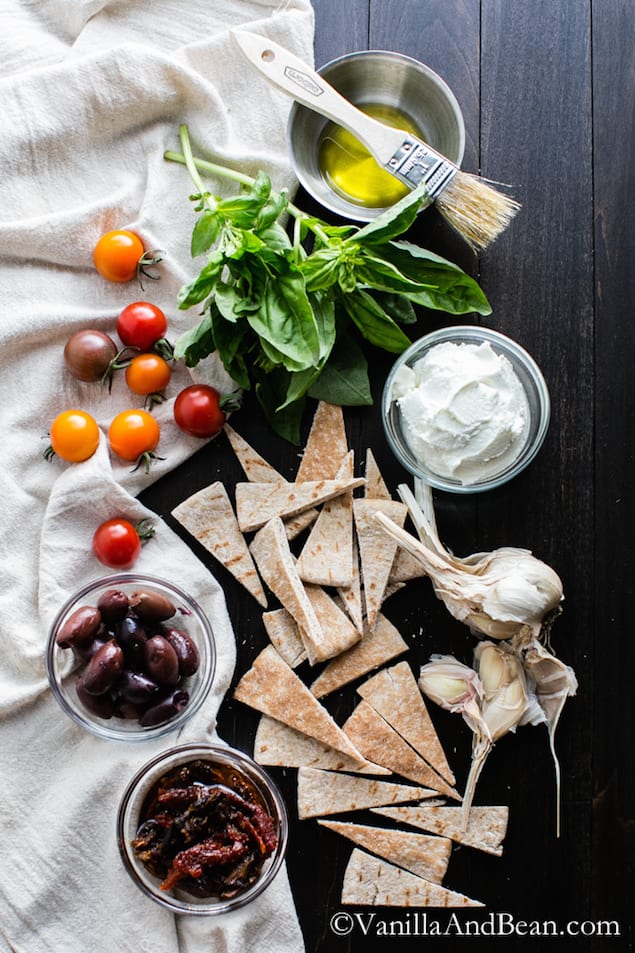 Canapés are bite sized appetizers usually served during cocktail hours. They're often sweet or salty to encourage more drinking.
Not all finger foods are canapés; think bruschetta, crostini, dips etc. Bite sized, canapés are to be shared while mingling. The base is made with toasted bread, crackers, or pastry, for example, and cut into perfect little shapes such as discs, squares, or triangles. They're topped with a spread that's usually piped on, then layered with a main item, and garnished.
Now, I realize this can be fussy and time consuming. So if time is limited, simply place each component separately on a serving platter.
Otherwise, it's an impressive pop in your mouth finger food for sharing with a favorite wine and friends.
I recently discovered Garnacha Wine and am intrigued with how the grapes are grown and the history of the grapes. Most notably, Garnacha grapes are one of the most widely grown grapes in the world. But if you haven't heard of them, yet are fan of blended wines, then you've probably enjoyed Garnacha before. Recently, winemakers are embracing modern techniques with old traditions to produce a Garnacha varietal with delicious character.
What I found most interesting about Garnacha is the vines, often centuries old, benefit from poor, rock soils such as limestone and granite. It thrives in hot climates with evidence suggesting that water stress benefits the vines. The grapes are grown in Spain, France, Italy, and Greece, among others, in dry arid climates. I was happy to learn Garnacha is also grown in California, where I can source it a little closer to home.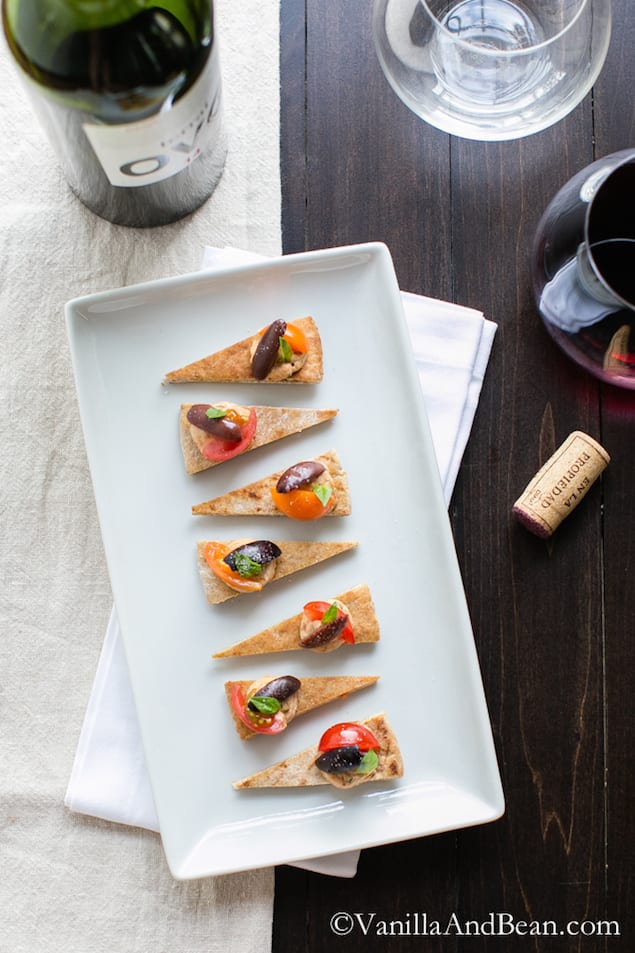 Garnacha produces red, white, and rose. What's your favorite? I like chilled white or rose' from time-to-time during Summer, but most of the time I enjoy red. Garnacha red has a bold nose with notes of plum, blackberry, cherry and a hint of spice. It's versatile and pairs beautifully with a wide array of food. Best of all, it's affordable.
To learn more about Garnacha, find them on Facebook, Twitter, or Instagram and celebrate #GarnachaDay on September 18.
Click the image below to enter to win a Mediterranean feast for four in your hometown, paired with the best of Garnacha wines.


Garnacha Day — Garlic and Sun-Dried Tomato Goat Cheese Appetizer
A salty party appetizer is perfect to pair with and encourage the drinking of wine. Try this sun-dried tomato and goat cheese spread topped with an olive and best served with Garnacha wine.
Ingredients
2 Large Heads of Garlic* (see note)
4 tsp Extra Virgin Olive Oil, divided
2 Pieces of Whole Wheat Pita Bread
5 oz (142g) Goat Cheese
¼ C (40g) Marinated Sun-dried Tomatoes, Julianne
2 Tbs Fresh Basil, rough chopped + extra leaves for garnish
8 (32g) Kalamata Olives, pitted and sliced in quarters
8 (94g) Cherry Tomatoes, halved
A few pinches of Sea Salt, for garnish
Instructions
Preheat oven to 425F (218C). Cut end off each head of garlic, the pointy side, not the root side. This will expose the garlic cloves. Set each head of garlic in a square of foil (enough to fully wrap each head in). Spoon 1 tsp of olive oil over each head of garlic. Wrap each head loosely making sure the foil is closed. Roast for 35 minutes.
While the garlic is roasting, using a large knife, cut the pita bread into 32 little wedges. Brush each wedge with olive oil. Bake during the last 8 minutes of roast time with the garlic. The pitas will crisp up after being removed from the oven. Allow them to cool.
Peel the garlic cloves out of their skins, gently. This is often messy as the garlic is very soft. Just do your best to remove all the skins.
At this point, the appetizer can be assembled with each component placed separately on a serving platter. Spoon room temperature goat cheese into a small serving dish and place the pitas, sun dried tomatoes, garlic cloves, thinly sliced basil, kalamata and tomatoes seperately on to a serving dish. Severing this way allows for the pitas to be served warm and individual canapés assembled by guests. I find this arrangement agreeable if sharing with a few others. If sharing with a larger group, press on!
In the bowl of a food processor, add the roasted garlic, goat cheese, sun-dried tomatoes and basil. Process until smooth. There will still be chunks in the cheese, and this is okay, but they need to be small enough as to not overwhelm a bite.
Spoon the goat cheese mixture into a plastic sandwich bag, forcing the cheese to one corner of the bag. Cut a small hole in the end of the bag and pipe on to the pita wedges. Top with cherry tomato, kalamata olive and basil leaf or tiny basil ribbon. *Cut basil turns black/brown, so try to find tiny leaves. A fresh thyme leaf is an option as well, which tastes delicious!
Sprinkle a tiny bit of sea salt over each canapé before serving. Serve immediately.
Traci York
A Texas native and former omnivore, Traci is the author and photographer behind Vanilla And Bean, a vegetarian food blog where you'll find savory and sweet recipes and photography to inspire. Although flavors of TexMex influence her cooking, she now resides just North of Seattle WA where farms and farmers markets abound. This is where she finds her inspiration. After a career in education, Traci set off to pastry school to learn in the French style and hone her baking skills. While working at an organic, artisan bakery Traci started Vanilla And Bean to share her love of good food.