Garnacha Day — Bacon Wrapped Dates and Marcona Almonds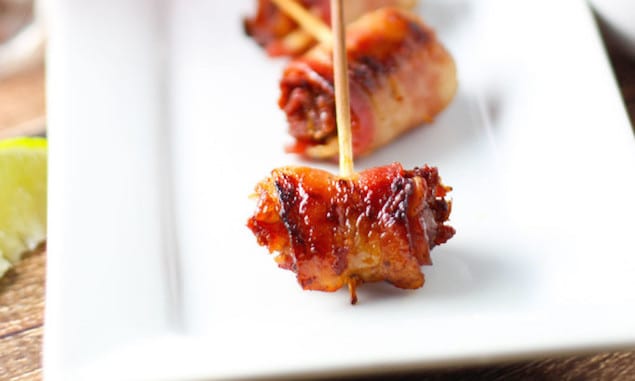 PARTNER POST – #GarnachaDay is September 18th, join in the celebration of one of the world's oldest grapes with deliciously paired recipes and enter to win a special tasting.
Sweet, salty, smokey with a crunch of almonds, these warm bacon and date appetizers are the perfect party food for fall and the coming holidays. Pair with a glass of Garnacha wine for a match made in heaven.
By Erin Rebecca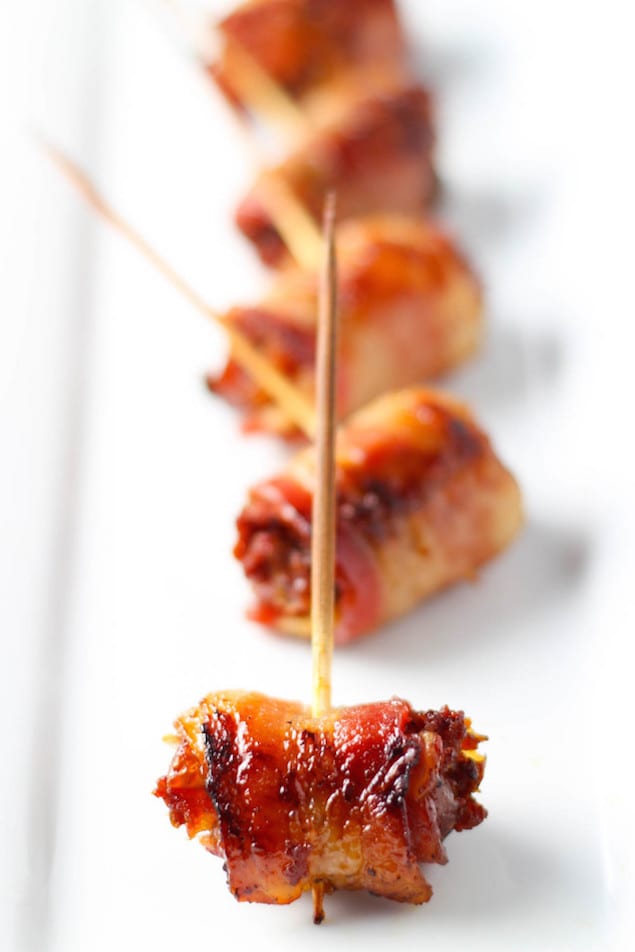 Fall is officially upon us. And it seems that once it hits I'm always on the lookout for quick and easy party appetizers – Football season, Thanksgiving, the holiday season. Here's what I'm going to be serving on toothpicks this season – Bacon Wrapped Dates and Marcona Almonds.
These sweet dates plump up in the oven and are the perfect compliment to the crunch of the almonds. Plus, to top it off – BACON. Smoky, salty, sweet, crispy, crunchy… All the adjectives are there! Plus, one more – Tart. We're finishing off these delicious bites with a squeeze of lime.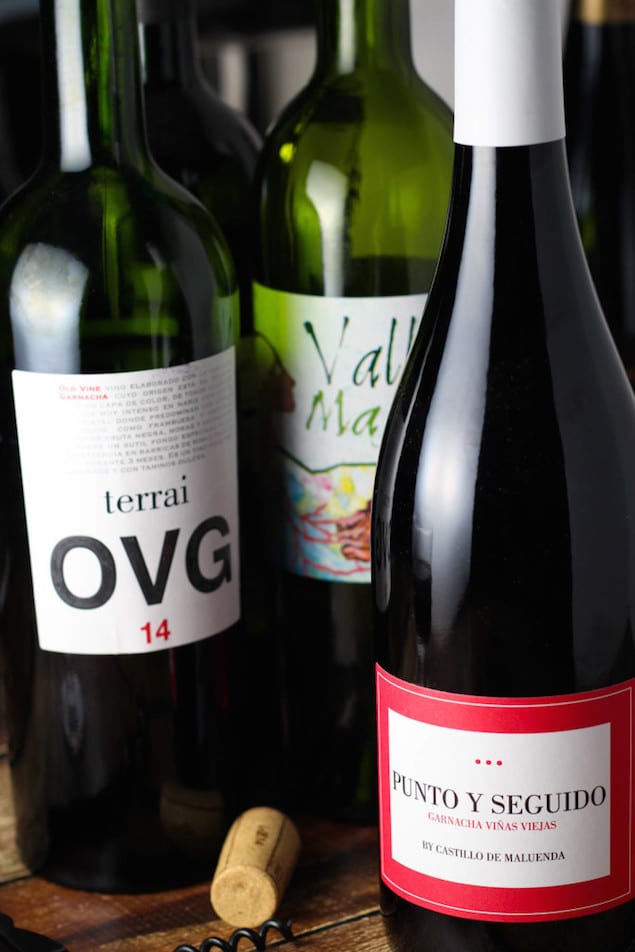 I have recently begun diving into more Spanish wines. I've been exploring the wines of Garnacha. I'm always on the hunt for versatile wines that come in at a reasonable price point. We call them EDD's in our house – "Every Day Drinkers." Most Garnacha wines come in at around $10-$20. And, although first originating in Spain, this grape can now be found in Southern France, Italy and the US – where it is more likely to be called Grenache.
Garnacha is the only mainstream grape with red and white varieties. It's an easy to approach wine that works well with foods of all sorts. The wine itself can be red, white or rosé. In fact, you could pair a whole meal with different Garnacha wines: a rosé as an aperitif, a white with the starter, a red with the main course, and a sweet wine with desert. I chose a red Garnacha to pair with these bacon wrapped dates – Aromatic, lush, and fruit forward.
See Also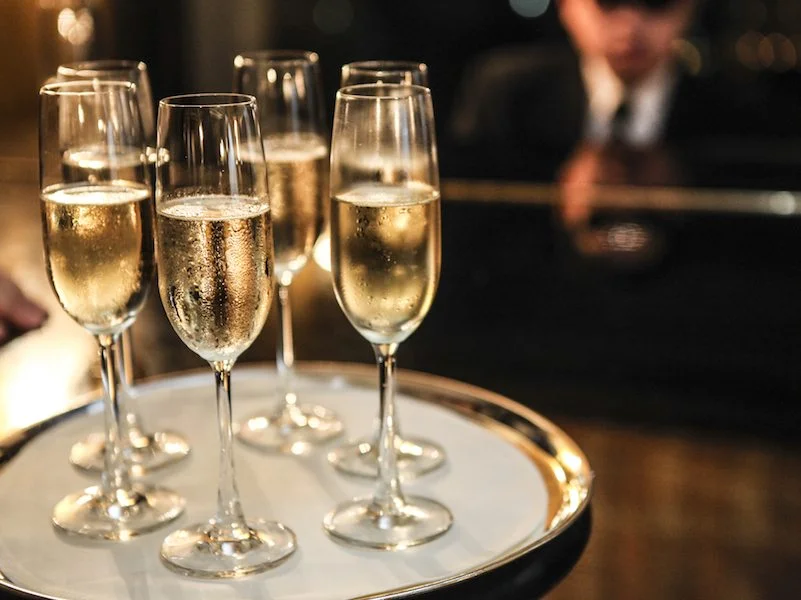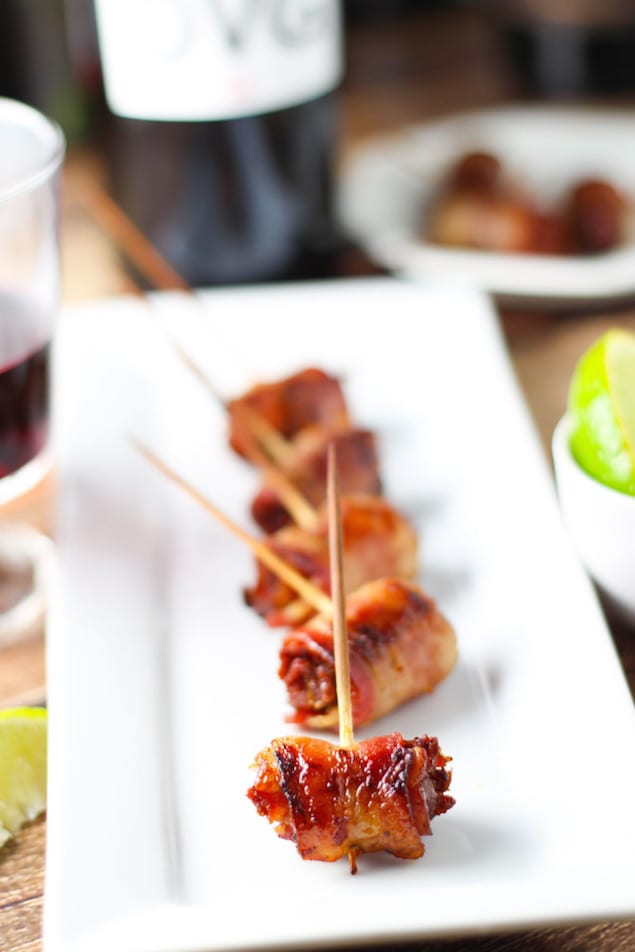 #GarnachaDay is September 18th – How fun would it be to host a casual tapas party and invite your guests to each bring a bottle of Garnacha and a tapas style dish to share? Bites that come to mind are grilled shrimp, empanadas, marinated olives, fried cauliflower with pimenton aioli, and, of course, these bacon wrapped dates! What dish would you bring to share?
Click the image below to enter to win a Mediterranean feast for four in your hometown, paired with the best of Garnacha wines.
Garnacha Day — Bacon Wrapped Dates and Marcona Almonds
Sweet, salty, smokey with crunch, bacon and date appetizers are a perfect party food for fall and the holidays. Pair with a Garnacha wine for a match made in heaven.
Ingredients
15 Medjool pitted dates
15 Marcona almonds
5 slices bacon, cut into thirds
1 lime, cut into wedges
Instructions
Preheat the oven to 400 degrees F. Line a sheet tray with silicone baking mat or parchment paper.
Make an incision on one side of each date and insert an almond. Squeeze the date shut in your hand to secure.
Wrap each date with a bacon strip and secure with a toothpick.
Place all the dates on the prepared sheet tray. Roast the dates in the oven until the bacon on top is starting to crisp - 5 to 6 minutes. Turn the dates over and cook for an additional 5 to 6 minutes.
Serve hot with lime wedges as garnish.
Erin Rebecca
I'm Erin - a self-taught weeknight cook. I occasionally like to delve into the more complicated recipes, like homemade pasta, Cioppino, and boeuf bourguignon. But for the most part, I work full-time, come home, pour a glass of vino and start cooking away.