Fugazzeta – The Argentine Pizza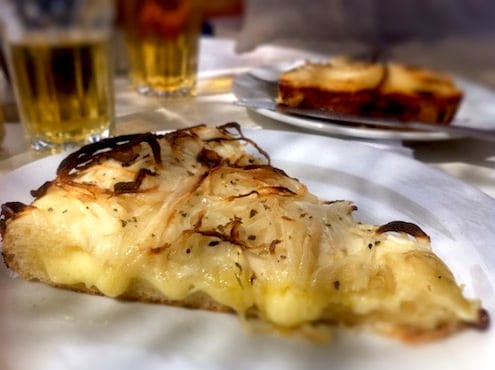 A pizza exploding with onions and mozzarella on a thick crust is one of the many Italian influenced dishes that is commonly found in Argentina.
By Liza Puglia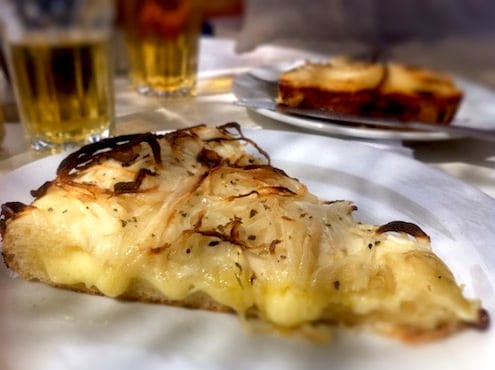 Fugazzeta is one of the oldest Argentine inventions.  A pizza exploding with onions and mozzarella on a thick crust is one of the many Italian influenced dishes that is commonly found in this unique country.
Originally, fugazza comes from Northern Italy but the Argentine's decided to add massive amounts of cheese resulting in fugazza con queso o fugazzeta.  There is no tomato sauce or other toppings.  The onions are simply seasoned with oregano and olive oil and sometimes a slice of ham is added known as a fugazzeta con jamon.
The pizza culture in Argentina is rather grande.  Pizzerías are found on almost every block in addition to empanadas and pasta, the cities most popular dishes.  The locals prefer their slices covered in sweet tomato sauce and piled high with mozzarella.  Pepperoni and sausage are not available nor are condiments like crushed red pepper flakes or grated cheese.   Simple and stacked with cheese seems to be the trend.
If you find yourself in Buenos Aires and are looking for the perfect slice of fugazzeta head over to Punto y Banca in Palermo Viejo.  You wont be let down!
Liza Puglia
Liza Puglia is a professional cook and food blogger. Spending most of her life in New Orleans and New York City she now resides in colorful Buenos Aires, Argentina where she runs a small restaurant serving Creole infused cuisine. Food, wine, music, and travel mean the most to her and can be found at her blog NOLAchef.