China's Yunnan province is one of great diversity. It is diverse when it comes to geography, biology and ethnic groups. Such diversity leads to a wider variety of cuisines and a beautiful blend of flavors. Here are just a few of the foods that can be found in the Yunnan province.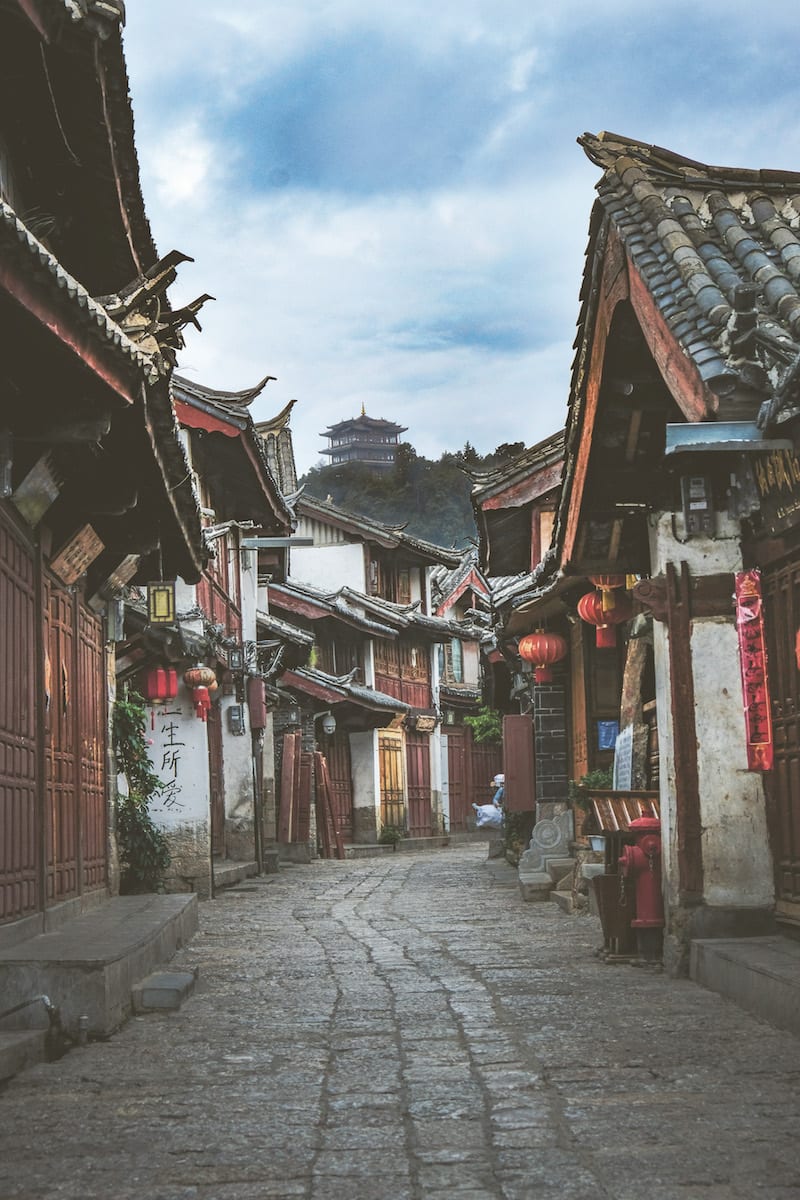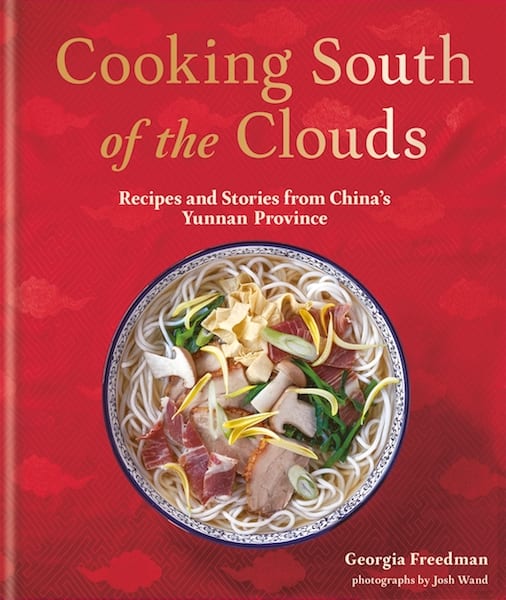 China's cuisines are vast and marvelous. That's why we were so excited to get our hands on Georgia Freedman's new book, Cooking South of the Clouds: Recipes and Stories from China's Yunnan Province. As a travel writer, frequent visitor to Yunnan and having lived there for two years Georgia is a perfect outside perspective on the foods of the region and the stories behind them.
Each chapter of the book explores a different are of the province showcasing classic recipes, ingredeints, artisans and farmers. Here are a few flavors of the region to inspire you to learn more about Yunnan: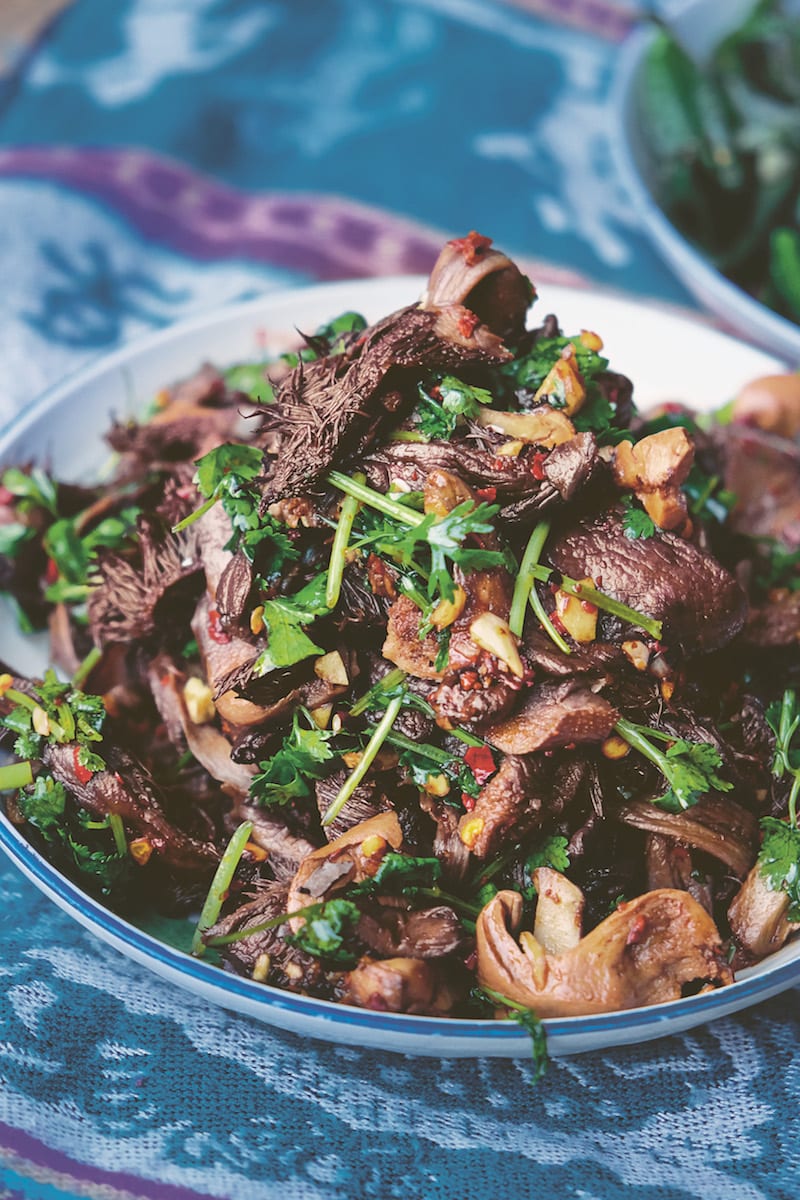 Northern Yunnan: Dried Mushroom Salad
This area of Yunnan is known for its high mountains and deep valleys. This mushroom dish comes for a Mosuo household. The Mosuo are a tribe of people in this area. It's a simple salad, with just six ingredients, but lots of flavor.
2 oz. sliced dried mushrooms, such as porcinis or shiitakes ?(about 31/2 cups)
7 to 8 tsp. Zhenjiang vinegar
3 to 4 tsp. light soy sauce
2 to 3 tsp. Dried Chile Oil ?(page 276)
1/4 tsp. salt
1/4 cup roughly chopped ?cilantro leaves and stems
Dried Mushroom Salad
Place the dried mushrooms in a medium bowl, add cool water to cover by about 3 inches, and let sit until the mushrooms are softened all the way through, 10 to 20 minutes. Drain the softened mushrooms and squeeze them to remove any excess water. Toss the mushrooms with the smaller amounts of the vinegar, soy sauce, and chiles, then add the salt and cilantro. Taste and add more seasoning if needed. The salad can sit for up to 1 hour before serving.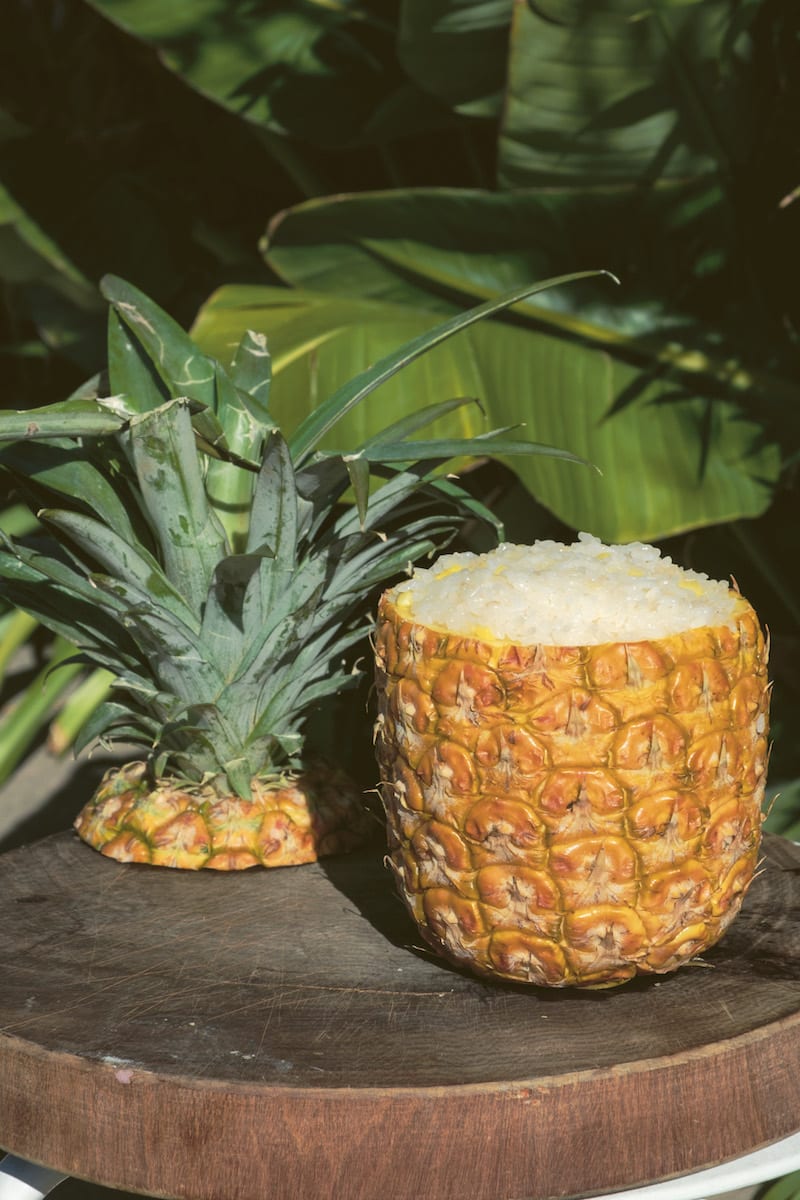 Southern Yunnan: Dai Pineapple Rice
Southern Yunnan sits along the Mekong River and is a land of lush jungles. This recipe is a great reminder of the tropical fruits that can be found here. This sticky rice and fruit are an important part of the daily diet in the region.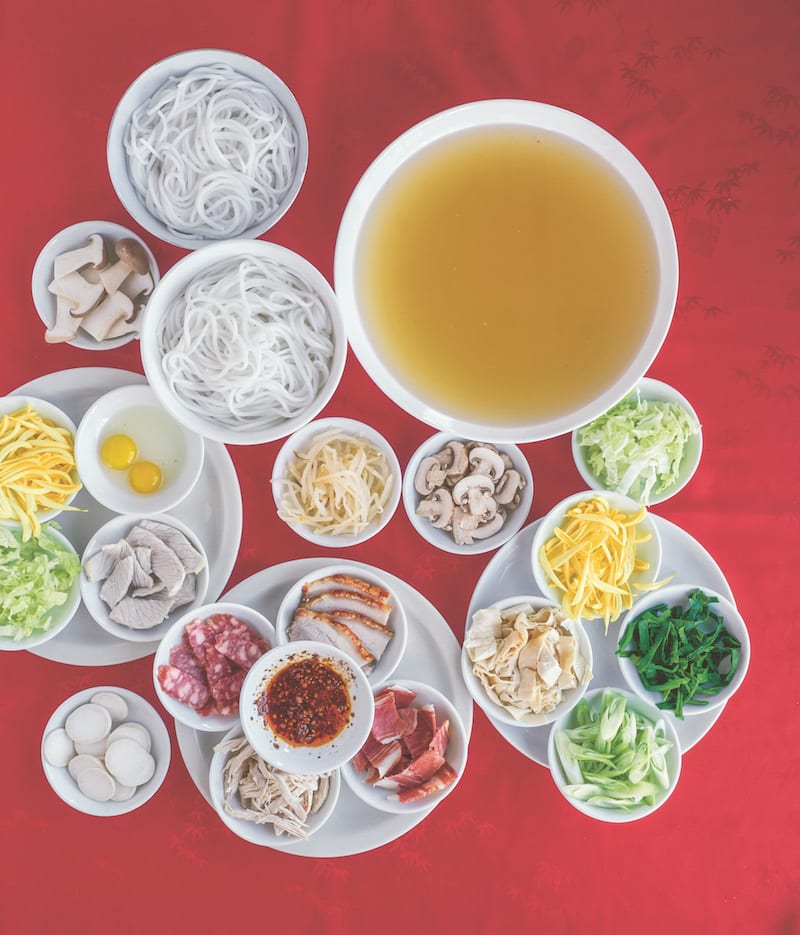 Southern Yunnan: Rice Noodle Soup
This soup, with its many toppings and add-ins, comes from the city of Mengzi. It is not hard to prepare, but all the toppings set out makes it look quite impressive.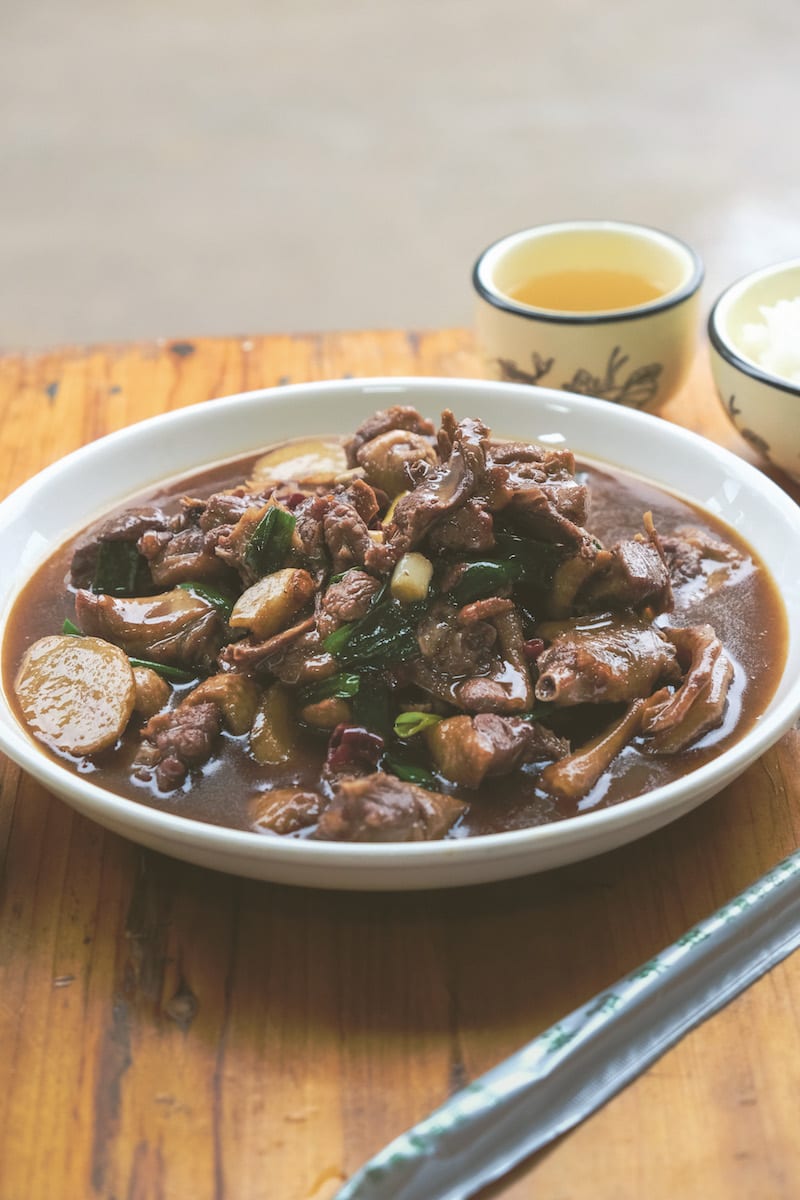 See Also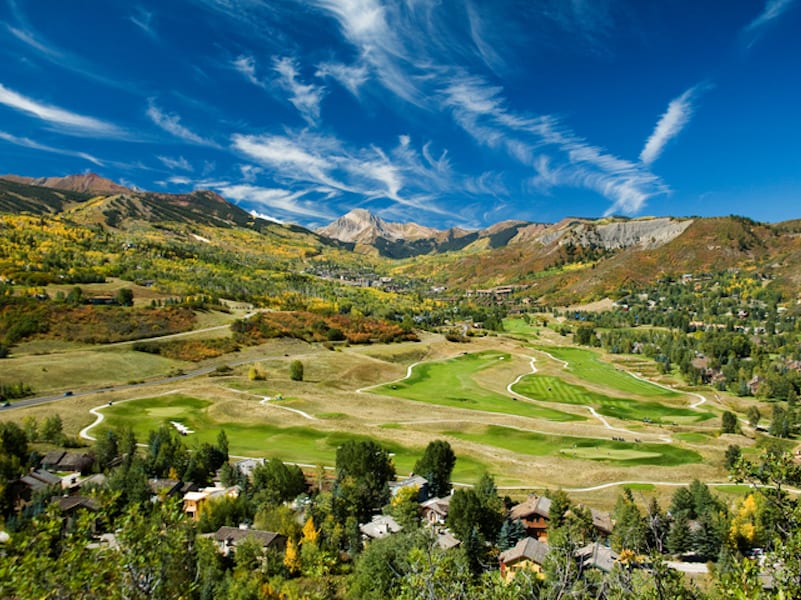 Eastern Yunnan: Babao-Style Duck Stewed in Beer
This dish is reflective of the ingredeints introduced by eastern Yunnan's neighbor, Guizhou. Made with local beer, this duck dish with a rich sauce comes from a Zhung minority woman who owns a restaurant in the area.
4 cups vegetable oil
5 garlic cloves, smashed with the side of a cleaver
3 slices of unpeeled ginger, each about 1/2 inch by 1 inch
1/2 duck (about 21/2 lbs.), cut across the bone into 1-inch pieces
11/2 tbsp. Chinese Shaoxing cooking wine
10 dried Thai chiles, cut into
1-inch pieces
1 pint weak Chinese lager, such as Snow or Tsingtao
11/2 tbsp. oyster sauce
2 tsp. fragrant chile sauce (xiangla jiang)
11/4 tsp. sesame oil
3/4 tsp. dark soy sauce
2 scallions, both white and green parts, cut into 11/2-inch pieces
1 tbsp. cornstarch mixed with ?1 tbsp. water
Babao-Style Duck Stewed in BeerIn a wok, heat the oil over a high flame until very hot. (To test the temperature of the oil, submerge the tip of a wooden chopstick; it should produce a strong cloud of little bubbles.) Add the garlic and ginger and cook for about 10 seconds, until fragrant. Add the duck and cook, gently pushing the meat back and forth with a wok shovel, for 1 minute. The oil should bubble furiously. Add the cooking wine and dried chiles and continue cooking, stirring frequently, for 2 minutes.
Carefully pour all but 1 tbsp. of the oil into a heatproof container such as a metal bowl; this is easiest to do if you pour it through a sieve to catch any pieces of meat or aromatics that might fall out with the oil.
Add the beer to the wok, stir the mixture well, and bring it to a vigorous boil. Boil for 2 minutes, stirring occasionally, then scoop out any remaining foam. Add the oyster sauce, fragrant chile sauce, sesame oil, and soy sauce to the mixture and stir well, then continue boiling for 4 minutes as the liquid begins to reduce.
Add the scallions to the mixture and cook until they are soft, about ?2 minutes. Add the cornstarch-water mixture, stir everything well for a few seconds to thicken the sauce, and transfer all the ingredients to a serving bowl with just enough sauce to cover.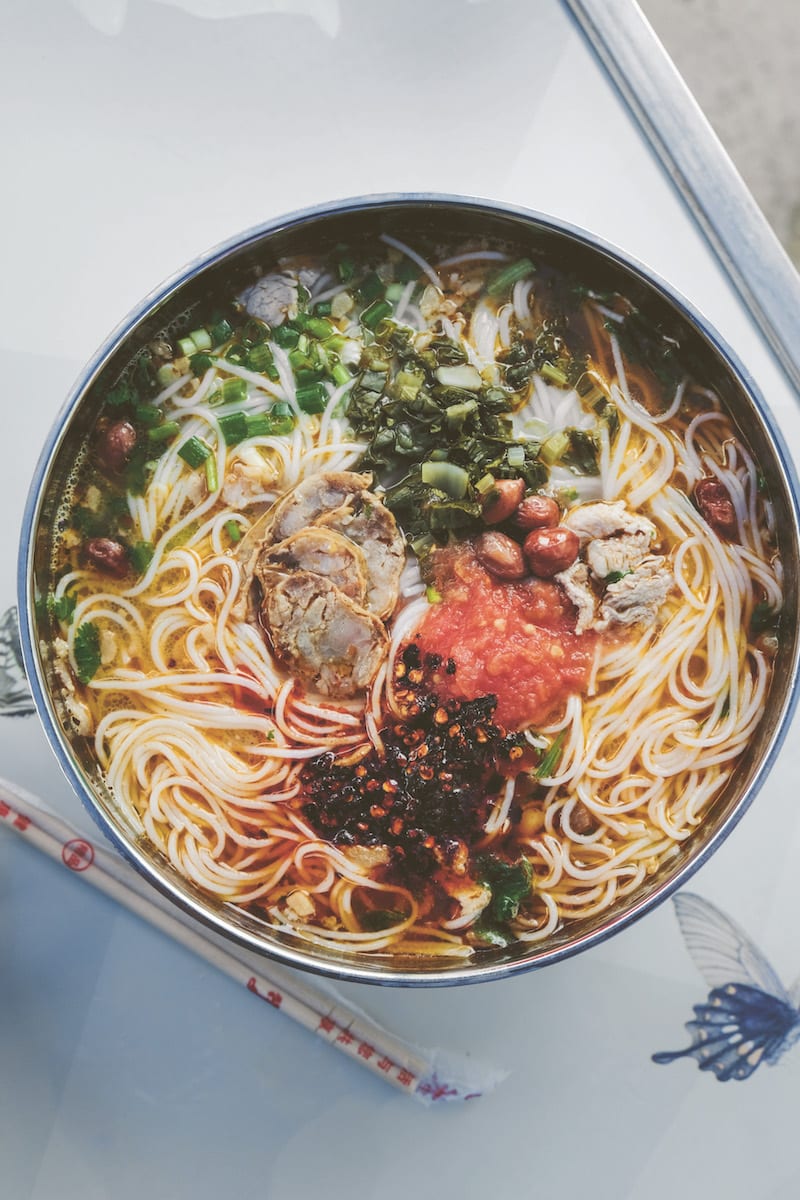 Eastern Yunnan: Babao-Style Breakfast Noodles
This area of Yunnan thrives on a main market. In this market is a delicious stall serving breakfast noodles with a mixture of mild toppings and lean pork. This recipe is a play on noodles from that stall.
Check out the cookbook for all of the recipes.
Cooking South of the Clouds by Georgia Freedman © 2018 Kyle Books, photographs © Josh Wand.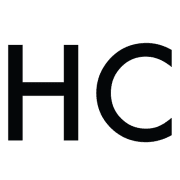 Honest Cooking
The Honest Cooking editorial team handpicks inspiring culinary stories to share with you that we think are beautiful. We strive to create an inspiring place for culinary exploration, salivating recipes, interesting personalities and stories.