Slow roasted vegetables served with a tangy salad – the perfect start to Fall.
By Shuchi Mittal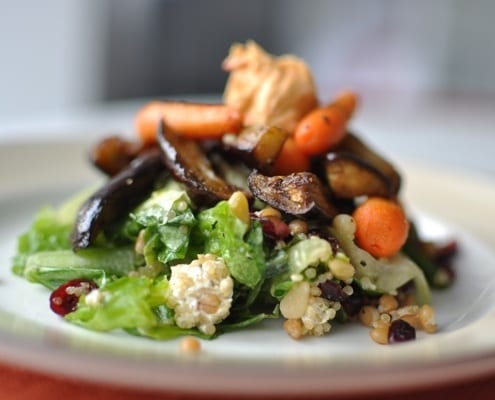 I recently relocated to NYC, and although there are a few hundred things that come as a surprise, Fall is a welcome one. The color, the energy, the smells-all of it has been rather inviting and my hands were itching to use some of that and serve it on a plate.
Although this serves 2, I ate it all by myself. It has been a long trip from Asia.
Fall salad w/ slow roasted vegetables
Slow roasted vegetables with a tangy salad- a perfect start to Fall
Ingredients
For the salad
250 gm Mesclun Mix, Aragula or Romaine Lettuce
1 cup boiled quinoa or cous cous
½ cup dried cranberries or raisins
½ cup chopped walnuts
½ cut roasted pine nuts
2 tablespoons extra virgin olive oil
1 lemon, juiced and zest kept aside
¼ cup balsamic vinegar
100 gm feta or goat cheese, crumbled
Salt & pepper to taste
For the roasted vegetables
2 small aubergines, sliced into 2 inch pieces
10-12 baby carrots, shaved and cut into 2 inch pieces
½ cup button mushrooms, halved
2 tablespoons extra virgin olive oil
Salt & pepper to taste
Instructions
Mix the ingredients for the roasted vegetables.
Pre heat the oven to 150 degree C and bake the vegetables for 20-25 min.
Mix all the ingredients for the salad and top with the roasted vegetables.
Finish with a generous dollop of red pepper dip or tahini hummus and enjoy the tastes of fall!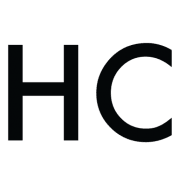 Shuchi Mittal
Shuchi cooks with the heart of a poet. Banker turned chef, she runs the 29. Private Kitchen in NYC focusing on social tasting events, dining experiences and small-scale private events. Using simple & wholesome ingredients, she likes to re-invent homemade Indian flavors into modern tapas & small plates. Her dream? To cook, feed, write, and eventually open her own communal dining cafe - with a published recipe book on the stands.