PARTNER POST- Create the perfect fall cheese board spread with Castello's selection of expertly crafted cheeses. Find inspiration here.
The perfect fall cheese board is well balanced, with sweet, spicy, savory, creamy, and crunchy elements. Check out this spread served with a sweet and spicy pepper jelly and a wine to match.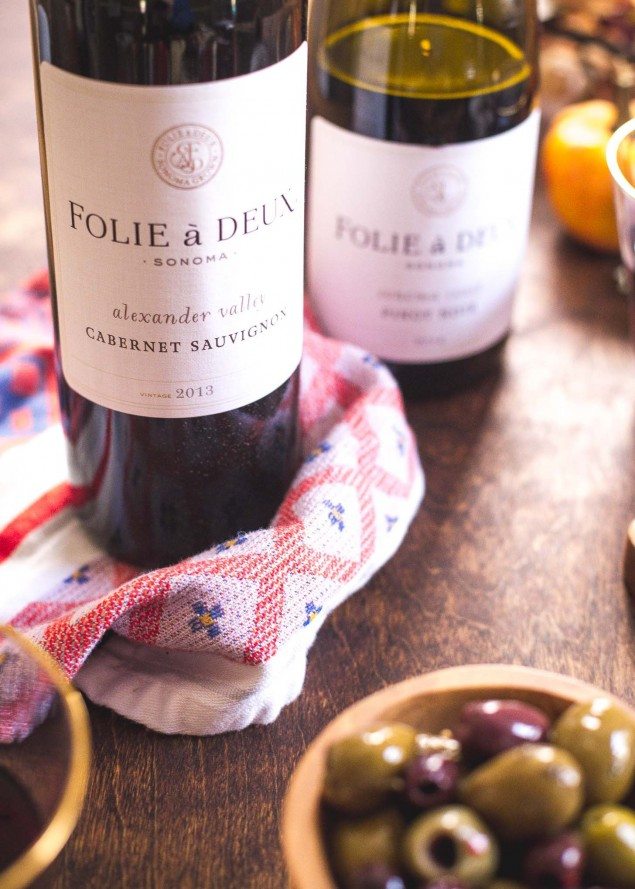 I wish you could all come over tonight to help us dive into this bounty of cheese board love. This time of year, this is my favorite way to entertain. Fill a board with flavorful cheeses, colorful seasonal sides, and a couple good bottles of wine and turn a regular old chilly fall night into a faux-fancy dinner party.
In my mind, when I envision a dinner party at our house it looks something like dinner at Downton Abbey. Candles and sparkly wine glasses and feisty conversation. And maybe if I had Mrs. Patmore flinging flour around in a cavernous basement kitchen (not to mention friends who wore ball gowns to dinner), that's the way it would be. But in reality, our style of entertaining usually involves tossing something in the slow-cooker while Molly and Clara shout that they want a bite / need to "help" / must have play dough.
But a beautiful cheese board helps keep things classy around here. And when we're putting it together, we go for a combination of savory, sweet, crunchy, and creamy. And wine.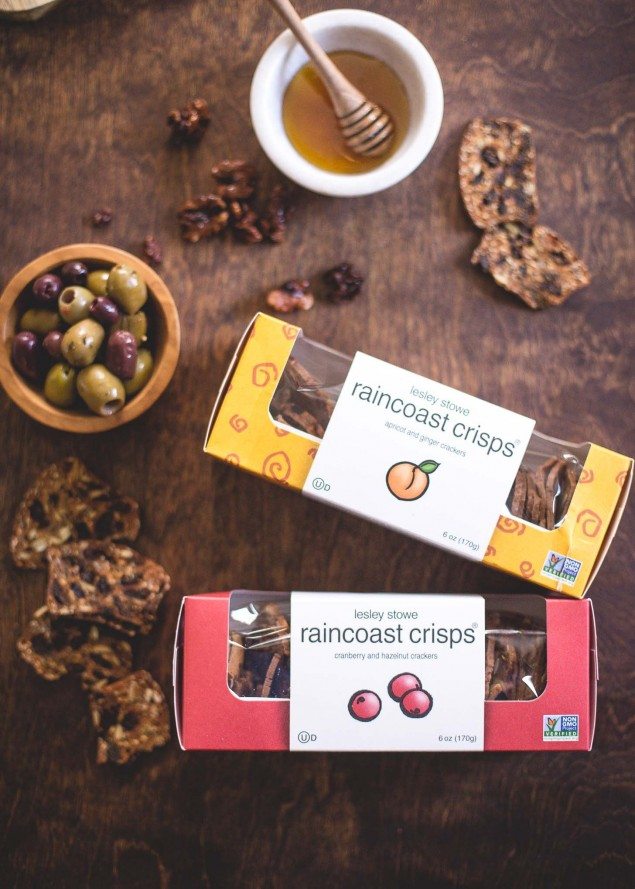 SAVORY
Savory is the heart of a cheese board. I love a few salty olives and pickled peppers to add color and easy nibbles between bites of cheese. Castello's Extra Creamy Danish Blue Cheese is a savory / umami explosion that gives the board some variety. I could eat blue cheese every day and never get tired of it, but Frank is more easily sold on a crumbly, tangy cheese like aged Havarti. It has these tiny, tangy salt crystals that sort of pop when you crunch them.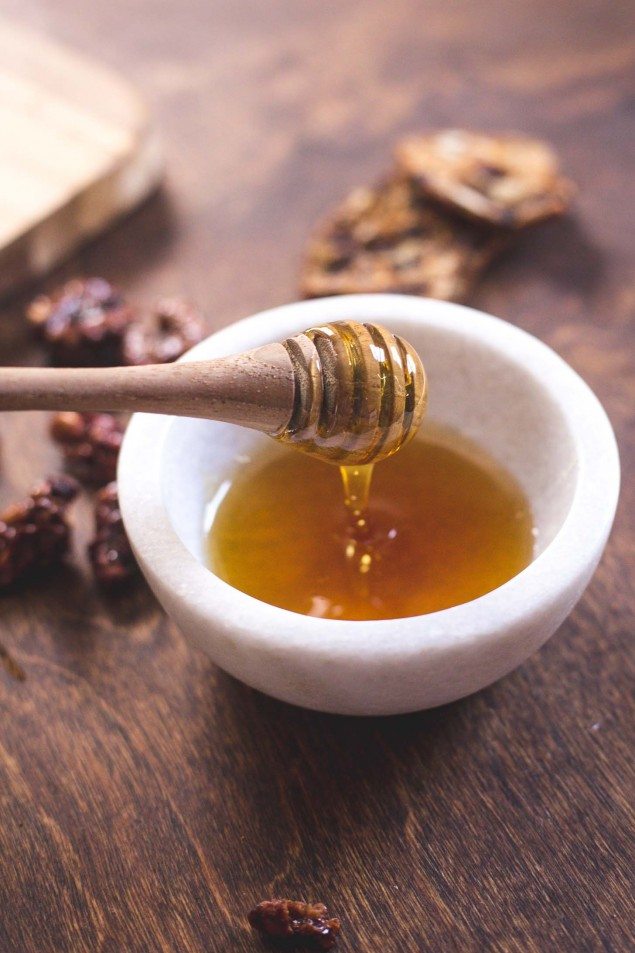 SWEET
A bit of sweetness really helps to bring out the flavors of the cheese. I love to assemble the perfect bite with a cracker + cheese + dollop of honey. Grapes and pears or other fall fruit add a sweet, fresh bite too. As does a spoonful of sweet and spicy red pepper jelly (recipe below). We found candied walnuts in the produce section at our grocery store which were so good that they lasted all of two minutes after we finished the photo shoot of this board, but regular walnuts would be a great addition as well.
CRUNCHY
Lesley Stowe Raincoast Crisp crackers are the crunch on this particular board. Packed with fresh ingredients like figs, apricots and all sorts of nuts, these crackers would help make just about any cheese board a happy place for eyes and taste buds.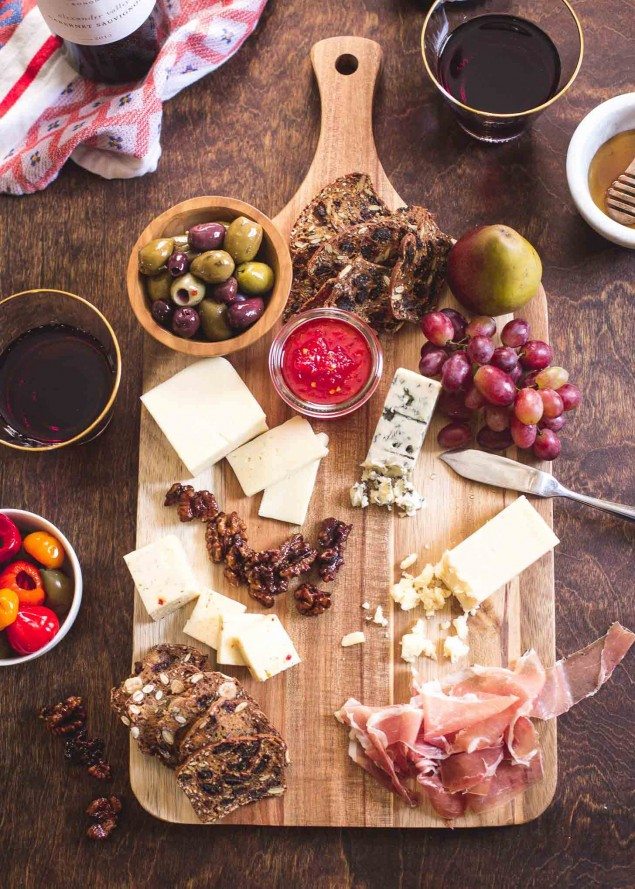 CREAMY
For a bit of creaminess to top the crackers, we loved a creamy Havarti which gets delightfully soft at room temperature and a quarter pound of prosciutto sliced so super thin that you can see through it. I tell my grocery store's butcher that to slice it as thin as possible and it becomes so creamy and tender that it nearly melts like butter when you bite into it.
Pile all those items on a board or platter or regular old dinner plate, and it's sure to be a hit. We served ours with Folie à Deux Wines. We tend to gravitate towards the rich reds like Cabernets in cooler weather, but we usually set out a white as well.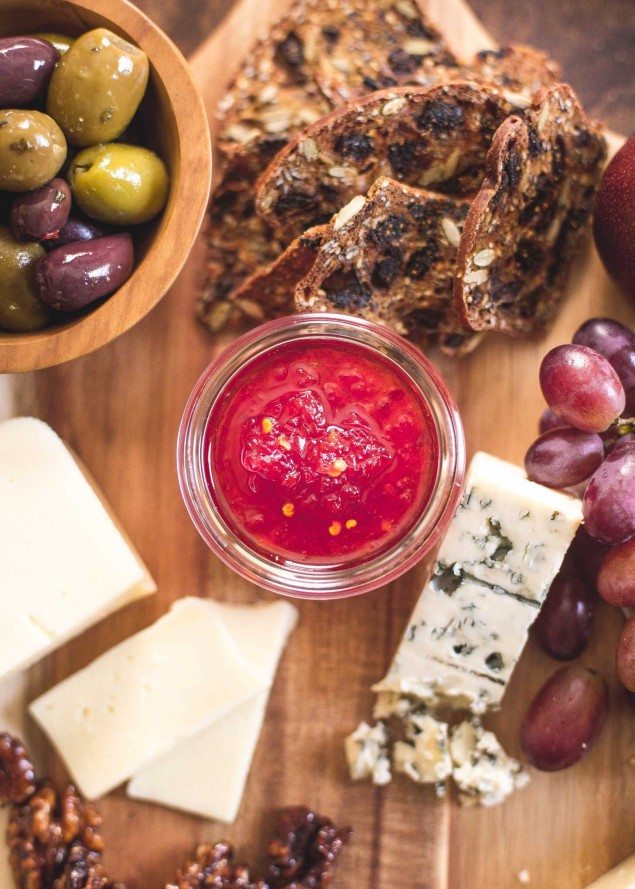 Looking for more great ideas for your cheeseboard? Check out the video below and follow this link for the written recipe!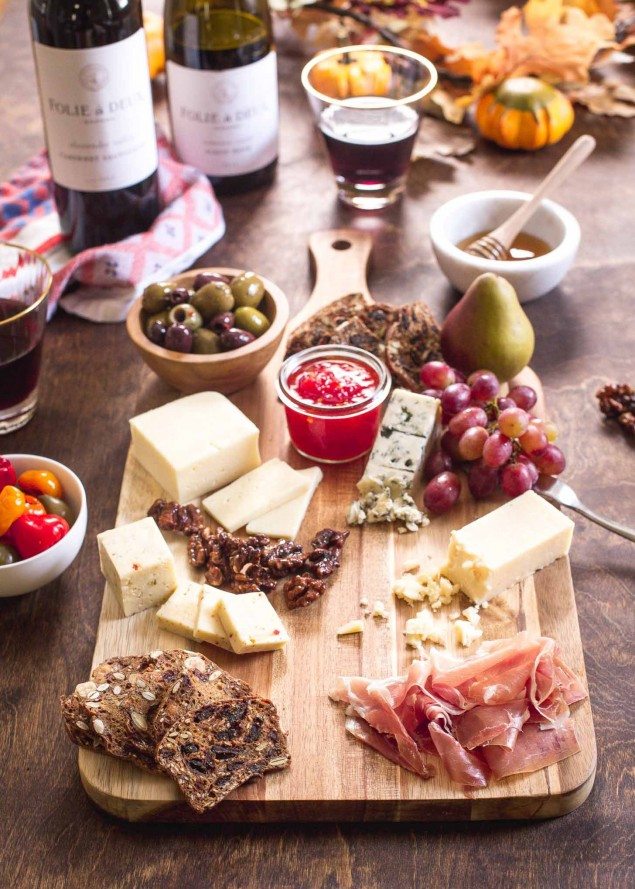 Print

---
Author:

Jessica Smith

Yield:

2 cups

1

x
1½

lbs Red Bell Peppers (roughly chopped)

2 tsp

Red Pepper Flakes (adjust if you prefer more or less spice)

3 cups

White Sugar

1 cup

White Wine Vinegar

1 Tbsp

Unsalted Butter

¾ tsp

Salt
---
Instructions
Pulse bell peppers with red-pepper flakes in a food processor until finely chopped.
Combine peppers, vinegar, butter, salt, and sugar in a 5- to 6-quart heavy pot. Bring to a vigorous boil over high heat. Continue to boil until mixture reduces slightly, about 20 minutes. (The longer it cooks, the thicker the jelly will be, but 20 minutes produces the right consistency for me.)
Pour the jelly into containers and refrigerate or freeze until ready to use.
Notes
adapted from Gourmet magazine, December 2006.
Jessica Smith
Jessica Smith is a native of the American Midwest, currently living in Thailand where she writes about food and travel throughout Southeast Asia. Jessica believes that the best way to understand a place is through its local cuisine.