Eggless Masala Buttermilk Rolls
Bake these slightly-spiced rolls in jam jars for alongside dinner or shot glasses for pretty party snacks.
By Siri Pulipaka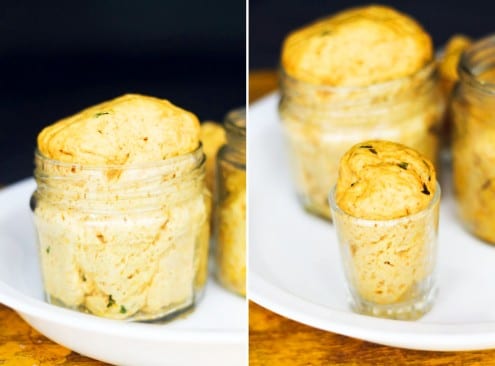 Eggless Masala Buttermilk Rolls
Bake these slightly-spiced rolls in jam jars for alongside dinner or shot glasses for pretty party snacks.
Author:
Siri Pulipaka, adapted from Simple Bites
Serves:
12 jam-sized rolls or 24 shot-glass sized rolls
Ingredients
¾ cup whole wheat flour
½ cup all purpose flour/maida
½ tbsp active dry yeast
½ tbsp sugar
1.5 tbsp warm water
¼ cup chopped coriander leaves
½ tsp salt
¼ tsp turmeric
½ tsp red chilli powder
1 tsp coriander powder
½ cup buttermilk
few tsp of fine ground cornmeal
2 tbsp butter at room temperature + 2 tbsp of melted butter
4 tbsp of olive oil
sesame seeds (for topping - optional)
Instructions
In a small bowl, add yeast, sugar and warm water. Let it stand in a warm place for 5 to 8 mins until it starts to foam.
In a mixing bowl, add whole wheat flour, all purpose flour, salt, turmeric, red chilli powder, coriander powder and coriander leaves. Give it a mix and make a well in the center.
Stir yeast with a fork until sugar is dissolved and add buttermilk. Pour it into the flour mixture.
Using a spoon or a fork, gently mix until everything is combined and its still lumpy. Leave it for 5 mins for the flour to absorb the moisture.
Knead everything together for 5 mins to make a smooth, elastic ball of dough. It has to be slightly sticky. Then add butter (at room temperature) little by little and incorporate into the dough.
Grease a large a bowl with olive oil and place the dough. Cover loosely with a clean towel or plastic wrap. Keep it a warm place and let it double in size for 1 hour.
After 1 hour, oil the glass jars generously and sprinkle some finely ground cornmeal in it. Turn the dough on an oiled surface and shape into balls. Place them into the jars and cover again with a clean towel and let it rise for the second time for 1 more hour.
Preheat oven to 200 C or 400 F. Brush the top of each bread jar with melted butter and snip the top with scissors or gently scrape few lines with a knife. Sprinkle with more chopped coriander leaves or sesame seeds. Bake for 20 mins for shot glasses and 30 mins for the medium sized glass jar (as used in the photograph below) until the top is golden brown.
Remove and cool for 5 to 10 mins before serving the bread right out of the jar or lightly loosening it along the edges. Serve warm as-is or like we did, slice it straight, slather with some butter and toast until brown.
Siri Pulipaka
Siri is an obsessed foodie, an avid blogger, a passionate photographer and one who yearns for simple pleasures of life. She writes about recipes, her culinary adventures and reviews local restaurants & events on her blog - Cooking With Siri, which she started in summer of 2007 during her stint in the US. She believes in farmer's markets, growing her own food and eating responsibly & locally. She also has a photography blog - 365 Days of Siri, where she shares and documents a slice of her daily life through the camera lens. She currently lives in Hyderabad, India along with her food-loving husband.