Fresh peas and mint from your garden create a lovely summer super with orzo pasta and pecorino romano cheeses.
By Michelle M. Winner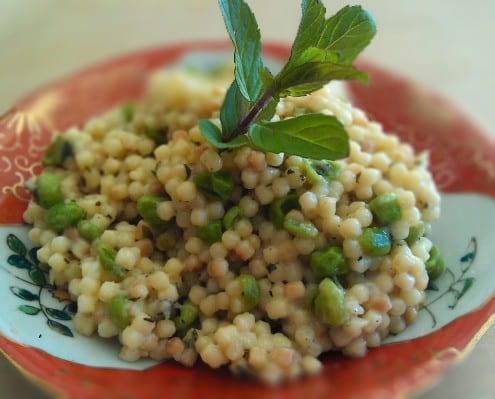 Here in Oregon, every day with sunshine is considered a gift. To dry the pasture for an evening ride. To  ripen  perfect June strawberries. To warm the river for a whitewater trip.  To coax the buds on the trees to set stone  fruit. And on my deck looking out to Mt. Hood, to  grow the freshest snap peas to use that evening for an inspired supper.
This is a lovely minted Orzo that my husband prepares for summer supper – when he isn't grilling of course. It is always so much fun to  wander out to snip  most of the fresh ingredients from your garden no matter how big or small the treasure.

Early Summer Peas with Minted Orzo and Pecorino Romano
Lovely summer pasta with peas.
Author:
Michelle M Winner
Ingredients
1 box Orzo Pasta or Acini De Pepe
2 can low sodium chicken stock
8 Tbs unsalted butter
1 Tbs chicken base
1 tsp fresh  cracked pepper
1 to 2 cups grated imported Pecorino Romano cheese
¾ to 1 cup finely chopped fresh mint
1 cup fresh peas ( you may use peas in the pod or in a pinch frozen baby peas)
½  to ¾ cup good dry  white wine
¼ cup  water or Half and Hal ( increase as  as needed)
salt to taste (prefer Fleur de Gris from World Market)
Instructions
Melt butter in sauce pan and add the raw pasta.
Over medium heat gently stir and brown - pasta will turn a  golden brown.
Add the wine and deglaze the pan followed by the chicken stock and base.
Lower heat to medium low. Let the pasta absorb all of the  stock and wine.
Stir in a ¼ cup of Half and Half.  Keep an eye on it and keep stiring  to prevent sticking to the pan.
If all of the liquid is absorbed before pasta is cooked to your liking, add more water or Half and Half a ¼ cup at a time and stir.
When it is done turn off add grated cheese, peas, mint and pepper and stir gently.  Again you may add water if needed.
Taste and adjust seasonings.
Serve warm, not hot.
Michelle M. Winner
Michelle was born with a fork in her hand. As a culinary travel writer and confirmed foodophile she delights in the world-wide discovery of new flavor profiles, spices, salts and herbs. Based in one of the world's foodie meccas; Portland, Oregon, not far from "Pinot Noir Heaven" Michelle shares culinary travel and chef's recipes. Her photography has appeared in Saveur Magazine and she has contributed culinary travel articles to Forbes online, WSJ online, Business Insider, Condé Nast Digital Media, Islands magazine and many others. A confirmed globetrotter, she still keeps her bags packed and fork in hand (well . . . except through airport security.)