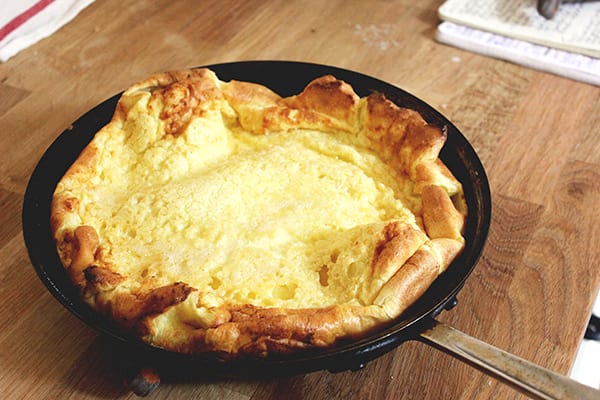 This baked pancake requires just a few ingredients to come together and can be topped with anything from lemon juice and powdered sugar to peanut butter and bananas.
By Bowen Close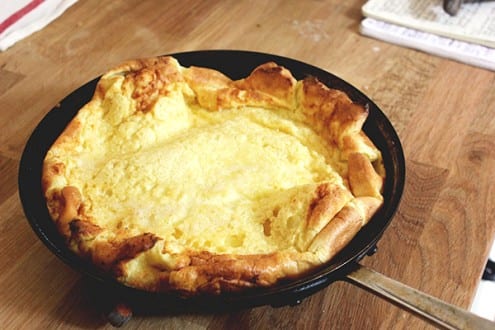 Every once in a while a recipe comes across my kitchen that is so simple and so genius that I almost can't believe it. In this case, it's a matter of mixing together some eggs, flour, and milk, pouring it into a pan coated with a bit of melted butter, and sticking it in a hot oven. What you get is a fluffy, eggy pancake perfectly suited as a vehicle for whatever sort of toppings you want to put on it, just as you might with a flapjack or crêpe. Lemon juice and powdered sugar would be a pretty classic combination, but I have enjoyed plenty a Dutch Baby slice slathered with peanut butter and bananas, or blackberry jam and plain yogurt, or many other things. The fact that you can top it with pretty much anything, along with how easy and quick it is but impressive nonetheless, makes it a particularly good thing to have in your breakfast arsenal for when you have houseguests. You're quite likely to have the ingredients on-hand anyway, along with tasty things to spread on it, and it won't keep you at the stove making batch after batch like you might with pancakes.
One of the best parts of Dutch Baby is watching the soufflé-like action that it takes on in the oven. It's best observed with an in-oven light, though we don't have one of those these days, but you can also make do with a quick little open door peek. As it bakes it will puff up to incredible heights, usually with some pools of butter here and there on the top, and it's a particularly fun thing to observe with kids of enthusiastic guests. It deflates pretty rapidly as it cools, but you can see from the photos that it's still pretty pouffy a few minutes out of the oven (don't pay attention to the fact that the pan is on the stove in the photo above; the heat is off and the pan is just there to cool until serving).
Dutch Baby
This baked pancake requires just a few ingredients to come together and can be topped with anything from lemon juice and powdered sugar to peanut butter and bananas.
Ingredients
A few tablespoons butter
4 eggs
1 cup milk
1 cup flour
Large pinch of sugar, optional
Dashes of vanilla and/or cinnamon, optional
Preferred toppings (jam, sugar and lemon juice, maple syrup, peanut butter, yogurt, fresh fruit, etc.)
Instructions
Heat oven to 425F.
Prepare pan Choose a 10-12? pan that will be oven safe (no rubber or plastic handles) and not nonstick. I like to use a frying pan or cast iron skillet, but a glass or ceramic pie pan will work as well. If your pan is stovetop safe as well, throw the butter in the pan and heat it on medium low until melted. If not, put the butter in your pan and stick it in the heating oven, until the butter is melted. (You could put your stovetop-safe pan in the oven as well, I just prefer to do it on the stove so that I can still use the handle, which would otherwise get very hot, to get it in the oven and so I can keep my eye on the butter so it doesn't burn.)
Combine all ingredients In a medium mixing bowl, lightly beat the eggs with a fork or a whisk, until fairly evenly combined. Add the flour, the milk, and the optional sugar/vanilla/cinnamon, and mix until combined.
Bake Pour the mixture into the pan – the butter may slosh around a bit and come up over the batter, but that's okay – and bake for 22-28 minutes, until puffy, set, and golden brown.
Serve Remove from the oven and let cool a few minutes before slicing it in the pan (make sure to use an appropriate tool, for instance don't scratch up a nice seasoned cast iron pan with something sharp). Serve and top with desired toppings.
Bowen Close
Bowen Close believes that food should make people happy and healthy, and loves bringing together people with creative, delicious food made from the heart. She loves making farm-inspired, flavorful dishes with sustainable ingredients - whether that's a big plate of roasted veggies, a towering chocolate layer cake, or a cocktail utilizing backyard ingredients - and collects recipes and other food-related stories on her website, Bowen Appétit. She is a chef, cooking instructor, and food writer living in Southern California with her husband and fully stocked pantry.