Double Wides, a Cookie for Everything You're Craving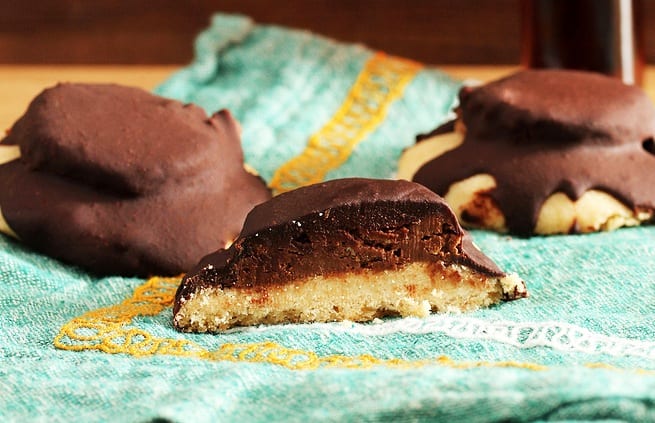 These cookies are not for the faint of heart: salty, sweet and chocolatey all in one unapologetic mess of a treat.
By Vanessa Pastore


Some days, your muse speaks to you from a place deep, dark, and tucked away in the recesses of your subconscious. Maybe it's a part of you you didn't even know existed, maybe it's the childhood self you denied, but it was lurking there, waiting for the opportune moment, say 3AM, to strike. I want potato chips! It says. I want peanut butter! It demands. I want chocolate! It wails.
I WANT ALL THREE! It bellows.
It's okay, dark, twisted, childhood self; I'm on-board with this crazy, calorie-packed roller coaster of delight. After all, a life of moderation is a life un-lived.
Now we come to how we construct this dark carnival sideshow of a taste sensation. I feel like everyone needs more cookies in their life, and really, it's hard to go wrong with a cookie. Portable, portion-controlled, joy-inducing, and they even give you a modicum of, at least perceived, restraint.
Double Wides
These cookies are not for the faint of heart: salty, sweet and chocolatey all in one unapologetic mess of a treat.
Ingredients
The Filling
¾ cup Smooth peanut butter
½ cup Dark or bittersweet chocolate chips
½ cup Potato chips
'Forli' Cookie Foundation
2 cups Flour
½ tsp Salt
1-1/2 tsp Baking powder
¼ tsp Baking soda
1-1/2 stick (12 Tablespoons) Earth Balance
¾ cup Sugar
2 tsp Vanilla
1 tsp Fresh lemon juice
2 Tablespoons Coconut milk
Simplistic Ganache
½ cup Chocolate Chips
¾ cup Coconut milk (heated)
pinch of salt
1 or 2 tablespoons Bourbon (If you're going to go, go big)
Instructions
Filling
There really is nothing more satisfying than using most, if not all, of a jar of peanut butter in one go. Smack the ¾ cup of peanut butter down in a large mixing bowl. In a separate heat-proof bowl, melt your chocolate chips in the microwave in 30 second bursts. Zap for 30 seconds, mix, zap for another 30 seconds, and mix. Do this until they have melted. If it's largely melted, but you still see some chip forms, keep stirring. The residual heat in the mixture should be able to melt those last stubborn ones.
Mix your melted chocolate into the peanut butter with your favorite spatula.
Here's where we add the potato chips. I chose a plain kettle style chip. What happens if you use jalapeno flavored chips? What happens indeed. They'll break up as you stir them. If not, they'll definitely break up in the next step.
Once your filling is all mixed up, lay it out on a sheet of parchment paper, and cover it with another sheet of parchment paper. Roll that beast of a filling out until it's about ¼ of an inch thick.
Make some room in your fridge, and park this there for about a half an hour. While you wait, let's get started on those cookies!
Cookies
Preheat your oven to 325° F/ 163° C
Combine your dry ingredients in a bowl and mix to incorporate. In the bowl of your stand mixer, or with some elbow grease, a fork, and some patience, cream your earth balance and sugar until light and fluffy. Add in your vanilla, lemon juice, and coconut milk and mix a bit more. Add in your dry ingredients slowly (low speed if using a mixer) a third at a time. If at any point, the mixer gives you trouble, use your hands instead.
Portion your dough out in silver dollar sized flattened circles on a parchment or silicone lined baking sheet, and bake for 15-18 minutes. Cool on a rack.
Ganache
In a pyrex, or heat safe bowl, combine your chocolate chips, salt, and bourbon. Heat your coconut milk, and the microwave is fine for this, and pour over the chips. Let it sit for a bit, and then stir. Stir like you've never stirred before. In the beginning, it will look messy and non-congruent, but keep going and it will become glossy and beautiful. Set this aside to cool; if you're as impatient as I am, put it in the freezer.
Assemble
Now it's time for the assembly line. Fetch your filling and notice that it has become a solid mass. You can now cut it into circles to adorn your cookies. I used a shot glass.
Make absolutely sure your cookies are cool! Else all is for naught, and woe shall dog you with each day that passes, until happiness is no more. You didn't come this far for a slap-dash effort in the end.
Assemble them exactly like you think you would.
Also, see how bad I am at gauging sizes. It's fine, they wind up looking like little UFOs, and I'm at peace with that.
Once your ganache has cooled, coat the cookies in the velvety goodness. In the end, your efforts will yield this beauteous monster.
Vanessa Pastore
Vanessa Pastore is a part time baker, blogger, and all around passionate about food. A vegan of 13 years, she has become obsessed with farmer's markets, international markets, and anything she can get her hands on. Everything is a potential ingredient, and every ingredient is a potential baked good. When she's not baking or blogging, chances are, she's thinking about it.