When on vacation, dining at a hotel restaurant usually can never compare to venturing out to a local favorite. However, at Athen's Sofitel Hotel Chef Theofanis Stathis creates a menu worth staying in for.
By Michelle M. Winner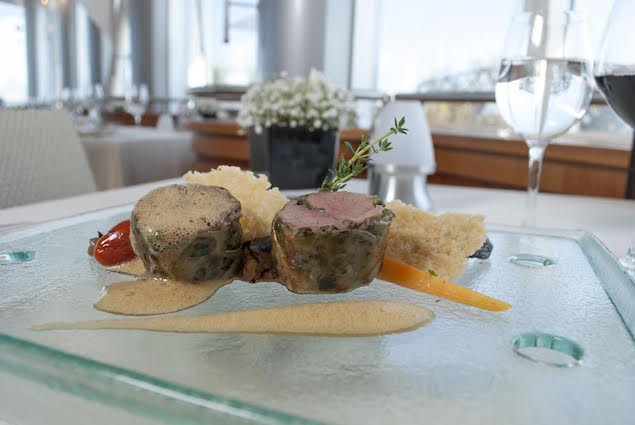 Image: Sofitel Athens Airport
Eating at a hotel restaurant is usually not my choice if something else is available. But I've been pleasantly surprised by the quality of the restaurants at three Sofitel Hotels. The first, located south of San Francisco in San Mateo, another outside of Athens, Greece at the Athens airport, and one in the heart of New York City. The key here is that Sofitel sets a high bar for restaurant dining and has exceptional chefs.
I adore Sofitel New York City's Gaby Restaurant run by French Master Chef Sylvain Harribey.   Executive Chef Alejandro Abad's California cuisine at Bay 223 is thoughtful and well received in the Bay area.  I would like to introduce another Sofitel chef; Executive Chef Theofanis Stathis at the Sofitel Athens, Greece airport. Chef Stathis is a member of the prestigious Chef's Club in Greece, a member of the National Culinary Team and a recognized teacher with over 20 years in the Athenian market. Chef currently presides over the Restaurant Mesoghaia and the Karavi at Sofitel.
One of the reasons that I love to stay at Sofitel Athens Airport, is because I can get a sound night's sleep, waking refreshed for my long flight home to the USA. But I also get to enjoy Chef Stathis' traditional Greek breakfast. The next trip however, I am going to try his restaurant for dinner before I drift off to sleep. Taking a look at his recipe you'll soon see why.

Traditional Lamb Fillet Roti from Sofitel Athens' Chef Theofanis Stathis
Author:
Executive Chef Theofanis Stathis
Ingredients
For the herb crust:
200 gr. (7 ounces) of toasted white bread
One handful of fresh parsley leaves
2 tbsp. chopped fresh thyme
1 tbsp. chopped fresh rosemary
1 clove of garlic
40 gr. (1.4 ounces) grated parmesan cheese
Ground pepper and salt
For the lamb roti:
600 gr. (1.3 pounds) of lamb filet (8 pieces)
150 gr. (5.3 ounces) Caul fat
50 gr. (1.7 ounces) whole grain mustard
Olive oil
For the beef jus:
200 ml. (6.7 fluid ounces) of beef jus
20 gr. (0.7 ounces) fresh butter
1 tbsp. dried lemon verbena
Salt and pepper
For the trahana:
200 gr. (7 ounces) trahana
2 shallots
1 clove garlic
Fresh thyme
Chicken stock
Salt and pepper
4-5 leaves of fresh pepper mint
30 gr. (1 ounces) crumbled Feta cheese
Olive oil
Half tomato without the skin and deseeded cut in small cubes
Garnish:
Few wild mushrooms such as Chanterelle, Shiitake, Trumpet etc. Sauted with fresh butter
Baby glazed carrots
Instructions
Method:
In a food processor add all the ingredients for the crust except the parmesan cheese and pulse a few seconds at a time, until mixture resembles coarse crumbs.
When it's ready add in the parmesan cheese and pulse for one last time.
Take the lamb fillets remove the silver skin, drizzle with olive oil and season with salt, pepper and brush the mustard all over the fillets.
Place two fillets together lengthwise and coat them with the herb mixture. Repeat the processes for the rest of the fillets.
Now open the caul fat and wrap around the two fillets. Forming a roll. Using cling film, wrap tight and leave in the fridge for 1-2 hours
Preheat the oven at 160 Celsius degrees and cook for 12-15 minutes.
Bring chicken stock up to the boil in stock pot..
In separate pan put some olive oil and sweat the chopped shallots, garlic and few sprigs of fresh thyme.
Add the trahana and put in the chicken stock just as you make a risotto. Finish with mint, tomato cubes, crumbled feta cheese and some olive oil. Season to taste.
For the sauce bring the beef jus up to the boil add the verbena.
Remove from heat and let it sit for 30 minutes, then pass the jus through a fine sieve.
Bring back to boil and reduce until desired consistency.
When ready, whisk in the fresh butter and season to taste with salt and pepper.
Suggested Greek wine: AVATON GEROVASILEIOU
Michelle M. Winner
Michelle was born with a fork in her hand. As a culinary travel writer and confirmed foodophile she delights in the world-wide discovery of new flavor profiles, spices, salts and herbs. Based in one of the world's foodie meccas; Portland, Oregon, not far from "Pinot Noir Heaven" Michelle shares culinary travel and chef's recipes. Her photography has appeared in Saveur Magazine and she has contributed culinary travel articles to Forbes online, WSJ online, Business Insider, Condé Nast Digital Media, Islands magazine and many others. A confirmed globetrotter, she still keeps her bags packed and fork in hand (well . . . except through airport security.)