This flavorful, biscuit-like cookie is a great way to utilized leftover egg whites.
By Ann Low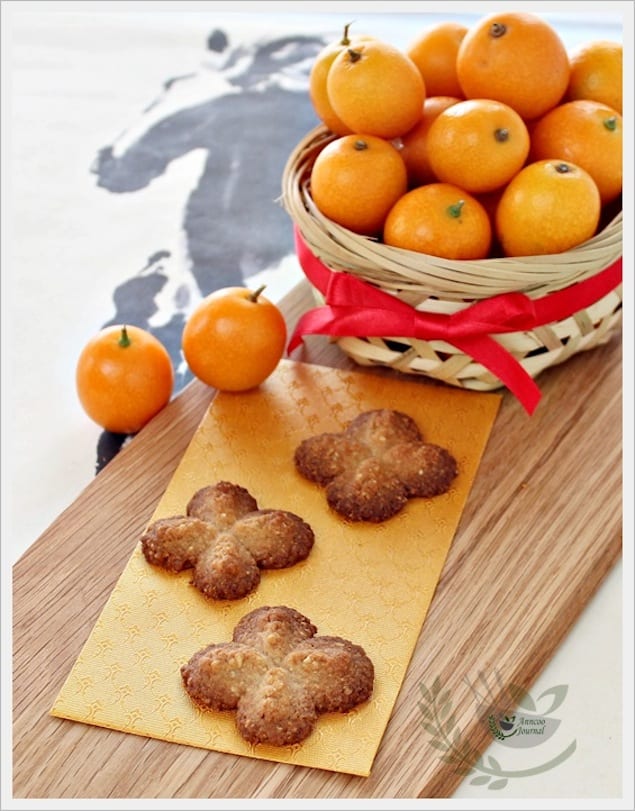 Crispy Hazelnut Cookies
Ingredients
300g (10.5 ounces) Soft Butter
225g (8 ounces) Sugar
40g (1.5 ounces) Egg white, lightly beaten
1 tsp Vanilla extract
300g (10.5 ounces) Plain flour, sieved
225g (8 ounces) Hazelnut meal (ground hazelnut)
1 tsp Cinnamon powder
Instructions
Mix sifted plain, ground hazelnut and cinnamon powder well together in a plastic bag. Set aside for later use.
Cream soft butter, sugar and vanilla flavour until light and fluffy at medium speed.
Lower speed, slowly add in egg white and gradually add in the flour ingredients, mix well to soft dough. (do not over mix)
Scoop soft dough into the cookie press and press out soft dough on to baking try (lined with baking paper).
Bake at preheated oven at 180C for about 12 minutes or golden brown.
Allow cookies to cool before storing in an airtight container.
Ann Low
Ann Low is the author of Anncoo Journal, and loves to bake and cook for both family and friends. She acquired a strong passion for culinary skills from a very young age by watching her grandmother prepare delicious meals for the family. Ann believes that baking is an art and she wants to share her baking and cooking experiences with everyone in the world.