Cranberry-Walnut Pancakes Made with Creamy Coconut Milk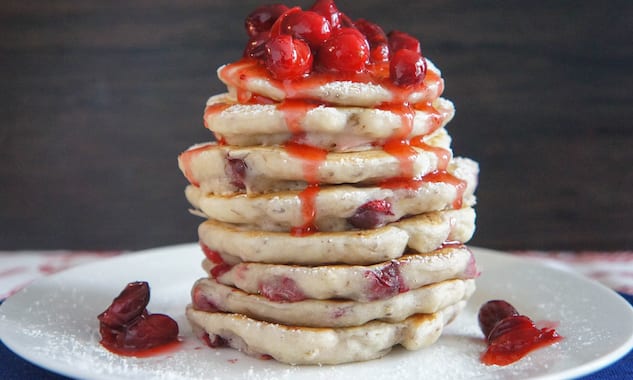 Bring big flavor to breakfast with a batch of Cranberry Walnut Pancakes that'll keep your tastebuds happy with their tart yet sweet flavor.
By Carolyng Gomes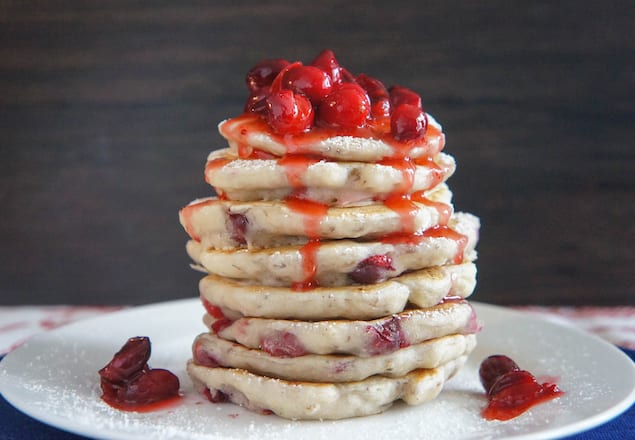 I am not a morning person by any means. I love to let my body wake itself up, which is usually around 11AM. Breakfast to me is an all day affair which is why pancakes are so near and dear to my heart.
Though you could make your pancakes savory, I always like mine to have a bit of sweetness. Using fresh cranberries in this batch gives these just enough tang while a touch of sugar brightens them up to perfection.
As you must already have guessed, I made this recipe because I had a lot of left over cranberries to deal with. Cranberries are great because they last a while in the fridge and can be frozen for about a year. They are high in antioxidants like Vitamin C, which is nice on these cold winter days. You cold use frozen cranberries for muffins, scones, even ice cream or sorbet, and of course in pancakes.
This batch could easily satisfy 3 or 4 people with a nice cup of OJ and a side of eggs… and bacon… and maybe some hash browns? You see why breakfast is so dangerous for me?
And if you are looking for more pancake recipes, try my famous Dark Chocolate Blueberry Pancakes or my Dulce de Leche Banana Pancakes or even better, my Carrot Cake Pancakes.

Cranberry-Walnut Pancakes Made with Creamy Coconut Milk
Bring big flavor to breakfast with a batch of Cranberry Walnut Pancakes that'll keep your tastebuds happy with their tart yet sweet flavor.
Ingredients
1 cup all-purpose flour
1 tbsp ground flax seeds
1½ tsp baking powder
½ cup walnuts, chopped
3 tbsp sugar
1 tbsp coconut oil, melted
1 cup coconut milk
1½ cups cranberry sauce, homemade
pinch of salt
¾ cup agave
Instructions
Preheat a non-stick pan on medium heat.
Add flour, flax and baking powder to bowl. Whisk to combine.
Add walnuts to dry ingredients. Toss to coat.
Add sugar, coconut oil and coconut milk to bowl and mix thoroughly.
Gently fold in ½ cup cranberry sauce until evenly distributed.
Pour batter and spread to create 3-4 inch diameter pancakes.
After two minutes, once bubbles have formed and popped on the surface and the sides are puffed and solid, flip pancakes.
Cook for another 2 minutes or until golden.
Repeat until all batter has been used.
In a small bowl combine remaining cranberry sauce with agave until thoroughly combined.
Spoon Agave Cranberry Sauce onto hot pancakes and serve.
Carolyng Gomes
Carolyng loves to eat, loves to cook and loves to eat more. To her a recipe is more a list of suggestions, saving time doesn't mean sacrificing on flavor and when in doubt, a splash or two (well, a nice pour) of wine never hurts. Welcome to her Cocina Latina, where South American and Latin fusion dishes are always on the menu.