A gluten free cornbread dough envelops a selection of sliced potatoes and cream, salty cheese. This is a perfectly imperfect dish you have to try.
By Alison Marras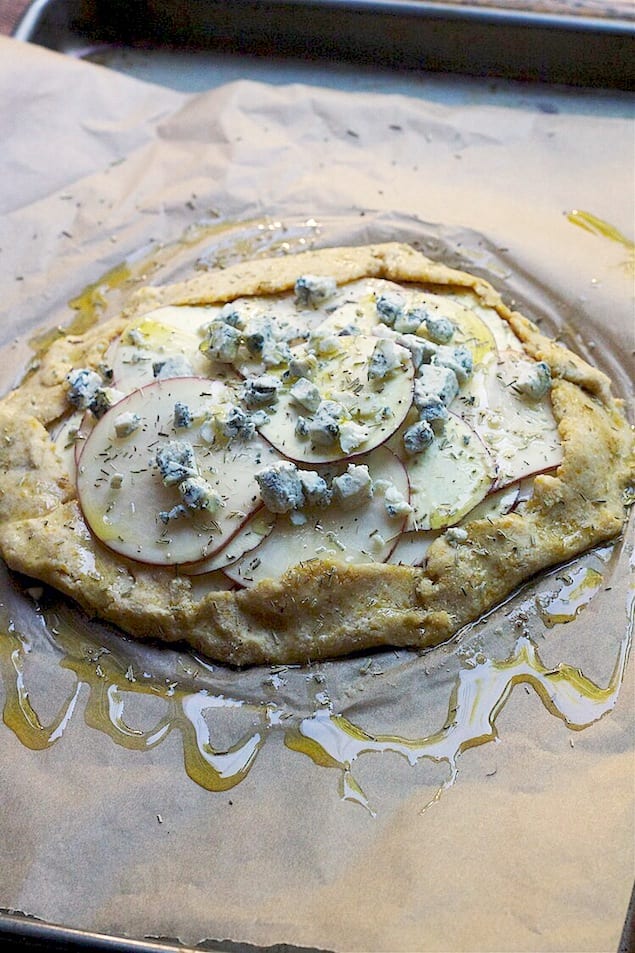 This story begins with me making a shopping list for my husband to pick up "sweet potatoes" and him coming home with I don't know what. I legitimately had to google it. He technically did get sweet potatoes, Japanese 'Murasaki Purple' Sweet Potatoes to be exact. Since I had no clue how it would taste, I mixed it with a pretty red potato I had on hand. Needless to say, we were pretty unsure of how this would turn out but to our amazement, it came out delicious! If you find these long purple sweet potatoes… pick some up. They're mild in flavor and not necessarily sweet… but oh so good. Or use whichever potatoes you or someone else mistakingly picks up and I guarantee it will still be good. Anything combined with creamy, salty cheese, homey cornbread crust and dried rosemary and thyme… tastes like a winner in my book.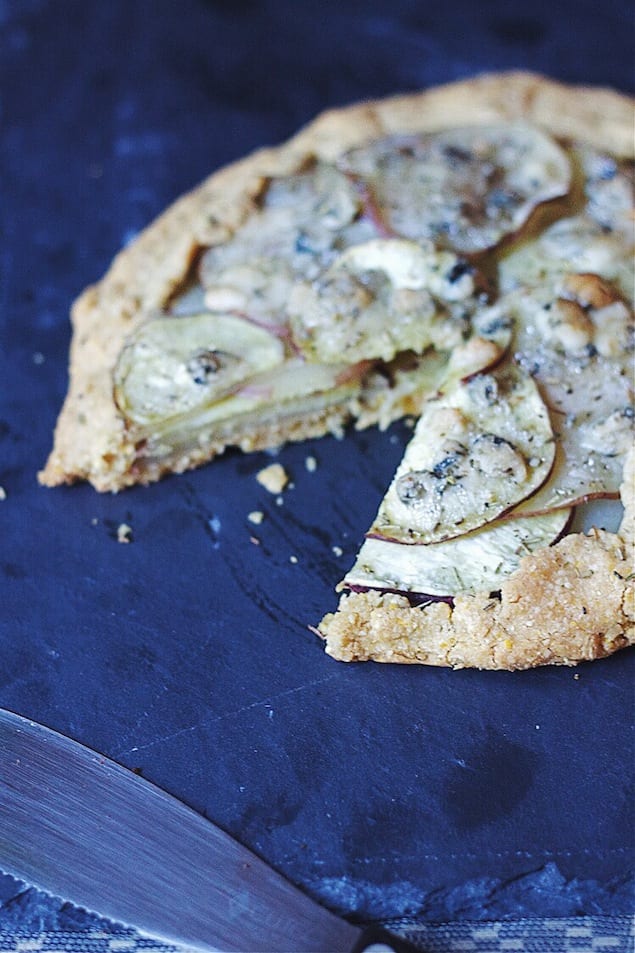 The crust is perfect. I adapted it from a New York Times article I stumbled across and fell in love. It was very sticky at first and I found it weird that there was no starch in the recipe, but hey, I was already trying new things here so why not go all the way. Luckily, yet again, I was happily surprised. It's flakey, buttery and holds up very well. The taste combination is exactly what I wanted.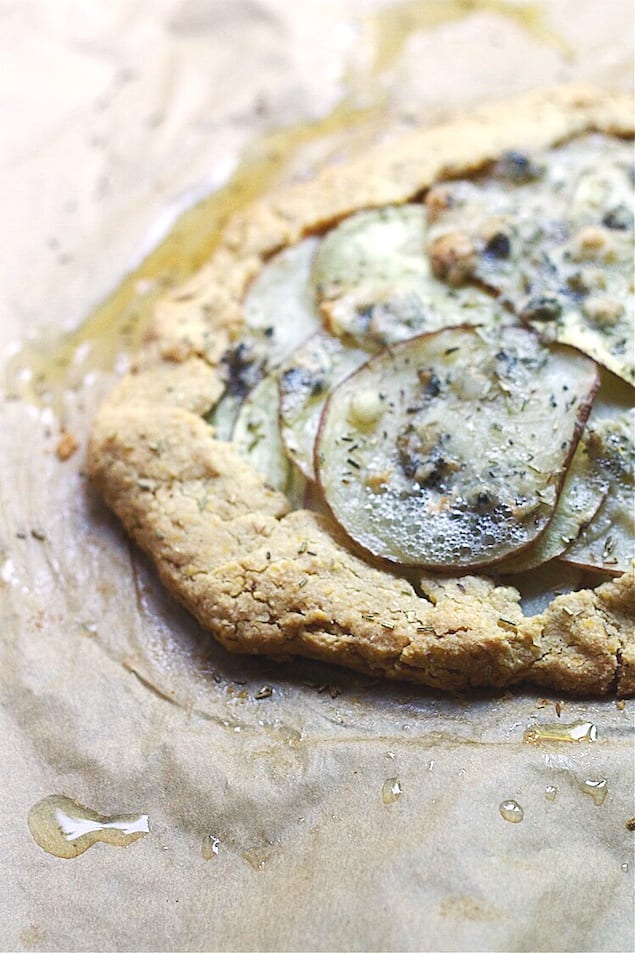 Cornbread Galette with Potato and Gorgonzola
A gluten free cornbread dough envelops a selection of sliced potatoes and cream, salty cheese. This is a perfectly imperfect dish you have to try.
Cuisine:
Vegetarian, Gluten Free
Ingredients
Crust:
10tbsp corn flour or finely ground cornmeal (non GMO, I like Bob's Red Mill)
⅔cup gluten-free oat flour
3ounces cold butter
¼tsp sea salt
8tsp almond flour
1 large egg, beaten
2tsp+ cold water on hand
Toppings:
1 red potato, sliced thin
1 sweet potato, sliced thin
¼cup gorgonzola cheese, crumbled
dash of sea salt
dash of dried thyme
dash of finely chopped rosemary
drizzle of olive oil
Instructions
Cream butter and salt in a stand or hand mixer for approx. 1 minute. Separately, sift all dried ingredients in a bowl.
Add the egg to the butter mixture, then slowly start adding in the dry ingredients.
The dough should start forming, if you see it's too dry, start spooning in the cold water until the paddle is picking up and the dough is forming with no flour left behind.
On a piece of parchment paper, place the dough in a ball on top, cover with a layer of saran wrap, and roll out using a rolling pin into a thin round layer.
Chill the dough for at least an hour covered with the saran wrap and parchment paper as is.
Before you are ready to assemble, begin slicing potatoes and pre-heat the oven to 350f degrees. Take the dough out of the refrigerator and layer the potatoes in the center, allowing room on the edges to fold.
Start closing your galette, if it crumbles or breaks, just keep pinching and it will stay together. Crumbles the blue cheese on top and in between top layers of potatoes. Drizzle olive oil and all seasonings on top.
Bake for 30 minutes at 350f degrees. Voila!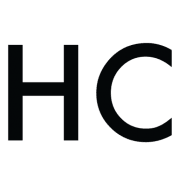 Alison Marras
Food by Mars is a Clean, Seasonal, Celestial Recipe Blog featuring gluten-free, vegetarian, vegan, and lactose-free recipes including a Monthly Horoscope inspired recipe!