This ULTRA creamy coconut curry is made with coconut milk and tons of veggies for a quick and easy, healthy dinner that is gluten free and vegan friendly!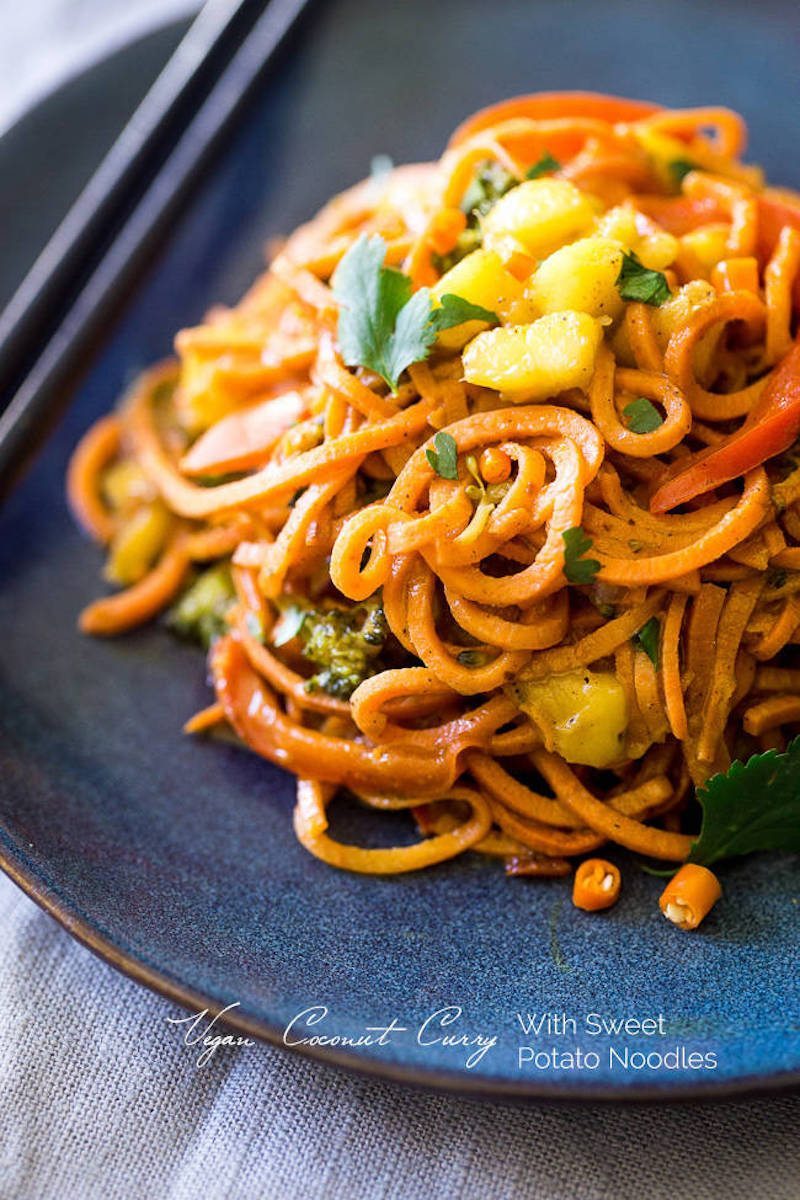 Are you one of those people that goes to a restaurant, finds the dish you LOVE, and then NEVER EVER EVER orders anything else off the menu there ever again because you COULD BE LET DOWN?
I am.
Some may call it "boring." Some may call it "not living on the edge." But you know what I call it?
SMART.
Why would I risk paying for a plate of LIES AND DISAPPOINTMENT when I know that I could face plant into a plate of things that I want to eat ALL THE TIME.
It just doesn't make sense.
And that was me with this pasta.
I started with the sauce. It needed the perfect balance of sweet coconut milk with JUST the right POP of curry powder. It also needed the crispety vegetable experience that I knew to be true of my beloved dish.
Broccoli, onions and peppers simmered away, absorbing all the FLAVAH. The excitement grew.
Onto the noodles.
I debated using a gluten free pasta, but there was also my current obsession with making spiralized sweet potato noodles.
And sweet potato coconut curry? CAN I GET A YES PLEASE.
See Also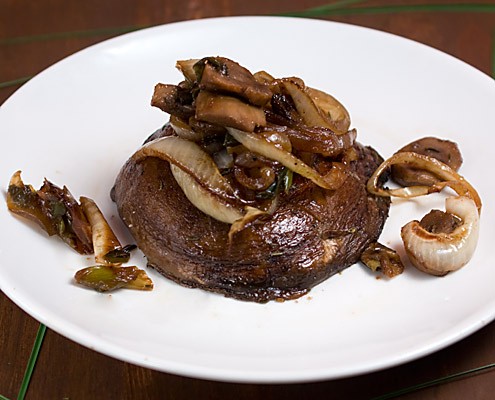 Really though, ANY coconut curry makes my
All the curry with the da coconut for ME PLEASE.
BUT, pack to the curry at hand.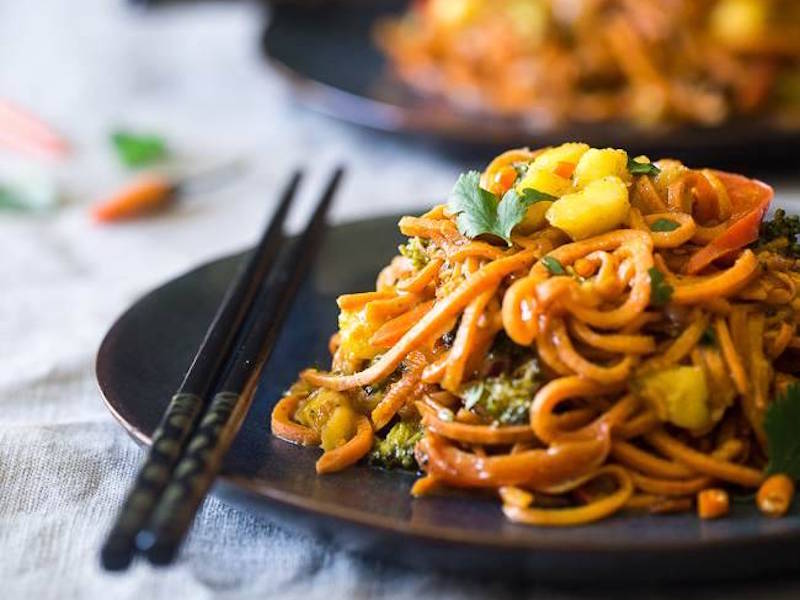 I put it on my plate and topped it off with the world's easiest mango chutney, and took a bite anxiously.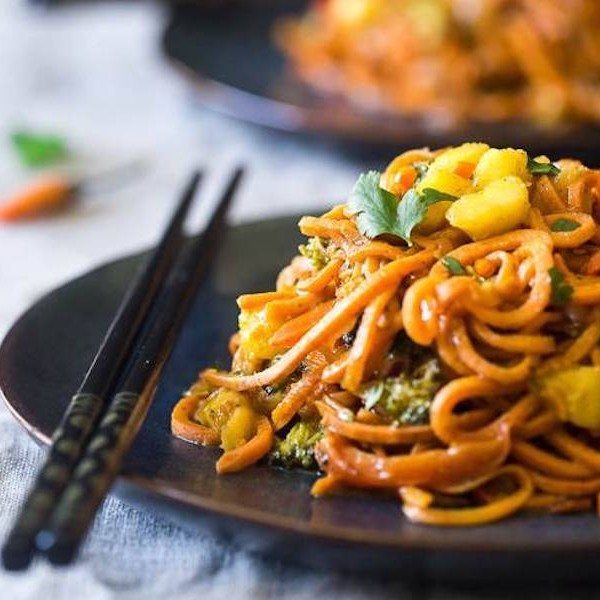 Taylor Kiser
Ingredients
For the Curry:
1/2

tablespoon

coconut oil

1

large carrot

peeled and sliced, about a heaping 1/2 cup

1

small red bell pepper

sliced, about 1 cup

1

cup

broccoli

cut into bite-sized pieces

1/3

cup

onion

chopped, about half a small onion

1

teaspoon

fresh ginger

minced

1/2

tablespoon

yellow curry powder

1 13.5

ounce

can full fat coconut milk

pinch

of salt
For the Sweet Potato Noodles:
1/2

tablespoon

coconut oil

1

large sweet potato

peeled, 250-300 grams

pinch

of salt
For the Mango Salsa:
1

mango

large, diced, about 3/4 cup

2

tablespoons

red onion

diced

1

red chili

thai, minced, adjust to preferred level of spiciness

1/2

teaspoon

apple cider vinegar

1/4

cup

fresh cilantro

plus additional for garnish

pinch

of salt
Instructions
Heat 1/2 Tbsp coconut oil on medium/high heat and cook the carrots for about 3 minutes, until they just begin to soften.

Turn the heat down to medium and add in the pepper, broccoli, onion and ginger and cook until they begin to soften and brown, about 5 minutes.

Add in the 1/2 Tbsp of yellow curry powder and cook until fragrant, about 1 minute.

Add in the can of coconut milk (make sure you mix it well before adding!) and a pinch of salt, mixing well.

Raise the heat to medium/high and bring the mixture to a boil. Once boiling, turn the heat down to medium/low heat and simmer for 15 minutes, stirring occasionally, until the sauce begins to thicken.

While the sauce cooks, heat the remaining coconut oil in a separate pan over medium heat.

Spiralize the potato using the 3 mm blade and then add it into the pan. Cook the noodles, stirring often, until they just begin to wilt, about 10 minutes. Season with salt.

While you wait, toss together the diced mango, red onion, Thai chili, apple cider vinegar and cilantro in a medium bowl. Season with a pinch of salt.

Divide the noodles between two plates and top with the curry. Garnish with the mango salsa and extra cilantro and DEVOUR.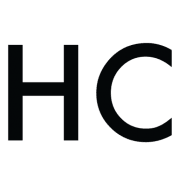 Taylor Kiser
Taylor is the blogger, recipe developer, photographer and general mess maker behind the blog "Food Faith Fitness." She is a Christian who is constantly trying to learn how to keep Christ at the center of her daily life. Taylor is also a health and fitness enthusiast who loves creating delicious recipes, with a healthy spin. However, Taylor also believes that moderation is key, so sometimes it's ok to just go and eat a cookie!