Try this easy to prepare tomato soup. It's just a thing you need to fill your heart, and stomach, with comforting flavors.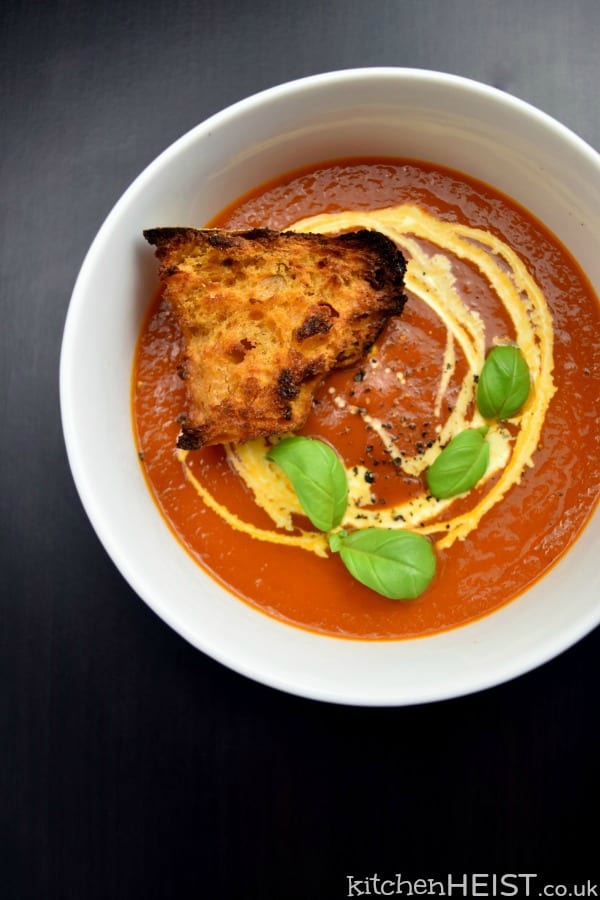 The original post and more recipes can be found at kitchenheist.com

Easy Tomato Soup
Ingredients
10g (2 tsp) Olive Oil
100g (1 small) Onion, diced
10g (2 cloves) Garlic, chopped
40g (1/2 stick) Celery, diced
40g (2.5 tbsp) Tomato Puree
400g (14oz) Tin Chopped Tomatoes
300g (1.5 cup) Water + extra to adjust thickness
Salt and pepper, to taste
5g (1tsp) Red Wine Vinegar
15g (1tbsp) Sugar
10 leaves of Basil (Optional)
80g (5 tbsp) Double Cream (Optional)
Crusty Bread, to serve
Instructions
Cook onion and celery in olive oil until softened, then add garlic and cook for further 2 min on medium high.
Add tomato puree and cook for 2 min while stirring continuously. Then add chopped tomatoes, top with water and simmer covered for 1h.
Once the soup is done cooking add sugar and vinegar, blend until smooth. Add extra water to adjust thickness to your liking and bring it to the boil once more.
Optionally add thinly sliced (chiffonade) basil and cream at this point.
Serve with some crusty bread.