The store bought ice cream cake from childhood birthday parties can't hold a candle to this decadent, multi-layer confection.
By Amrita Rawat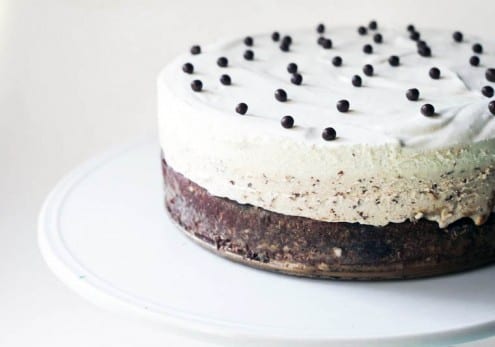 Chocolate-Coffee Ice Cream Cake
The store bought ice cream cake from childhood birthday parties can't hold a candle to this decadent, multi-layer confection.
Ingredients
For the brownie layer:
6 Tbsp. unsalted butter, cubed
8 oz. bittersweet chocolate, chopped
1 cup sugar
3 eggs
1 tsp. vanilla
⅓ cup flour
For the chocolate-coffee ice cream:
2 cups mascarpone
½ cup heavy whipping cream
½ cup 2 percent milk
⅔ cup sugar
Pinch of salt
¼ cup Kahlua
3 Tbsp. brandy or dark rum
3 oz. high-quality dark chocolate, melted
For the no-churn ice cream:
1 cup heavy cream
7 oz. condensed milk
2 Tbsp. bourbon
Pinch of salt
Instructions
Brownie Layer
Preheat oven to 350 degrees. Grease an 8-inch springform pan.
Melt the butter in a saucepan. Remove melted butter from the heat and add the chopped chocolate. Stir until the chocolate is melted and let cool.
Using a hand mixer or stand mixer, beat together the sugar, eggs and vanilla on high until pale. Whisk in the chocolate and butter.
Gently stir in the flour until just combined and no white streaks are visible.
Pour into pan and bake for 24 to 28 minutes or until a toothpick inserted into the center looks clean or with crumbs attached (not wet).
Let cool completely.
Chocolate-Coffee Ice Cream
Place all the ingredients except the chocolate, in a blender or food processor and pulse until combined and smooth.
Chill in the refrigerator until cold, about 1 hour.
Add the ice cream base in your ice cream maker and churn according to the manufacturer's instructions.
While this ice cream maker churns, pour in the melted chocolate. The chocolate will harden and break into little pieces in the process.
When the ice cream maker is finished, break up any remaining large pieces of chocolate with a spatula.
Store in an air-tight container in the freezer until ready to use, or if your cake is ready, go ahead and spread it onto the brownie, using a spatula to smoothen it out.
The ice cream should be soft enough to spread easily when assembling the cake.
No-churn Ice Cream
Beat the heavy cream until stiff peaks form.
Gently fold in the other ingredients until combined.
Store in an air-tight container in the freezer until ready to use.
The ice cream should be soft enough to spread easily when assembling the cake.
Ice Cream Cake
Once the brownie is cool, spread the ice cream evenly over the top, stopping ¼- to ½-inch from the top edge of the springform pan.
Store any leftover tiramisu ice cream in the freezer (you will have some extra, depending on the size of the layer you'd like to have)
Place the pan in the freezer about 2 hours until ice cream hardens.
Spread no-churn ice cream on top of the chocolate-coffee ice cream.
Place back in freezer for 1 hour to harden.
Decorate with chocolate shavings, sprinkles, chocolate sauce or cocoa nibs, if desired, and serve.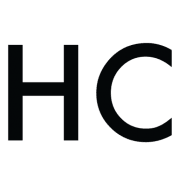 Amrita Song
Amrita Rawat is the author of the blog Chai and Dumplings. Born in India and a lifelong resident of Atlanta, she recently moved to Saint Louis. Her love for food stems in part from its ability to bring cultures together and in part from how darn good it feels to eat a delicious meal. She loves traveling and has eaten her way through cities like Hong Kong, Paris, Budapest, Mumbai, and Shangri-la. Amrita is also a contributor to Sauce Magazine in St Louis.