There are plenty of chocolate chip cookie recipes in the world, but this is one you need. Loaded with chocolate chips and instant espresso, it's the perfect combo of sweet flavors.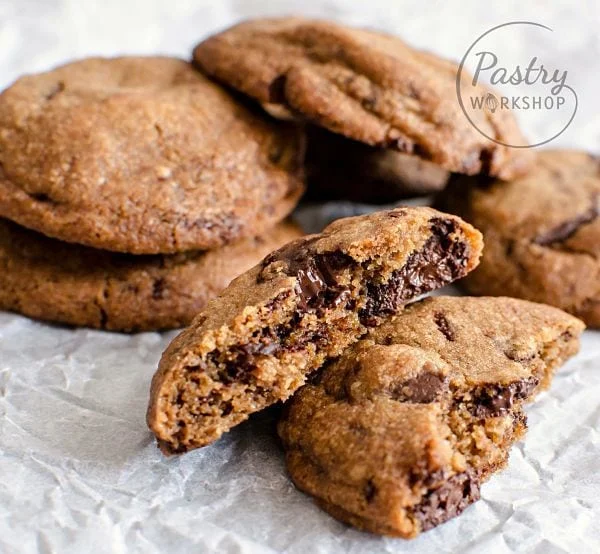 There are plenty of chocolate chip cookie recipes on this blog, from my favorites to a brown butter chocolate chip cookies, but somehow I felt the need to try one more recipe. You cannot blame me though. Look at these beautiful Espresso Chocolate Chip Cookies!
The flavor is so intense due to using espresso powder. Actually, the espresso works on two levels: one – it adds a nice flavor to the cookies and second – it enhances the taste of chocolate. The chocolate I used has a 60% so it is quite intense, but feel free to play a bit with percentages to reach the exact taste you want. What I would recommend however is to stay away from milk or white because the cookies are quite sweet as they are due to having enough sugar; so adding sweet chocolate will only rise the amount of sugar in the final cookie, making it very difficult to eat and enjoy.
The recipe calls for brown butter as a flavor enhancer and it works great with the espresso powder and dark chocolate. It adds a nutty aroma to the cookies and that is something I always look for in products like these. In fact, I could say just making buerre noisette is an amazing activity in itself – the sizzling, the flavor, the color changing – it's all so interesting! To make brown butter, first of all melt down the butter then let it boil down all the milk and liquid. Shortly after, the fat that remains will start to sizzle. Keep it on medium to high heat until it starts to look golden brown and it changes the aroma as well. Cool down and use or keep in an airtight container in the fridge just like any other fat. Mind you, you can keep the cookie dough in the fridge as well.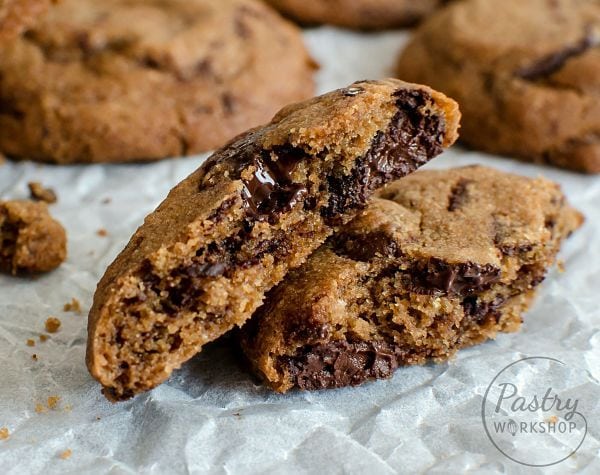 Oana Olguta
I am a self-taught baker and pastry-school graduate and I have an affinity for food. But I especially love baking, taking pictures, exploring dessert cookbooks, entremets and writing. I focus on creative desserts and baking techniques that are aimed to both novices and experts in the kitchen and I truly believe that being a pastry chef is not about looking for innovative ways of making desserts, but about learning the basic techniques and then combining them into new, original desserts, relying on textures and flavors.