These deliciously chocolatey caramel tarts from Tania Cusack are impossible to resist.
By Tania Cusack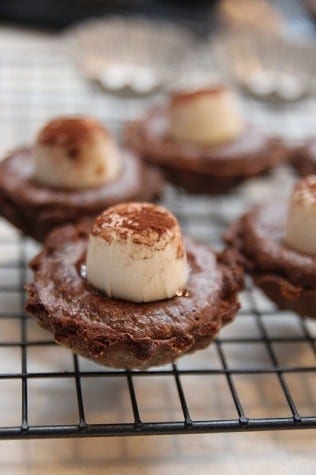 The first time I tried this mousse-y chocolate tart filling I was very happy, because I new I had found a recipe I would use for a long time. ( that was at least 10 years ago) It is a lightly cooked version of a chocolate tart that can be eaten warm if you can't wait. This recipe involves three steps. I have been asked by a number of people to post it as, I think they enjoyed eating them. Even Skater ( teenager) likes these chocolate tarts which is a minor miracle in itself .
When my teenager was about 5 or 6 he asked me what I did when I went to work. I told him that I was making desserts for people and he wanted to know if there was anything made with chocolate. I asked if he would like me to bring him home a piece of chocolate tart and he eagerly agreed. The next day I sat him at the table with his little knife and fork and a big piece of chocolate tart.  He dived in taking a chunk and rolling it around in his mouth, once he had finished his mouthful he asked me how much people paid for a slice of this dessert. I thought that he was really clever asking this and informed him that the cost was around $15.00. He looked at me in horror and then said he wouldn't even pay $2.00 for it. I was shocked …  the little smarty pants!  This is not the tart that he rejected by the way…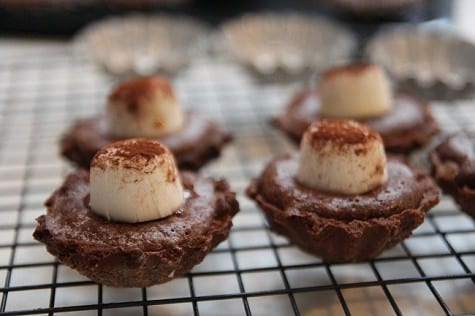 Chocolate Caramel Tarts
: This recipe will make 12- 18 tarts, depending on the size of your tins< strong>Chocolate Pastry. This recipe makes quite a large amount of pastry. Cut it in 1/2 and freeze for next time . It is delicate to work with but it is the most beautiful pastry.
250 icing sugar(8.8oz)(powdered sugar)
30 gm cocoa powder, unsweetened  (1/4 cup)
450 soft butter  (15.87oz)
3 eggs (70gm, large)
100gm almond meal ( 1/2 cup)
780 gm plain flour ( 1.720lb)
Beat the butter and powdered sugar until light. Add the eggs and mix well. Add the sifted flour and cocoa and mix till just combined. Turn on to a bench and push together into a disk. This pastry is very soft and needs to be chilled till firm. Take it out of the fridge and leave till just softening. You will need to work quickly and flour the bench well. Alternatively use baking paper to help roll it out thinly as possible. If holes form it can be pushed together to cover, but do this well, over lapping and keeping it chilled and thin.  Roll out, lining 12 – 18 small or 6 medium individual tart tins ( yes you can make 1 medium sized one). Rest again in the refrigerator 15 minutes. Blind bake till golden. Cool .
Salted Caramel
See Also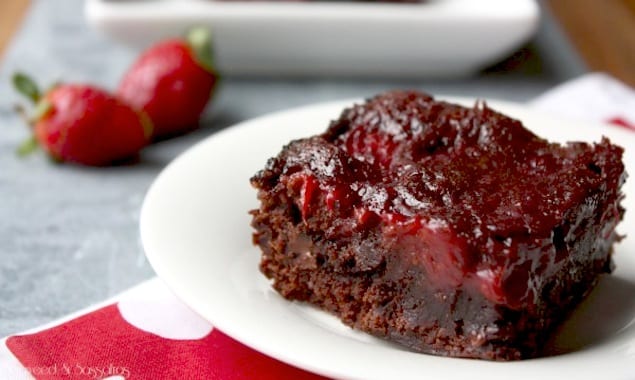 250gm caster sugar(superfine)8.8oz
100ml thickened (heavy) cream (3.4oz)
150gm(5.28oz)unsalted butter chilled cubed
1 teaspoon flaked sea salt
2 Tablespoons water mixed with 1/2 tsp lemon juice
Put the sugar into a heavy saucepan along with the water and lemon juice. Swirl the pan to coat the sugar completely. ( try not to stir the sugar, it will encourage crystalization). Put the pan onto medium heat and watch, only swirling occasionally until it starts to colour. Watch it carefully from here. Let it get deep dark golden brown then take off the heat. Carefully add the cream and whisk to combine. The cream will bubble up, before subsiding . Be very careful of the steam and the heat in the sugar syrup. Add 1 teaspoon of the salt and whisk to combine. Now add the butter a few cubes at a time, whisking it into the caramel. Once all of the butter is incorporated test for salt again. It will take up to another 1/2 a teaspoon but add to your taste. Put into a container and cool. (best straight from the fridge for this recipe).
Chocolate Mousse Mixture
150gm(5.28oz) dark chocolate 50-70 %
100gm(3.5oz) unsalted butter chopped
1 egg
1 yolk
60gm(2.11oz)caster (superfine) sugar
Melt the butter and chocolate together and set aside while you beat yolk, egg and sugar till light and creamy ( I use the stand mixer). This lightness gives the mixture its moussey lightness so beat it till white and fluffy. Fold the two mixtures together till combined.
To finish and cook
Put a 1/2 teaspoon of ( chilled)caramel into the bottom of each tart case, spreading well. Spoon chocolate mousse onto each tart till 3/4 full.
Put the tarts onto a tray and bake at 160 ( 320 F) degrees for 10-12 minutes. The tarts should still be soft .Cool and dust with cocoa and place a 1/2 marshmallow on top
Tania Cusack
After completing Culinary School in Sydney, Tania travelled the world working as a Chef in restaurants, doing catering and cooking on road for a travel company in Europe and the US. Once back at home, the birth of her son meant a change, and during his small years, she enjoyed jobs in wholesale food, buying Artisan food products, testing and recipe writing as sales and educational tools. Tania is now back to what she loves, working as an in house Chef for a large retailer, conducting Cooking Classes and writing recipes for her blog.