Delicious enchiladas filled with your favorite vegetables and meat. This baked recipe is easy to make ahead and throw in the oven when a quick dinner is needed.
By Faith Gorsky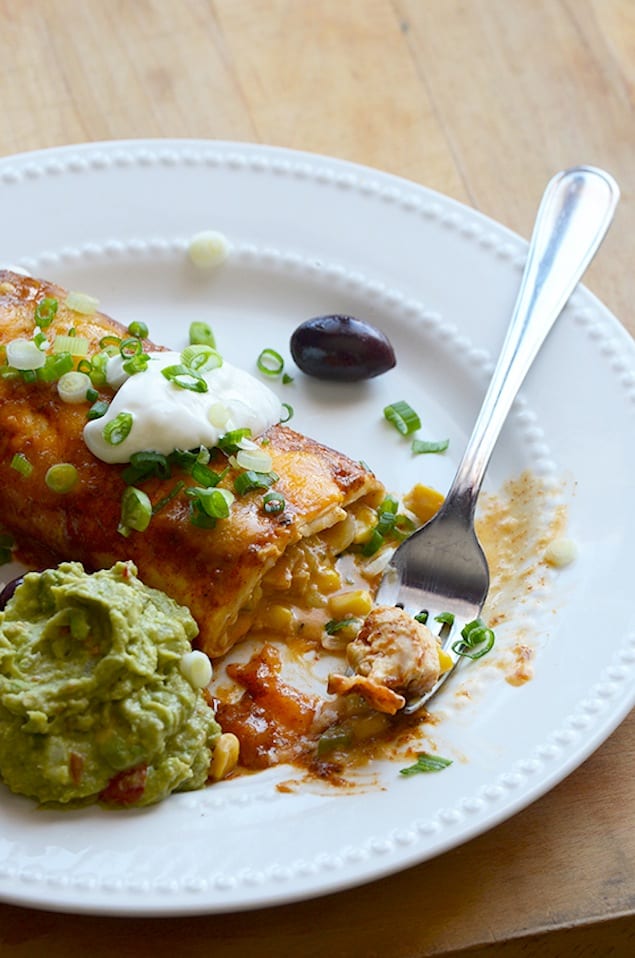 Chicken, Corn, and Bell Pepper Enchiladas
Delicious enchiladas filled with your favorite vegetables and meat. This baked recipe is easy to make ahead and throw in the oven when a quick dinner is needed. Freezing and Reheating: To reheat in the microwave, completely thaw first (I just get it out the night before and put it in the fridge in the morning). To reheat in the oven, there is no need to thaw first; cover the casserole dish with foil, place it in the oven, and heat the oven to 350. Bake until warm throughout, about 1 hour. (If you happen to thaw them and you still want to reheat them in the oven, cover the dish with foil and it should take about 20 minutes to warm them up at 350F.) Freezing for Individual Meals: Wrap each enchilada individually in foil before freezing. To reheat, let them thaw completely; remove the foil, transfer to a microwave-safe dish, and microwave until warm throughout.
Ingredients
Cooking spray
3 tablespoons olive oil
1 large onion, chopped small
1 large green bell pepper, chopped small
1 teaspoon salt
3 large cloves garlic, crushed
4 oz (115 g) cream cheese (low-fat is fine)
¾ cup (180 ml) milk (I used 1%)
2 Cups red enchilada sauce
1 (15 oz/425 g) can whole-kernel corn, rinsed and drained
3-4 cups cooked, chopped chicken (about ¾-1 lb)
8 oz (230 g) sharp cheddar cheese, shredded
8 large (10-inch) soft flour tortillas
3 scallions (white and green parts), thinly sliced
Guacamole and/or sour cream, for serving (optional)
Instructions
Preheat oven to 350F; lightly spray a 9 by 13-inch casserole dish and an 8 by 8-inch casserole dish with cooking spray and set aside for now.
Heat the oil in a large, deep skillet over medium-high heat. Add the onion, green bell pepper, and salt, and cook until the veggies are softened, but not browned, about 5 to 7 minutes, stirring occasionally. Add the garlic and cook 30 seconds, stirring constantly.
Turn the heat down to medium and add the cream cheese, milk, and ¾ cup enchilada sauce, stirring until the cream cheese is melted.
Stir in the corn and chicken, and cook until warm throughout, about 3 minutes. Turn off the heat and stir in half of the shredded cheddar. Taste the mixture and add salt and black pepper as desired.
Spread ¾ cup of the chicken mixture slightly toward the lower ⅓ of a tortilla, leaving about ½-inch on both sides; wrap both sides over the center, wrap the bottom ⅓ of the tortilla over the filling, and continue rolling so you have a neat burrito-shaped package.
Spread a thin layer of sauce in the bottom of both prepared casserole dishes (about 4 tablespoons in the large dish and 2 tablespoons in the small). Arrange the burrito-shaped enchiladas in the dishes (I fit 6 in the 9 by 13-inch dish, and put 2 in the 8 by 8-inch dish). Spread the remaining enchilada sauce on top, and top with the remaining shredded cheddar.
Bake until the cheese is melted, about 15 to 20 minutes.
Sprinkle on the scallion and serve hot, with guacamole and/or sour cream if desired.
Faith Gorsky
Faith Gorsky is the writer, recipe developer, photographer, and food stylist behind the blog An Edible Mosaic. Her recently-released first cookbook, An Edible Mosaic: Middle Eastern Fare with Extraordinary Flair (Tuttle Publishing), is a collection of authentic Middle Eastern recipes handed down to her from her husband's family during her extensive time spent in the Middle East. Faith loves to travel, especially to places steeped in rich culture and history.