This fool-proof basic cheesecake recipe gets a sophisticated upgrade with the sweet-tart combo of cherries and balsamic glaze.
By Ruth Kirwan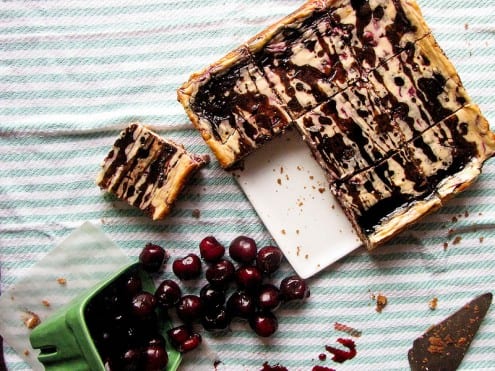 Cherry Balsamic Cheesecake Bars
This fool-proof basic cheesecake recipe gets a sophisticated upgrade with the sweet-tart combo of cherries and balsamic glaze.
Ingredients
For the crust:
one pre-made graham-cracker crust (shh, I won't tell)
OR
7-8 graham crackers, broken into 1" pieces
6 tablespoons butter, melted
3 tablespoons brown sugar
1 tablespoon flour
pinch of salt
For the batter:
16oz cream cheese, softened to room temperature
⅔ cup white sugar
2 eggs
3 tablespoons heavy cream
1 teaspoon lemon juice
1 teaspoon vanilla extract
1 cup roughly diced fresh cherries
For the balsamic glaze:
½ cup balsamic vinegar
Instructions
Preheat the oven to 325*F. Line the bottom of a 9" square baking pan with foil, leaving some foil hanging off the sides. Grease the foil with butter or coconut oil.
For the crust:
Combine all ingredients in a food processor and pulse until the mixture looks sandy. Press into the bottom of the foil-lined pan, using the bottom of a glass to make sure it lies evenly.
For the batter:
Using a hand mixer or a stand mixer, whip the cream cheese until smooth. Add the sugar and blend, then add the eggs one at a time, mixing well after each. Add the lemon juice, vanilla and cherries and blend together with a wooden spoon or spatula until combined.
Pour the batter onto the crust and bake at 325*F for 35-40 minutes, until the sides are set and the center is still jiggling.
While the cheesecake is cooking, heat the balsamic vinegar in a small pan over medium-high heat. Watching carefully, allow it to simmer until it has reduced by half. It will coat the back of a spoon when ready. Pour into a small container and set aside.
When the cheesecake is out of the oven, dip a spoon into the balsamic glaze and carefully drizzle it back and forth along the top of the cake. Let the cake sit for at least 15 minutes so the glaze has time to set.
When the cake is cool, remove it carefully from the pan using the foil ends to pick the cake up out of the pan. Slice and serve.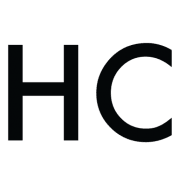 Ruth Kirwan
Midwestern transplant living in New York City. I live in a teeny apartment in NYC with my husband, whom I call the Big Man. I'm a food writer, recipe developer and tester, cooking school instructor, and total cheese lover. I'm happiest whenever I'm in front of a hot stove with a wooden spoon in my hand.