This rich and creamy soup makes use of leftover turkey, which is something you might have a lot of later this month.
By Sherron Watson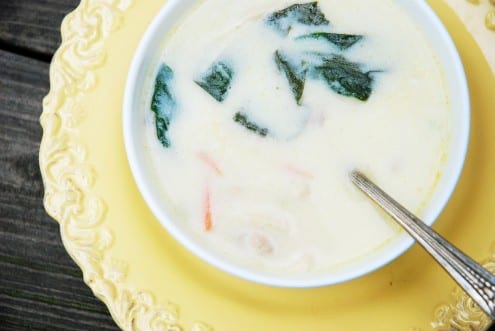 Cheesy Turkey and Spinach Soup
This rich and creamy soup makes use of leftover turkey, which is something you might have a lot of later this month.
Ingredients
8 cups of chicken broth
2 cups of turkey pieces, chopped into small bite size pieces
½ cup of shredded carrots
½ cup of onion, I like to use half red onion and half green onion
2-3 cups of fresh, washed spinach
4 T. butter
¼ cup of flour
1 cup of cream
salt to taste
pepper to taste
½ cup shredded parmesan cheese
1 cup of shredded sharp cheddar cheese
Instructions
In a large stock pot, combine broth, carrots, onions and turkey pieces. Bring to a boil to cook the carrots through.
In a small pan, melt butter and add flour. Cook for a few minutes, add cream. Cook until thickened.
Add the rue to the broth and stir. If the soup is not as thick as you would like, you can add a flour/water mixture to make it thicker.
Add the cheese and stir to melt the cheese in the soup.
Throw the fresh spinach into the soup and stir. The spinach should wilt and cook while in the soup.
Sherron Watson
Sherron Watson is a writer and photographer. Her passion for food started at a young age while working with her family in their restaurant business. A career in photography gave her the experience she needed to start capturing images of her favorite dishes. This led to the creation of her blog: simply-gourmet.com. She is currently a food writer for Capital Style Magazine in Annapolis, MD.