Cauliflower and Leek Soup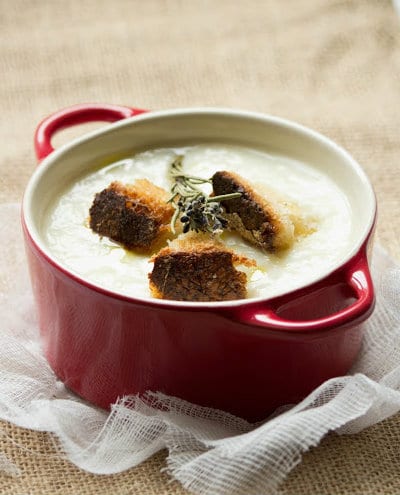 This has a smooth texture and a delicate flavor, a very wintery plate in all aspects which makes it the perfect remedy for these rainy days.
By Cinta Farnos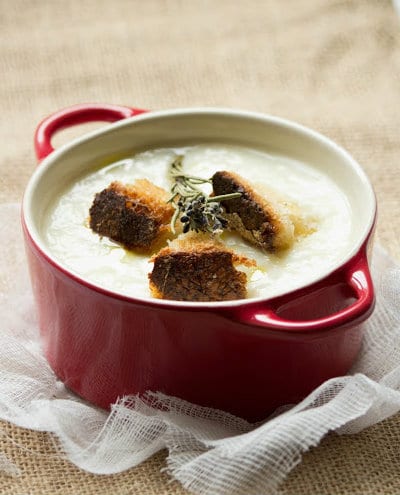 I wonder if there is some other plate that comforts more than a bowl of soup. I wonder if there is another food in which you can think of when you are on those cold, grey, rainy winter days. This bowl of soup pleases all the senses as it looks beautiful, smell comfortable and taste delicious. In addition, it has a smooth texture and a delicate flavor, a very wintery plate in all aspects which makes it the perfect remedy for these rainy days.

Cauliflower and Leek Soup
This is an easy recipe for a delicate, cozy winter soup.
Ingredients
1 cauliflower cut into florets.
2 leeks cut into round slices.
1 sliced potatoe
3 tbs olive oil
3 cups of water (or until covering the ingredients)
salt and pepper
2 tbs cream cheese
Instructions
Heat the oil in a large saucepan over medium heat.
Add leeks and cook while stirring during three or four minutes until softened.
Add potato and cauliflower and cook for five more minutes.
Cover the ingredients with the water and season with salt.
Simmer for twenty minutes or until potato is tender.
Let it cool slightly.
Beat until creamy and smoothie.
Add two tablespoons of cream cheese
Season it with salt and pepper if necessary.
Cinta Farnos
Cinta Farnós is a passionate food blogger, food photography trainee and a political scientist behind her blog, Trossets de cuina. Living in Barcelona, a bit obsessed with the "homemade" idea, when not working or baking, she constantly looks for new projects, new recipes and new places to go.